Washington state courting Kucinich to move, run for Congress again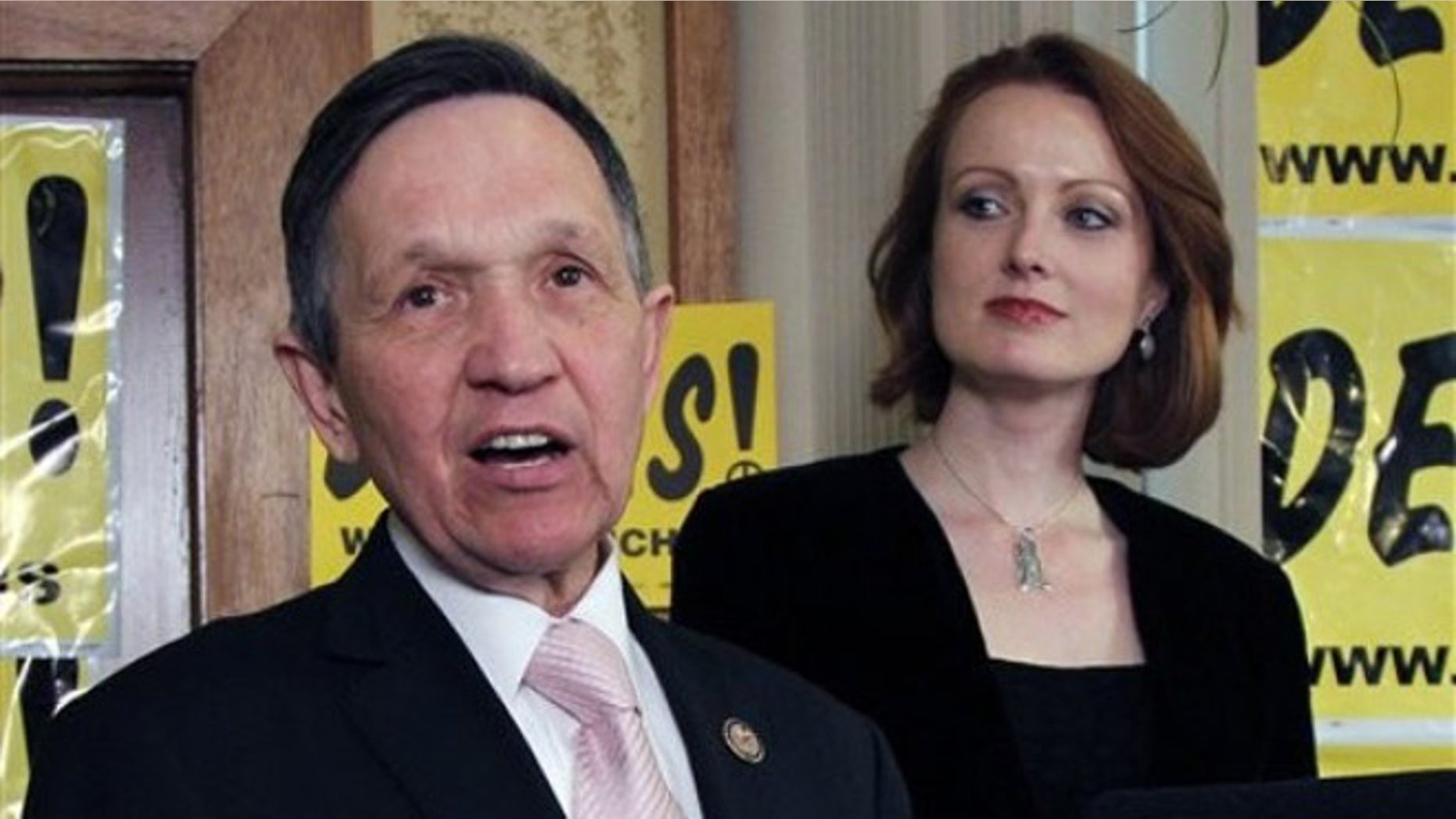 Democratic Rep. Dennis Kucinich is a politician without a home. When Ohio lost two House seats as a result of the 2010 census, Kucinich was forced to run in the newly created 9th Congressional District and lost in a March primary.
But now an anti-war group in Washington state is trying to get Kucinich to move West to extend his congressional career.
"We have, I believe, over 1,000 peace activists in Seattle who will do anything in our power to help Dennis so the voice of peace remains in Congress," said David Spring, with the Washington State Progressive Caucus.
Kucinich, an eight-term congressman, is apparently considering the offer. He recently thanked the group Washington Citizens for Kucinich.org, which is asking people to sign an online petition to woo him. And Kucinich is conducting his own poll that asks supporters whether he should run in the Evergreen State.
"Peace is a national issue," Spring said.
It's unclear where exactly Kucinich might run if he takes that step. There is a newly created 10th District which includes Olympia, as well as an open seat in the 1st District after the incumbent Democrat there decided to run for governor. He could also decide to take on Republican incumbents in a couple other districts.
Kucinich, also a two-time presidential candidate, was one of the loudest voices in Congress during the run-up to the Iraq War. He tried unsuccessfully to impeach then-Vice President Dick Cheney in 2007.
Still, not everyone is thrilled about the prospect of Kucinich giving Congress another go. The state Democratic Party Chairman, Dwight Pelz, is not among his fans. In a press release, Pelz said if Kucinich runs, he'll be remembered as "the narcissist who lost two congressional races in two states in the same year."
Others are calling Kucinich a classic carpetbagger.
"I think it's pretty audacious for a congressman from Ohio who's still representing the people of Ohio to think he can come to Washington state and instantly know what issues are pressing," said Seattle Times editorial writer Joni Balter.
One party member who is in Kucinich's corner is Steve Zemke, chairman of the King County Democratic Party. He'd like to see Kucinich challenge the Republican incumbent in the 8th District, Rep. Dave Reichert.
"I think we need to make certain we have the best qualified candidates running and certainly a sitting congressman who's been there for 16 years is not someone that we should write-off," Zemke said.
Kucinich has declined to announce future plans.
One person hoping he does run in Washington is state Republican Party Chairman Kirby Wilbur, who half-jokingly offered to pay the congressman's moving expenses.
"Dennis is not a quiet guy," Wilbur said. "Dennis does not shy away from controversial stands, and it would show the people how far left the Democrats really are."
Should Kucinich make the bold move, he had better hurry. To qualify for the state primary in August, he'd have to establish residency and register to vote by May 18.