Washington Mourns U.S. Troops Killed in Afghan Helicopter Crash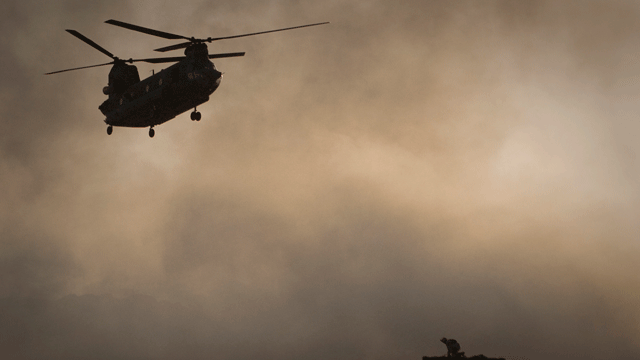 President Obama and other leaders in Washington sent their condolences to the families of 31 U.S. special operation troops who were killed Saturday when their helicopter crashed -- likely shot down by insurgents over eastern Afghanistan.
Most of them were part of the elite Navy SEALs unit that killed Al Qaeda leader Usama bin Laden. The Taliban has claimed responsibility for the deadliest single incident for American forces in the war.
None of those who died in the crash had participated in the bin Laden raid, a senior U.S. military official told Fox News.
Obama said their deaths are a reminder of the "extraordinary" price the U.S. military is paying in the decade-long Afghan war.
"We will draw inspiration from their lives, and continue the work of securing our country and standing up for the values that they embodied," he said.
Obama said he also mourned the loss of seven Afghans "who died alongside our troops in pursuit of a more peaceful and hopeful future for their country."
Defense Secretary Leon Panetta said he is deeply saddened by the loss, and vowed that the U.S. will stay the course to complete the mission to make the world a safer place.
Adm. Mike Mullen, chairman of the Joint Chiefs of Staff, warned against jumping to conclusions about the incident before investigators have completed their work. He also asked that the process of informing family members be respected, no matter how long it takes, and that people remember that "the troops we lose in this war aren't just statistics or numbers on a wall."
"They were parents and siblings, and someone's child. We need to make sure we do all we can to comfort and support the families whose lives are now forever changed," he said in a statement.
Mullen also said Americans must remain committed to the mission.
"The fight goes on. These brave Americans volunteered to serve their country," he said. "They risked their lives doing it. They gave their lives doing it. The best way we can honor that sacrifice is to keep at it, keep fighting, keep moving forward. I'm certain that is what our fallen would have wanted, and it is certainly what we are going to do."
House Speaker John Boehner, R-Ohio, said, "On this darkest day of a dark conflict, our nation mourns the tragic loss of these courageous Americans, who gave their lives for the cause of freedom. ...And we honor their sacrifice, by rededicating ourselves to the task of securing the nation for which they and so many others have fought and died. God rest their souls."
House Democratic leader Nancy Pelosi, D-Calif., said, "The loss of our men and women in uniform is always a great tragedy to our nation. Today, on the deadliest day for American forces since the war in Afghanistan began, we are reminded of the service and sacrifice of our troops."
Fox News' Jennifer Griffin and The Associated Press contributed to this report.