Venezuela's President Maduro Says 'Plot' Against Government Forced Him To Scrap UN Trip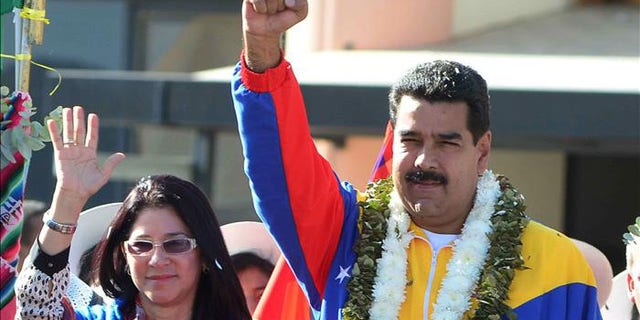 Surprise, surprise. Venezuelan President Nicolas Maduro, the man who says birdies speak to him, is blaming an alleged plot against him and his government by Americans for his cancellation of a visit to New York to speak at the U.N. General Assembly.
Maduro, the hand-picked successor of the late Hugo Chávez, said in a broadcast televised nationally Wednesday from an automobile plant that he would not reveal details of the plot so as not to compromise his information source.
He said he found it difficult to believe that U.S. President Barack Obama was not aware of the alleged plot.
Maduro blamed two former U.S. officials who he frequently cites as being behind alleged attempts to destroy his government: Roger Noriega and Otto Reich. Maduro has repeatedly accused the United States of conspiring to overthrow his government, although without substantiating the claims.
He narrowly won the presidency in April in elections the opposition claims were stolen through fraud and he presides over a government that human rights and press freedom groups say is among the most repressive in the Western Hemisphere.
Faced with mounting shortages of food, medicine and toilet paper ahead of Dec. 8 regional elections, Maduro's government announced on Wednesday measures designed to remove red tape for imports.
The excuse is the second made by Maduro in one week as to why he was unable to attend the United Nations.
Earlier this week, Maduro accused the United States of barring him from its airspace – and officials in the country called it an act of aggression.
But American officials denied he was forbidden from flying in U.S. airspace, claiming he didn't give enough notice for his trip so it wasn't immediately approved. But, the U.S. said, it doesn't mean the request was denied.
The U.S. Embassy in Caracas said that Venezuela had requested diplomatic clearance with one-day advance notice, while such clearances usually require three days of notice. The statement also said the plane in question wasn't a state aircraft, which is required for diplomatic clearance.
The statement said that "although the request was not properly submitted, US authorities worked with Venezuelan officials at the Venezuelan embassy to resolve the issue." The statement did not say whether the request had originally been turned down."
Venezuelan officials had denounced the U.S. last Thursday for denying Maduro clearance on his way to China. Maduro needed the clearance to fly over Puerto Rico, a U.S. commonwealth.
Washington has been without an ambassador in Venezuela since 2010.
Maduro's Venezuela is a staunch supporter of Syria and an ally as well of Russia and Iran. China has in recent years become a close commercial associate.
The United States also considers Venezuela a major drug-transiting country, where cocaine originating in Colombia heads north toward the United States and east to Africa and Europe.
Based on reporting by The Associated Press.
Follow us on twitter.com/foxnewslatino
Like us at facebook.com/foxnewslatino