Venezuelan President's Public Enemy No. 1: Harvard-Educated Leader Leopoldo Lopez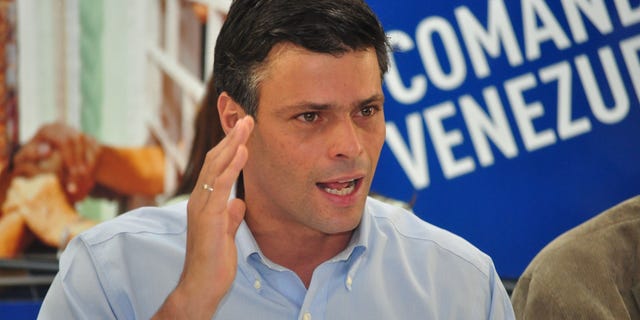 In December, in an interview with a Caracas publication, Leopoldo Lopez lamented what he saw as the complacency of some leading opponents of President Nicolas Maduro.
Lopez, a Harvard graduate with the clean-cut, Polo and khaki looks of a fraternity president, often has said that Maduro could not have genuinely won the presidency.
If Maduro's opponents, especially his presidential challenger, Henrique Capriles, had fought the questionable victory of the late Hugo Chavez's successor, he said, Venezuela would have a different president.
"I have no doubt that if Henrique had taken the streets following April 14th [2013], like many of us advised him to do, he would be President right now," Lopez was quoted as saying in Caracas Chronicles.
"Calle y vote," Lopez, 42, said, which in English means roughly "street protests and cast your vote."
Last week, just two months after that interview, Lopez is Maduro's top-priority political fugitive.
He was the lead organizer of a mass protest of mostly students who demonstrated against Maduro and his government last week. Some estimates put that crowd at around 10,000 people.
Subsequent related protests by the students and others to demand the release of demonstrators detained by government security forces, however, have turned violent, resulting in three deaths.
Maduro's government is in hot pursuit of Lopez, who is in an undisclosed location, recording videos urging his compatriots not to back down in the fight for a democratic Venezuela.
Lopez, who is a former presidential contender, has been one of Maduro's most hard-line and persistent opponents. He has vowed not to let Maduro finish out his term, which ends in 2019.
He has said that Venezuela, with a 56 percent inflation rate, soaring crime and dwindling civil liberties, cannot withstand more of a Maduro government.
"It wouldn't be right," he was quoted in Caracas Chronicles as saying about waiting out Maduro's tenure. "The struggle against poverty, against drug smuggling, against irregular groups tearing into the fabric of our country … can't wait six more years. It would be immoral to not do all we can right now."
Lopez and Maduro, a socialist who subscribes to Chavez's admiration of the Castro brothers in Cuba, are polar opposites in much more than political ideology.
Maduro, 51, often condemns the United States as imperialist and an adversary. On Sunday, he ordered the expulsion of three U.S. embassy officials after the Obama administration came to the defense of Lopez, whom Maduro blamed for inspiring the violence of the protests.
Maduro worked as a bus driver before climbing up the political ladder, becoming foreign minister of Venezuela in 2006 and vice president in 2012, when Chavez won re-election and named Maduro to the post.
He has a well-known quirky side – last year, for instance, he said that Chavez had appeared to him in the form of a bird more than once to encourage him and to tell him he was doing a good job.
Maduro's Twitter account as of Monday showed more than 3,700 tweets and 1.71 million followers.
Lopez, on the other hand, spent some of his formative years in the United States, studying economics at Kenyon College in Ohio and receiving a Master's degree at Harvard University's Kennedy School of Government.
He founded Voluntad Popular, which describes itself as a "populist and pro-democracy movement," and was mayor of Chacao, a subdivision of Caracas.
He challenged two-time presidential candidate Capriles for leadership of the anti-Maduro movement.
Though Capriles garnered far more public support, Lopez remained a source of concern for Hugo Chavez. The Venezuelan government barred him from running for office at one point, a move that Lopez fought, saying his rights were violated.
Lopez, who has more than 1.9 million followers on Twitter, has waged a battle against Maduro on the social media site, where both men have called each other cowards.
On Sunday, Lopez assured his supporters that he is not hiding in fear as Maduro's security forces search for him to arrest him.
He said in a video that he took some time to talk with his family, but that will be part of a a march on Tuesday. He said he would turn himself in after the march to the Interior Ministry, where he said he would deliver a petition demanding a full investigation of the government's role in the deaths that occurred during the protests.
"I haven't committed any crime," Lopez said. "If there is a decision to legally throw me in jail I'll submit myself to this persecution."
The Associated Press contributed to this report.
Follow us on twitter.com/foxnewslatino
Like us at facebook.com/foxnewslatino