US lawmakers turn up heat on Bolivia for controversial detention of NYC man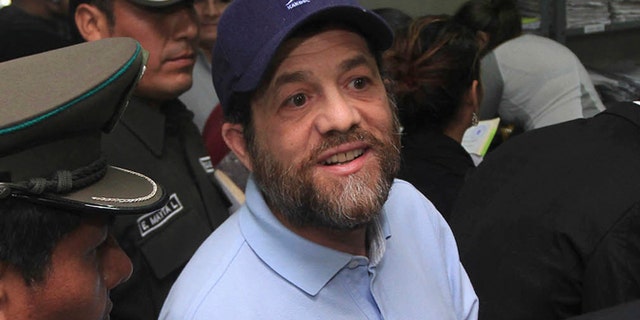 NEWYou can now listen to Fox News articles!
WASHINGTON – Reps. Chris Smith, R-N.J., and Nydia Velazquez, D-N.Y., called on Bolivian government officials to free Jacob Ostreicher, a New York City flooring contractor who has been held – but not charged – for more than a year at the notorious Palmasola Prison.
"We are deeply disturbed that Mr. Ostreicher remains illegally detained, and that he has been denied bail repeatedly," Smith and Velazquez wrote in a Dec. 13 letter to Bolivian President Juan Evo Morales Ayma.
Ostreicher, 53, from Brooklyn, has been detained since June 2011 on suspicion of money laundering. He and his family say he is innocent and claim Bolivian officials targeted him for his successful rice-growing business they seized when he was arrested.
Ostreicher's New York business involved selling and installing flooring for commercial clients. After the U.S. construction industry collapsed in 2008, he invested his life's savings – about $200,000 – into a rice-growing opportunity in Bolivia, where he was the junior partner in a project valued at around $25 million.
The first year's harvest yielded nearly 40 million pounds of rice, and by the end of the year Ostreicher and his partners had more than 200 Bolivian workers under them. Last year, police arrested one of his former employees and accused him of being involved in criminal drug activity. Police called Ostreicher in for questioning. His family says he cooperated with police but in turn was arrested himself.
Prosecutors initially said they were investigating the source of the start-up funding for Ostreicher's rice business but have never formally charged him. Since his arrest, 18 long months have passed, with Ostreicher behind bars for most of that time. In addition, he recently was diagnosed with Parkinson's disease.
"I saw it firsthand," Velazquez said. "Imprisonment has taken a physical toll on him."
Another twist in the story came Tuesday when seven of the 11 Bolivian government officials, including the Interior Ministry's director of legal affairs, Fernando Rivera, and the judge who first jailed Ostreicher, were arrested. The Bolivian government offered few details as to why they were arrested except to say they were suspected of illegal enrichment and extortion.
Smith and Velazquez visited Ostreicher in Bolivia last week to turn up the political heat on officials.
"We left Bolivia on Sunday optimistic that when Jacob appeared in court this past Tuesday that at the very least, he would make bail, but it didn't happen," Smith said. "The court remanded the case back to a lower court in yet another procedural delay that feels to Jacob and his family like an eternity."
Since his imprisonment, Ostreicher has gone on a hunger strike, losing 25 pounds and begining treatment for Parkinson's.
"We are running out of time," his daughter said Thursday.