U.S. Schools Brace For Thousands Of Migrant Kids Heading To The Classroom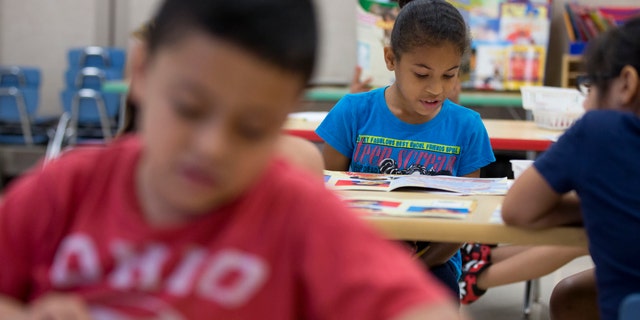 NEWYou can now listen to Fox News articles!
School districts in areas with large Latino populations are bracing for the arrival of a new crop of students who have been dominating national headlines – the Central American kids who have crossed the U.S.-Mexico border in huge numbers.
From California to South Florida to Texas and others places in-between, the nearly 40,000 minors who have been placed with relatives or other guardians since arriving in the relatively recent influx across the border are expected in class in the coming weeks.
The children will be attending school while waiting to go through immigration court proceedings that will determine whether they get to remain in the United States or whether they will be sent back to their countries.
Some school districts, such as Miami-Dade County in Florida, already have received children, and have gotten a glimpse of the challenges that accompany this new student population.
"During the last quarter of last school year, we received about 300 students from Honduras. This was an indication of bigger things to come," said Miami-Dade County Superintendent Alberto Carvalho, according to WSVN in South Florida.
His district expects to get about 2,000 more kids.
"Now that these children are here, do you turn your backs on them or do you teach them?" said Carvalho. "We have both a moral and legal obligation of teaching them."
The district has asked for federal aid to help with the additional cost of serving the kids, who under U.S. laws have a right to a public education through 12th grade.
"For every single child that arrives here not speaking the language, poor and with psychological needs, we spend an excess of $1,950 per year," said Carvalho. "We are asking Congress to step in. Now that they are here, they need to financially support us, so that the burden is not only on the state and local taxpayers."
The Los Angeles Unified School District also is getting ready.
"I am planning for 1,000 this year, but I will know more when our doors open," L.A. Unified Supt. John Deasy said in an interview with the Los Angeles Times. "We welcome the new youth with open arms in LAUSD."
The Times said that federal agencies expect to handle some 60,000 minors who entered or will arrive in the United States without an adult guardian. Most are coming from Hondurans, Guatemala and El Salvador.
Some 7,500 typically came in annually before the number soared to 13,625 last year and about 25,000 in the current year.
The children come with many hurdles that the school districts must help them overcome. Those hurdles include language and cultural barriers, something educators often deal with in largely immigrant communities. But these students also come from some of the poorest and most dangerous regions in the world. Many have spent little or no time in classroom, and have experienced the psychological trauma of having witnessed murder or been threatened by street gangs that pressure them to "join or die."
The Department of Health and Human Services, the agency that is handling the children once they are processed by Border Patrol, is supposed to be making sure the children are vaccinated before they are released from shelters.
The states that received the most children were Texas, with 5,280; New York, 4,244; and California, 3,909, according to the Wall Street Journal.
Francisco Negron, general counsel for the National School Board Association, told USA Today: "One of the challenges here, though, is the large number of unaccompanied minors. We don't know the educational background (of the students), if they've even been to school, the language issue and operational issues that could raise costs."
Follow us on twitter.com/foxnewslatino
Like us at facebook.com/foxnewslatino