U.S., Israeli Officials Slam Latin American Countries for Recognizing 'Palestine'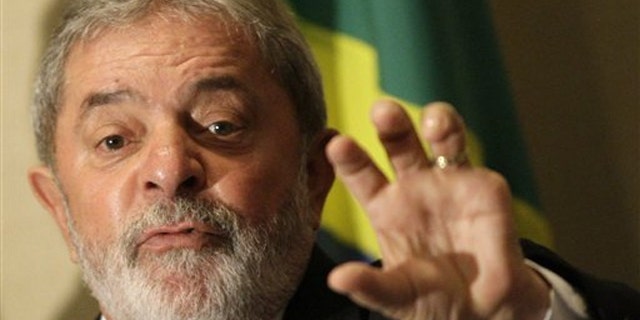 Israeli and U.S. officials slammed three Latin American countries this week for moving to recognize a Palestinian state saying they effectively granted the Palestinians a huge concession and undermined the already-sputtering peace process.
Argentina joined Brazil this week in recognizing "Palestine" as an independent state within the borders predating Israel's victory in the 1967 war -- and Uruguay announced its intent to follow suit next year. Palestinian officials hailed the decision, adding the endorsements to the list of mostly Muslim and former Soviet bloc countries that have done the same.
But the move could signal a growing Latin American relationship with Israel's arch-enemy, Iran, and officials condemned the proclamations as counterproductive.
"It is incomprehensible that these nations who seek to be viewed as responsible stakeholders in world affairs would take a unilateral action like this which undermines the prospects for true, lasting peace in the Middle East," Rep. Ileana Ros-Lehtinen, R-Fla., ranking Republican on the House Foreign Affairs Committee, said in a written statement.
She said those nations gave the Palestinian Authority the "biggest concession" without demanding they renounce violence and recognize Israel's right to exist. She urged other nations to refrain from joining them.
"Their unilateral, unconditional recognition of Palestinian claims will only serve to embolden others worldwide who use violence to advance their agendas," Ros-Lehtinen said.
While the Latin American nations may have offered the Palestinians a concession, at the same time the Obama administration was backing off its attempt to demand one of the Israelis. Officials said this week that President Obama has given up on persuading Israel to slow West Bank settlement activity. Officials said the administration is still trying to broker a peace deal and expects negotiators from both sides to visit Washington next week.
State Department spokesman P.J. Crowley reiterated that "direct negotiations" remain the focus of the administration.
Asked about the actions of Argentina and Brazil, he said: "We do not favor that course of action. As we've said many times ... any unilateral action, we believe, is counterproductive."
It may come as no surprise that Brazil jumped the gun on the peace talks. Brazil was a leading critic of Israel during the Gaza flotilla incident and has made no secret of its affinity toward Iran, going so far as to propose a nuclear fuel swap deal alongside Turkey earlier this year in defiance of other international negotiators.
Trade between Iran and Latin American heavyweights like Brazil and Argentina has also expanded. Though Argentina has been critical of Iran's nuclear program, Iran has floated the possibility of buying nuclear fuel from Argentina -- the source of its nuclear fuel nearly two decades ago.
Explaining this week's announcement, Argentina's foreign minister Hector Timerman said that in light of the stalled peace talks, "the time has come to recognize Palestine as a free and independent state."
The Israelis suggested it only hurt the peace talks. Israeli Foreign Ministry spokesman Yigal Palmor called the decision "disappointing and damaging."
The Associated Press contributed to this report.