U.S. Is The Largest, But Not The Only, Recipient Of Central American Immigrants In Latest Surge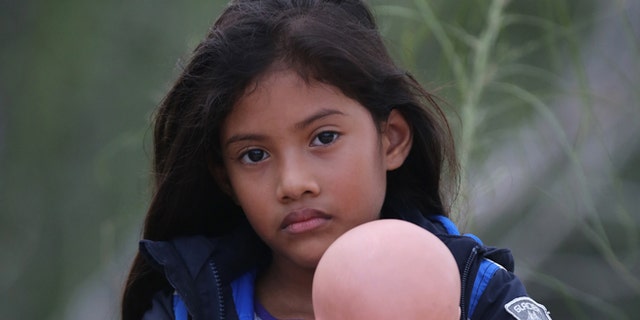 NEWYou can now listen to Fox News articles!
The United States is not alone in dealing with the hundreds of unaccompanied minors fleeing their violence-ridden homeland.
Mexico and other countries in Central America are also experiencing first-hand the sudden surge of children leaving Honduras, Guatemala and El Salvador in droves. But these countries are seeing smaller – though still quite notable – increases.
There are no numbers of how many children are fleeing to other countries that are not the U.S. But according to the study by the United Nations High Commissioner for Refugees, in 2013, Mexico, Panama, Nicaragua, Costa Rica and Belize combined reported a 712 percent increase in the number of asylum applications lodged by individuals from the so-called Northern Triangle.
The study does not give hard figures.
Honduras, Guatemala and El Salvador are among the most violent in the world – all three are under the control of drug traffickers and street gangs that rob, rape and extort ordinary citizens with impunity.
Migrants from the Northern Triangle flee southward for the same reasons that they go north: family living in their country of choice, better economic conditions and less violent situations than in their home nations. But they are choosing the United States over nations closer to them because they either want to join family who live there or because of the country's global economy, experts say.
The United States saw a dramatic rise over the last year of undocumented child migrants illegally entering the country. About 57,000 have come since last October.
Some critics argue that if these children were fleeing "credible fear," then they should be heading to safer countries like Costa Rica, Panama, Nicaragua and Belize that are closer to them.
"It calls into question the call for asylum whey they're saying they came here because of the violence … If they're seeking safety, it's a quick trip to Nicaragua," said Sylvia Longmire, a retired Air Force captain and a border security expert. "You can't talk out both sides of your mouth and say you're just concerned about the violence … It's totally about the economics."
But these countries are experiencing an increase – and experts largely agree that the number of children migrating there is higher than studies have shown. And many say there is no denying that the border crisis is not solely a problem for the United States.
"This is a regional problem and one that requires a regional solution," Leslie Vélez, a senior protection officer at the United Nations High Commission on Refugees (UNHCR), told Fox News Latino. "It's too big for one government to solve on its own."
Costa Rica and Panama are seen as the emerging economic and political safe havens of Central America with relatively stable democratic governments and growing markets for work. Nicaragua, while having the second-highest level of poverty in the Western Hemisphere and a less-than-transparent government, is still viewed by many migrants from the Northern Triangle as a desirable destination given its close proximity to their home nations, lower violent crime levels and the possibility of family members living there.
"Nicaragua is poorer but it's far less violent," Eric Olsen, the associate director of the Woodrow Wilson Center's Latin American program, told FNL. "Costa Rica is a country that is so small that it depends on other Latin American labor for its own economic livelihood."
The UNHCR said that defining these migrants as either refugees or immigrants is just as difficult for the Central American nations receiving them as it is for the U.S., given the factors uprooting people from their homes. On one hand there is the violence and widespread poverty driving people to migrate, but better opportunities abroad also factor in.
"It's tough to define who is who because the factors can appear skewed," Jana Mason, the UNHCR's senior external relations advisor told FNL. "In most cases it's not just the pull factors; it's not just the push factors. It's both."
One problem for countries like Costa Rica and Nicaragua is that unlike the United States, these countries don't have the laws or institutions in place to handle a large influx of migrants. Mexico in 2011 passed a reform law in an attempt to handle migrants and grant them visas, but so far none of the Central American nations have followed suit with similar types of legislation.
"If the numbers in these countries keep increasing, these countries will probably have to," said Marc Rosenblum, the deputy director of the U.S. Immigration Policy Program at the Migration Policy Institute.
The White House said Friday that it is mulling whether it should grant refugee status to young people from Honduras as part of a plan to slow the influx of unaccompanied minors. The plan would involve screening youths in Honduras to determine whether they qualify for refugee status in a move similar to the in-country screening programs set up in East Asia after the Vietnam War and in Haiti in the 1990s.
While many observers of the situation both here and in Central America are quick to point out that each migrant's case is individual, some point to the low number or people emigrating to the U.S. from a poor nation like Nicaragua as a clear signal that the crisis is caused directly by the violence on the ground in the Northern Triangle.
"The pull factors are not drawing people from Nicaragua here," Rosenblum said. "This supports the assertion that violence is a bigger push factor for these countries because Nicaragua might be poorer, but it's a lot less violent."