U.S. deported the least number of people since 2006, with border arrests dropping 30%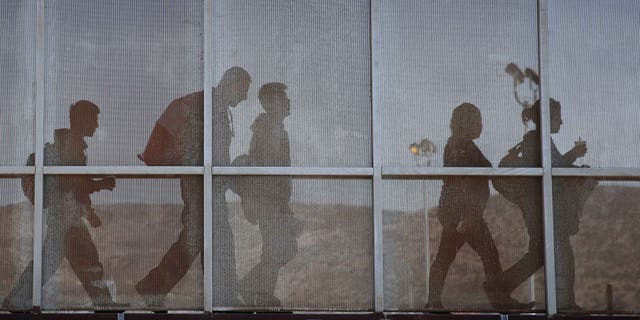 The Obama administration formally disclosed Tuesday that it deported the fewest immigrants since 2006.
In the last fiscal year, between October 2014 and September 2015, the Homeland Security Department oversaw the deportation of about 235,413 people — that's almost 81,000 people less than the year before.
Of the 235,413 removed by the Immigration and Customs Enforcement (ICE), nearly 70,000 were arrested inside the United States and most of them had been convicted of serious crimes, according to the annual statistical report for the fiscal year that ended on Sept. 30.
Almost 166,000 were arrested as they crossed or shortly after trying to cross the border illegally, the report said.
DHS has previously said the drop in deportations overseen by ICE is largely due to the decline in arrests at the border. Border arrests dropped about 30 percent from 2014 to 2015.
The 2015 border arrests included roughly 79,800 people traveling as families and children traveling alone, mostly from Central America.
The overall total of deportations generally does not include Mexicans caught at the border and quickly returned home by the Border Patrol.
"Last year's removal numbers reflect this department's increased focus on prioritizing convicted criminals and threats to public safety, border security and national security," DHS Secretary Jeh Johnson said in a statement.
Roughly 136,700 convicted criminals were deported in the 2015 budget year. The share of criminal immigrant deported rose slightly from about 56 percent to roughly 59 percent from 2014 to 2015.
Obama's immigration policies have been alternately criticized as too harsh and too weak.
Immigrant advocates derisively dubbed the president the "Deporter-In-Chief" after ICE removed a record of more than 409,000 immigrants in 2012.
Meanwhile Republicans have decried his policies as "back-door amnesty."
The question of what to do with the estimated 11 million immigrants living in the country illegally and how to enforce immigration laws has been a top topic in the 2016 presidential race. Democratic front-runner Hillary Clinton has pledged to be "less harsh and aggressive" than Obama while Republican Donald Trump has pledged to deport millions of people in the country illegally and build a wall along the Mexican border to stop future illegal immigration.
Based on reporting by the Associated Press.