Turnout efforts becoming key as campaigns focus on mad dash to November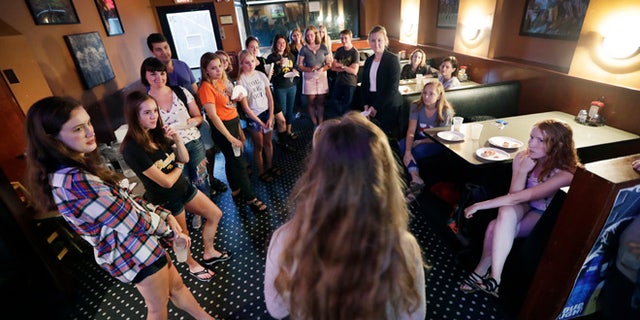 NEWYou can now listen to Fox News articles!
IOWA CITY, Iowa (AP) – Over pizza and cupcakes, Jose Nunez implored a crowd of University of Iowa students to pull out their smartphones and start sharing with online friends their personal reasons for backing Hillary Clinton for president.
Early voting in Iowa begins in late September, and the digital aide for the Clinton campaign said earnestly: "These stories are going to start making a difference."
It's a scene Clinton's campaign is replicating in about a dozen of the most contested states as their aggressive voter turnout effort kicks into high gear for the sprint to Election Day, Nov. 8.
In Iowa alone, 25,000 volunteers are helping send real-time data on voters back to the campaign's New York City headquarters, where dozens of analysts model the electorate.
The campaign says it has about a half-million volunteers in swing states, including 40,000 in North Carolina. In Florida, the largest of those pivotal states, it claims 90,000.
To be sure, Clinton's debates with Republican Donald Trump or a late-in-the-campaign surprise could reshape the White House race in the final stretch. But Clinton's team believes winning the 270 electoral votes needed to secure the presidency relies on its yearlong, multimillion-dollar investment in sophisticated analytics and an army of volunteers now making contact with individual voters.
Trump, with heavy assistance from the Republican National Committee, is trying to replicate some of those efforts, bringing new staff on and hoping they can make up for lost time.
On Saturday, the RNC expected to have about 1,000 employees and 4,000 volunteers knocking on doors in Ohio, Florida, Wisconsin and elsewhere.
But the billionaire businessman — who told The Associated Press earlier this year that he believes the use of data analysis in campaigning is "overrated" — is also banking on a wave of momentum to carry voters to the polls in November.
"This is an incredible movement. The world is talking about it," Trump said during one of his recent rallies, which have served as a main way of collecting information about voters.
Republicans scoffed at then-Sen. Barack Obama for speaking in similarly sweeping terms during his 2008 presidential campaign. But it wasn't Obama's rhetoric that propelled him to victory. It was an expensive and painstaking effort to convert the crowds he generated into a data-driven voter turnout operation run by many of the same people now working for Clinton.
RNC officials talk publicly about having made gains since Obama won re-election in 2012, and there's no doubt the party has focused more on voter targeting in recent years. But GOP officials are well aware they have something to prove, even to those within the party who privately question the strength of the turnout operation.
"We know we have to be better than we have been before to win a tight election," said Rick Gorka, a communications adviser to the RNC and a former campaign aide to Mitt Romney, the 2012 nominee.
While the contest between Clinton and Trump is close, Clinton has more ways to 270 than does Trump, who almost certainly has to win Florida and Ohio to pull out a victory. Even then, Clinton could win without them.
The biggest unknown is how voter turnout will be affected by the unusual combination of high interest in the election and low approval for both candidates. Do voters dismayed by their options choose to stay home on Election Day or does interest in the race push more people to vote?
Clinton aides expect turnout to exceed the 129 million total from the 2012 contest between Obama and Romney. That's due in part because turnout was suppressed in 2012 in heavily populated areas of New York and New Jersey as a result of Superstorm Sandy.
While few Republicans will openly cheer for low turnout, that scenario could help Trump. Clinton has an edge over Trump with blacks, Hispanics and young people. But she needs those groups to show up in big numbers to offset Trump's strength with white, working-class voters.
In Florida, for example, her team is aggressively registering residents moving from Puerto Rico, who tend to vote Democratic.
Republican pollster Whit Ayers said that even if the GOP turnout effort is on track, Trump has a tougher task in Florida.
"Republicans say they are signing up more white voters," Ayers said. "But I'll be very surprised if they can sign up more white people than Clinton can sign up Hispanics."
In Iowa, a less diverse state, Clinton's staff has set up a text messaging competition between University of Iowa and Iowa State University this weekend to see which school can attract more new registered voters.
Marlon Marshall, Clinton's director of states, said that nearly all Democratic-leaning voters in swing states have had some level of contact from the campaign by this stage in the race.
"And if not, you will soon," Marshall said.
As in past elections, Democrats are urging people, particularly less reliable voters, to vote during early voting periods. RNC officials know Democrats have a better chance of banking more votes during early voting, but they too are instructing field staff to push low-propensity voters to vote before Nov. 8, to try to offset Clinton's advantage.
Jeremy Bird, Obama's chief data analyst in 2012 and a Clinton consultant, said that if the campaigns are doing their jobs right, early voting data will tell the story of the election.
"Sophisticated campaigns will know by mid-October how the election is likely to end up," Bird said.