Trump voices optimism for 2018 while also calling out 'haters' and 'Fake News Media'
NEWYou can now listen to Fox News articles!
President Donald Trump and his family said goodbye to 2017 with a lavish New Year's Eve party at his private club in Florida.
"It will be a fantastic 2018," Trump said, as he entered the gilded ballroom at Mar-a-Lago, accompanied by first lady Melania Trump and son Barron.
Asked for his reaction to North Korea leader Kim Jon Un's remarks about having a nuclear button on his desk, Trump responded by saying, "We'll see."
Guests at the party included senior White House advisers Ivanka Trump and Jared Kushner, Trump's sons Eric Trump and Donald Trump Jr. and Treasury Secretary Steven Mnuchin.
Since taking office, President Trump has made frequent visits to his for-profit properties. He has refused to divest from his real estate and hotel empire, drawing criticism from ethics experts.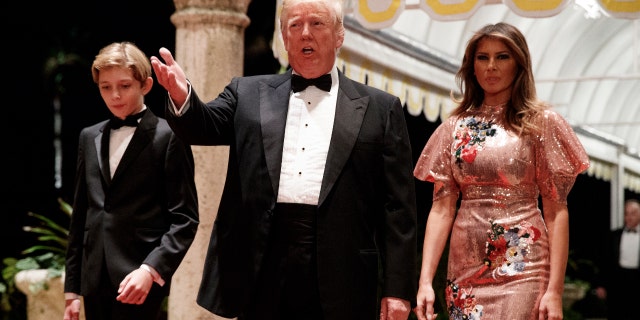 Earlier in the day, Trump wished a happy new year to the people who elected him to the White House -- and those who kept him in the headlines.
"As our Country rapidly grows stronger and smarter, I want to wish all of my friends, supporters, enemies, haters, and even the very dishonest Fake News Media, a Happy and Healthy New Year. 2018 will be a great year for America!," Trump tweeted.
He followed up more than an hour later: "HAPPY NEW YEAR! We are MAKING AMERICA GREAT AGAIN, and much faster than anyone thought possible!"
The president is spending the holidays in Palm Beach, where he told reporters outside, "We are going to have a tremendous year. Stock market, I think, is going to continue to go up. Companies are going to continue to come into the country."
Also Sunday, the president tweeted out a compilation video showing him meeting U.S. service members, visiting flood zones in Texas and signing the GOP-backed tax overhaul package into law.
Trump has called out his critics in holiday tweets before. In November 2013, he posted: "Happy Thanksgiving to all--even the haters and losers!"
The president on Sunday cited his success in placing a new justice on the Supreme Court, his efforts to cut regulations and his big win on overhauling taxes. He's called for more progress in 2018, including the passage of a massive infrastructure bill, although analysts say it could prove difficult given how the GOP-led Senate will hold a very slim 51-49 majority.
The White House said Trump has been briefed on New Year's Eve security precautions around the country and will continue to monitor those efforts.
Fox News' Serafin Gomez and the Associated Press contributed to this report.