Trump tweets explosive White House tell-all 'full of lies,' author fires back
An explosive White House tell-all hit the bookshelves Friday as President Trump ramped up his attacks on the author's credibility, saying overnight that Michael Wolff's account is "full of lies."
Trump, in a late Thursday tweet, said he "authorized Zero access to White House (actually turned him down many times)," adding that he never spoke to Wolff. Trump did not mention the author by name.
Trump also rolled out a new nickname for ex-adviser "Sloppy" Steve Bannon, who is featured repeatedly in the book talking trash about his family members.
"I authorized Zero access to White House (actually turned him down many times) for author of phony book! I never spoke to him for book. Full of lies, misrepresentations and sources that don't exist. Look at this guy's past and watch what happens to him and Sloppy Steve!" Trump tweeted.
On Friday, Trump added in another tweet, "The Mercer Family recently dumped the leaker known as Sloppy Steve Bannon. Smart!" This was a reference to Trump donor Rebekah Mercer cutting ties with Bannon.
"Fire and Fury: Inside the Trump White House" paints an unflattering portrait of Trump and claims many of his top advisers, like Bannon, disparage him in private.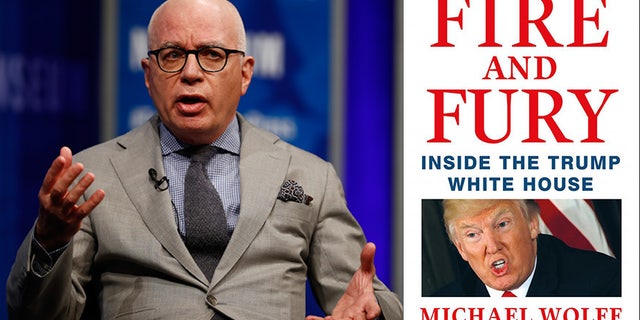 Wolff fired back at Trump in an interview on NBC's "Today" Friday morning, claiming that he did, in fact, interview the president.
"I absolutely … spoke to the president, whether he realized it was an interview or not –it certainly was not off the record," Wolff said. "I had spent about three hours with the president over the course of the campaign and as president."
Wolff added: "My window into Donald Trump is pretty significant."
Wolff explained his interviews were with people who spoke to the president on a daily, sometimes "minute by minute, basis," and claimed they called him a "moron" and an "idiot."
He added, "Let's remember. This man does not read, does not listen. He's like a pinball—just shooting off the sides."
Wolff said he stands by everything.
"My credibility is being questioned by a man who has less credibility than perhaps anyone who has ever walked on earth at this point," Wolff said.
Excerpts published earlier this week led the president to issue a rare, blistering takedown of Bannon, who is quoted throughout the book and takes swipes at the president's family.
In the book, obtained in advance by Fox News, Bannon refers to a campaign meeting between the president's son, Donald Trump Jr., and a Russian lawyer as "treasonous" and "unpatriotic."
Bannon is also quoted dismissing Trump's daughter Ivanka Trump by saying: "She became a White House staffer and that's when people suddenly realized she's as dumb as a brick."
Wolff wrote that the book was based on conversations that took place over 18 months, beginning with a Beverly Hills meeting he had with Trump the 2016 election. He said he conducted more than 200 interviews, after taking up "something like a semi-permanent couch in the West Wing."
Among the claims in the book: Wolff says the president and first lady Melania Trump spend relatively little time together. Trump, according to Wolff, also told his wife there was simply no way he would win.
The White House pushed back on the claims made in the book Thursday.
During the White House press briefing, Press Secretary Sarah Sanders blasted the Wolff book, calling it "tabloid gossip" laced with "false and fraudulent claims."
"The book is mistake after mistake after mistake," Sanders said. "I'm not going to waste my time or the country's time going page by page correcting [the book]."
Sanders added that it was "sad," "pathetic," and a "fantasy."
In a story for the Hollywood Reporter on Thursday, Wolff explained how the book came to fruition, saying he had access to top officials inside the administration, including Trump himself.
Wolff said he asked Trump for permission to spend time hanging out inside the West Wing -- a request, he said, Trump did not deny, which may have caused confusion for senior aides.
"Since the new White House was often uncertain about what the president meant or did not mean in any given utterance, his non-disapproval became a kind of passport for me to hang around," Wolff wrote.
Fox News'  Brooke Singman, Alex Pappas, Bill Mears, NuNu Japardize and Kristin Brown and the Associated Press contributed to this report.