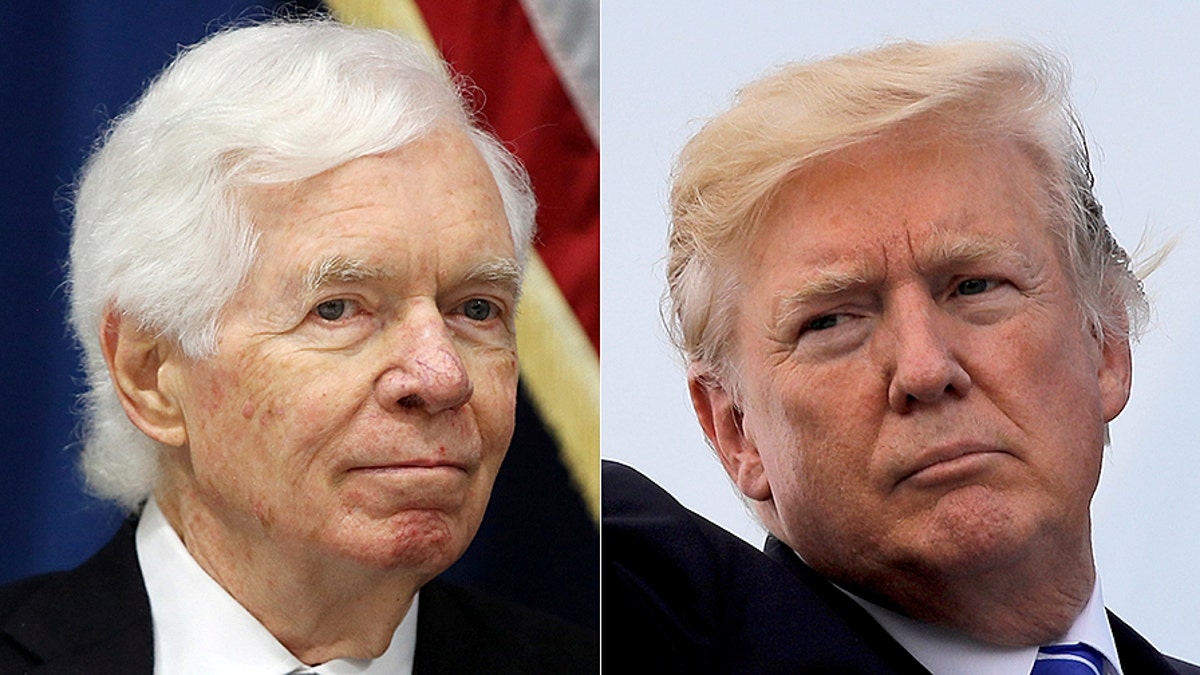 President Trump touched off widespread speculation Wednesday morning with a mysterious tweet on the health care debate that claimed one "Yes vote" was in the hospital.
Reporters scrambled on Twitter to figure out which senator he was describing. Turns out, it was an apparent reference to Mississippi Republican Sen. Thad Cochran, 79, who is in his home state recuperating from a "urological issue."
A source close to Cochran confirmed that he has been out of Washington all week.
But while Cochran's office put out a statement Tuesday night, his absence was not widely known until Trump alluded to it on Twitter.
In his tweet, the president was voicing hope that Republicans can still pass an ObamaCare overhaul in the future, after GOP leaders abandoned efforts to pass the so-called Graham-Cassidy bill ahead of a weekend deadline to do so without threat of filibuster.
"With one Yes vote in hospital & very positive signs from Alaska and two others (McCain is out), we have the HCare Vote, but not for Friday!" Trump tweeted.
While Sen. John McCain, R-Ariz., has been getting treatment for brain cancer, Trump's tweet clearly was not referring to him -- as the Arizona senator came out against the health bill.
While the tweet seemed to reference Cochran, spokesman for the senator Stephen Worley clarified Wednesday that Cochran was actually "not in the hospital."
"Sen. Cochran is in Mississippi recuperating from a urological issue, but is not in the hospital," Worley tweeted.
Cochran's office put out a statement on Tuesday noting that the senator was recently treated for a "urological issue" and is recuperating in Mississippi.
"The Senator expects to resume his regular work schedule soon," the statement read.
A source close to Cochran told Fox News that he is being treated for prostate issues, but underscored that his condition is not serious or cancerous.
Senate Republicans said Tuesday that they no longer planned to bring the Graham-Cassidy bill that would have dismantled ObamaCare to the floor, after several GOP senators said they would not support the measure.
"We will have the votes for Healthcare but not for the reconciliation deadline of Friday, after which we need 60. Get rid of Filibuster Rule!" Trump also tweeted Wednesday.
Once a year, the Senate can sidestep filibuster rules and consider legislation under a process called "budget reconciliation," which requires only 51 votes to pass a bill. But that package is only good for one year and set to expire Saturday night. This means after Sept. 30, any ObamaCare repeal bill would need the support of at least 60 votes in the Senate -- which is why Trump renewed his call to scrap the filibuster.
In a joint statement released Tuesday afternoon, Sens. Lindsey Graham, R-S.C.; Dean Heller, R-Nev.; Bill Cassidy, R-La.; and Ron Johnson, R-Wis., voiced hope that Congress can overhaul ObamaCare at some point.
"It's not a question of 'if' Graham-Cassidy-Heller-Johnson replaces ObamaCare—it's only a question of 'when,'" the four senators said in a statement. "While the arcane rules of the reconciliation process limited our policy options and imposed an artificial deadline on our efforts, we will push on."
They added: "It is just a matter of time until we fulfill our promise to repeal and replace ObamaCare with something far better."
Fox News' Chad Pergram contributed to this report.