Trump to name Gen. Mark Milley to succeed Joint Chiefs Chairman Gen. Joseph Dunford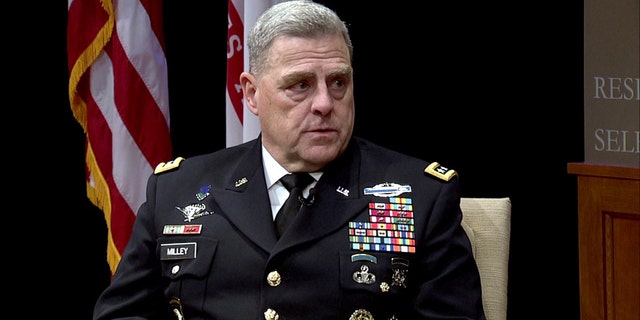 President Trump will name Army Chief of Staff Gen. Mark Milley to succeed Chairman of the Joint Chiefs of Staff Gen. Joseph Dunford, Fox News has learned.
The announcement will be made Saturday at the Army-Navy game, sources said.
Speaking to reporters earlier Friday, Trump hinted an announcement related to the Joint Chiefs of Staff was forthcoming as he unveiled other picks. He said he would nominate William Barr for attorney general and Heather Nauert for U.N. ambassador.
"I have another one for tomorrow that I'm going to be announcing at the Army-Navy game," Trump said. "I can give you a little hint: It will have to do with the Joint Chiefs of Staff and succession."
TRUMP TAPS WILLIAM BARR FOR ATTORNEY GENERAL, HEATHER NAUERT FOR UN AMBASSADOR
Typically, the successor to the chairman would not be selected until next year, given that Dunford is due to serve until Oct. 1, 2019.
Sources told Fox News that Dunford has no plans to end his term as chairman early. The next chairman will serve for four years, instead of two years. But a change was made in 2016 because Congress wanted continuity before and after a presidential election.
Dunford was nominated to the post in 2015 by former President Barack Obama. Trump nominated him for a second two-year term last year.
The vice chairman of the Joint Chiefs is Air Force Gen. Paul Selva, whose term expires in July 2019.
The other members of the Joint Chiefs are the heads of the Army, Navy, Marine Corps and Air Force, and the head of the National Guard.
Milley assumed duty as the chief of staff of the Army in 2015 after serving as the commander of Army Forces at Fort Bragg in North Carolina. He has served in command and leadership positions, including in Afghanistan and Iraq.
Fox News' Jennifer Griffin and The Associated Press contributed to this report.