Trump says US in 'a little fight with China' during meeting with business leaders
President Trump likened the growing U.S. economy to a "fine-tuned machine" and again took aim at China over its unfair trading practices Tuesday night at a dinner with prominent business leaders at his golf club in Bedminster, New Jersey.
Trump praised the 4.1 percent economic growth last quarter, attributing it to stronger hiring and tax reform under his administration.
"More Americans are now employed than any time in the recorded history of our country … manufacturing and employment are growing at the fastest rate in more than 30 years and it's going to get even faster," he said to Boeing CEO Dennis Muilenburg and FedEx CEO Fred Smith, among other business leaders in attendance.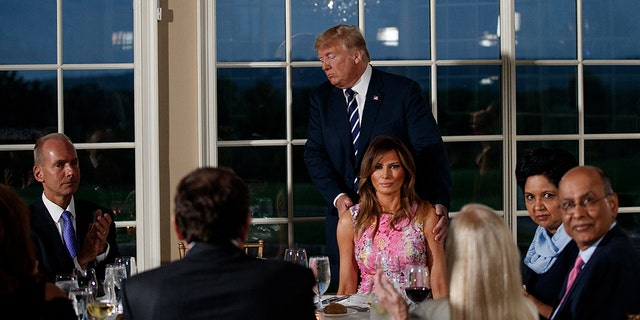 Trump said in addition to cutting regulations, he also "signed the biggest tax cut and reform in the history of our country."
The president also spoke to the rising tensions between the U.S. and China over its trading practices.
"We're in a little bit of a fight with China right now," he said. "They have not treated us fairly for many decades which is the president's fault. I take responsibility for my time and I couldn't let that happen."
TRUMP ASKS TRADE REP TO CONSIDER BOOSTING TARIFFS ON CHINESE IMPORTS FROM 10 PERCENT TO 25
Just last week, Trump directed U.S. trade officials to consider raising tariffs on Chinese goods from 10 percent to 25 percent for continuing to engage in unfair trading practices, particularly in tech, and, failure to address concerns to fix them.
The Trump administration announced earlier Tuesday it would go ahead with imposing 25 percent tariffs on an additional $16 billion in Chinese imports, starting August 23.
The administration previously imposed 25 percent tariffs on $34 billion worth of Chinese goods on July 6 over similar concerns that Beijing was stealing or pressuring companies to hand over technology. China responded by slapping its own penalties on U.S. goods.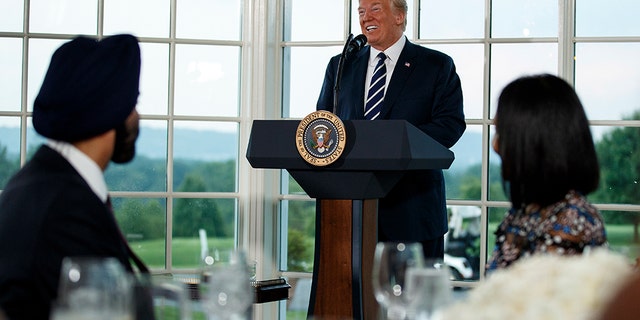 Trump went on to praise the economy as a "fine-tuned machine," saying economic growth is expected to top 5 percent soon.
Continental Resources CEO Harold Hamm, newly-appointed Fiat Chrysler CEO Michael Manley, Johnson & Johnson CEO Alex Gorsky and Mastercard CEO Ajaypal Banga were among the other leaders in attendance.