Trump sarcastically congratulates Maxine Waters for becoming 'unhinged FACE' of Dem Party
President Trump sarcastically congratulated Democratic Rep. Maxine Waters for becoming the "unhinged FACE" of the party alongside House Minority Leader Nancy Pelosi, in his latest jab at Democratic leadership.
"Congratulations to Maxine Waters, whose crazy rants have made her, together with Nancy Pelosi, the unhinged FACE of the Democrat Party. Together, they will Make America Weak Again! But have no fear, America is now stronger than ever before, and I'm not going anywhere!" Trump tweeted early Wednesday.
The president all week has been bashing Waters, D-Calif., and dubbing her the face of the party in the wake of her comments encouraging supporters to accost Trump administration officials.
Those comments have spurred a bipartisan backlash, amid concerns within Waters' own party that they could be harmful to Democrats in the midterms. Trump, meanwhile, reveled in the results of Tuesday's primaries -- which saw a top Democratic leader ousted in an upset loss.
"The Democrats are in Turmoil!" Trump declared on Twitter.
House Democratic Caucus Chairman Joe Crowley, D-N.Y., was unseated in a stunning primary loss to newcomer socialist, 28-year-old Alexandria Ocasio- Cortez.
"Wow! Big Trump Hater Congressman Joe Crowley, who many expected was going to take Nancy Pelosi's place, just LOST his primary election. In other words, he's out! That is a big one that nobody saw happening. Perhaps he should have been nicer, and more respectful, to his President!" Trump tweeted Tuesday.
Crowley, 56, a 10-term incumbent from Queens and fierce Trump-basher, was a steady fundraiser for Democrats and was thought by some to be a future speaker of the House.
Crowley's defeat comes amid a tough week for Democratic leaders already dealing with the fallout from Waters' remarks.
"If you see anybody from that Cabinet in a restaurant, in a department store, at a gasoline station, you get out and you create a crowd and you push back on them and you tell them they're not welcome anymore, anywhere," Waters said over the weekend.
Pelosi though, seemed to distance herself from Waters on Twitter, calling for "unity."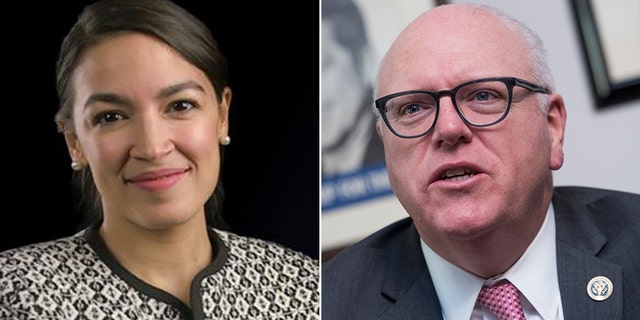 Pelosi on Tuesday described Crowley as an "unwavering champion for America's working families for almost two decades" who "brought principled, unifying and forward-looking leadership to the historic challenges of the Trump administration."
She added: "I salute Chairman Crowley for a formidable legacy of achievement for the people of New York. I congratulate Alexandria Ocasio-Cortez on her victory."
Fox News' Edmund DeMarche and The Associated Press contributed to this report.