Trump: NFL should have suspended Colin Kaepernick for kneeling
President Donald Trump told Fox News' Sean Hannity Wednesday that the NFL should have suspended quarterback Colin Kaepernick for kneeling during the playing of "The Star-Spangled Banner."
"The NFL should have suspended him for one game and he would have never done it again," Trump told host Sean Hannity in Harrisburg, Pa. "They could have then suspended him for two games and they could have suspended him again if he did it a third time, for the season, and you would never have had a problem."
Kaepernick began kneeling during the national anthem last season as part of a protest against police brutality while a member of the San Francisco 49ers. Kaepernick has since become a free agent and has been unable to get a job with another NFL team.
On Tuesday, NFL Commissioner Roger Goodell said in a letter to team owners that he believed players should stand for the national anthem, adding that the league would consider a rule change requiring players to stand.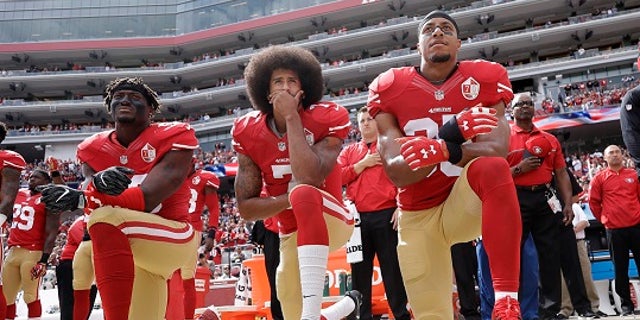 "I will tell you," Trump told Hannity, "you cannot disrespect our country, our flag, our anthem, you cannot do that."
Trump was in Pennsylvania to promote his tax reform plan, which would dramatically cut corporate tax rates from 35 percent to 20 percent. The plan also would reduce the number of personal income tax brackets and boost the standard deduction.
"A family can get and a business can get ... as much as a 40% tax reduction," Trump promised. "It's the largest tax reduction in the history of our country."
When asked if he was confident the plan would pass the Senate, Trump responded that " I can't imagine the largest tax cut for people in our history not passing" before asking rhetorically, "I mean, who's going to vote against this?"
The president noted that his tax plan had forced his drive to repeal and replace ObamaCare to take a backseat, but claimed "I actually think, right now, we have the votes" to pass a plan. Trump also leveled criticism at Republican senators who balked at previous ObamaCare repeal plans.
"Two people decide they want to do something for whatever reason, and in some cases it is grandstanding," Trump said. "Now, all of a sudden, you don't have health care. But we're going to get it anyway."
Trump also criticized the 2015 nuclear deal with Iran, calling it "one of the most incompetently drawn deals I've ever seen."
"They got a path to nuclear weapons very quickly and ... $1.7 billion in cash," Trump said. "You know how many airplane loads that must be? Did you ever see a million dollars, like a promotion, where they have a million dollars in $100 bills? It's a lot ... So, this is the worst deal. We got nothing."
The president reportedly will declare Iran to be not in compliance with the nuclear agreement in a major policy address later this week.
Trump also lashed out at the ongoing investigation over Russian actions during last year's presidential election, calling it "an excuse used by the Democrats when they lost the election."
"They sat in a room and they said, 'Wow, we look bad.' The morning after, in fact it's been written about in various books, or a book, but they said, 'Why did you lose the election?'" the president said. "And they said, 'Ah, it was Russia! Russia!' It wasn't Russia, it was a bad candidate."