Trump hosts senators at White House amid tax reform push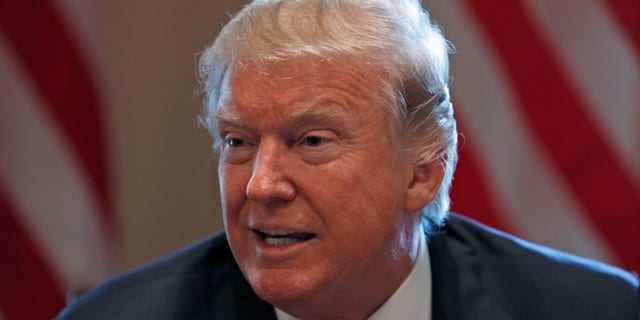 President Trump hosted a dinner for a bipartisan group of senators at the White House on Tuesday night, trying to nail down a tax reform plan that could win support from both sides of the political aisle.
Sens. Joe Manchin, D-W.Va., Heidi Heitkamp, D-N.D. and Joe Donnelly, D-Ind., joined Sens. John Thune, R-S.D., Pat Toomey, R-Pa. and Orrin Hatch, R-Utah, the White House said.
Manchin, Heitkamp and Donnelly are the only Democratic senators who did not sign a letter addressed to Republican leaders and Trump that said the Democratic caucus would not support a tax overhaul that cuts taxes for the "top 1 percent" or adds to the government's $20 trillion debt.
"I had another good conversation with President Trump about my proposal to address the outsourcing of American jobs," Donnelly said in a statement following the dinner. "I am pleased he remains supportive of my proposal, and I believe that tax reform should include measures to support companies that invest in our workers and penalize companies that ship American jobs to foreign countries. I am hopeful we can work together to encourage domestic investments that benefit American workers."
"Any chance to talk with the president about issues important to North Dakota is an opportunity I welcome," Heitkamp said after the dinner. "Tonight we had a good discussion and I reinforced that any tax reform bill must support working families and family farmers so they aren't burdened with debt and it must stand up for retirees who want to live their remaining years with dignity while also simplifying the tax code and lowering compliance burdens."
Heitkamp traveled with Trump aboard Air Force One to an event in her home state last week where he spoke broadly about the tax plan. Trump pitched the senator on the overhaul, calling her a "good woman." Heitkamp said after the event that she needs to see the details first.
Tuesday's dinner comes as the Senate looks to start working on tax reform, an issue that Trump and Congressional Republicans promised to move on during the 2016 campaign season. But Trump is also trying to persuade Democrats to support his goal to cut taxes and simplify the tax code.
The bipartisan dinner follows a deal Trump made last week with Senate Minority Leader Chuck Schumer, D-N.Y. and House Minority Leader Nancy Pelosi, D-Calif., to raise the federal debt ceiling and fund the government for the next three months while also providing Hurricane Harvey relief money.
The Associated Press contributed to this report.