Trump honors heroes with Public Safety Officer Medals of Valor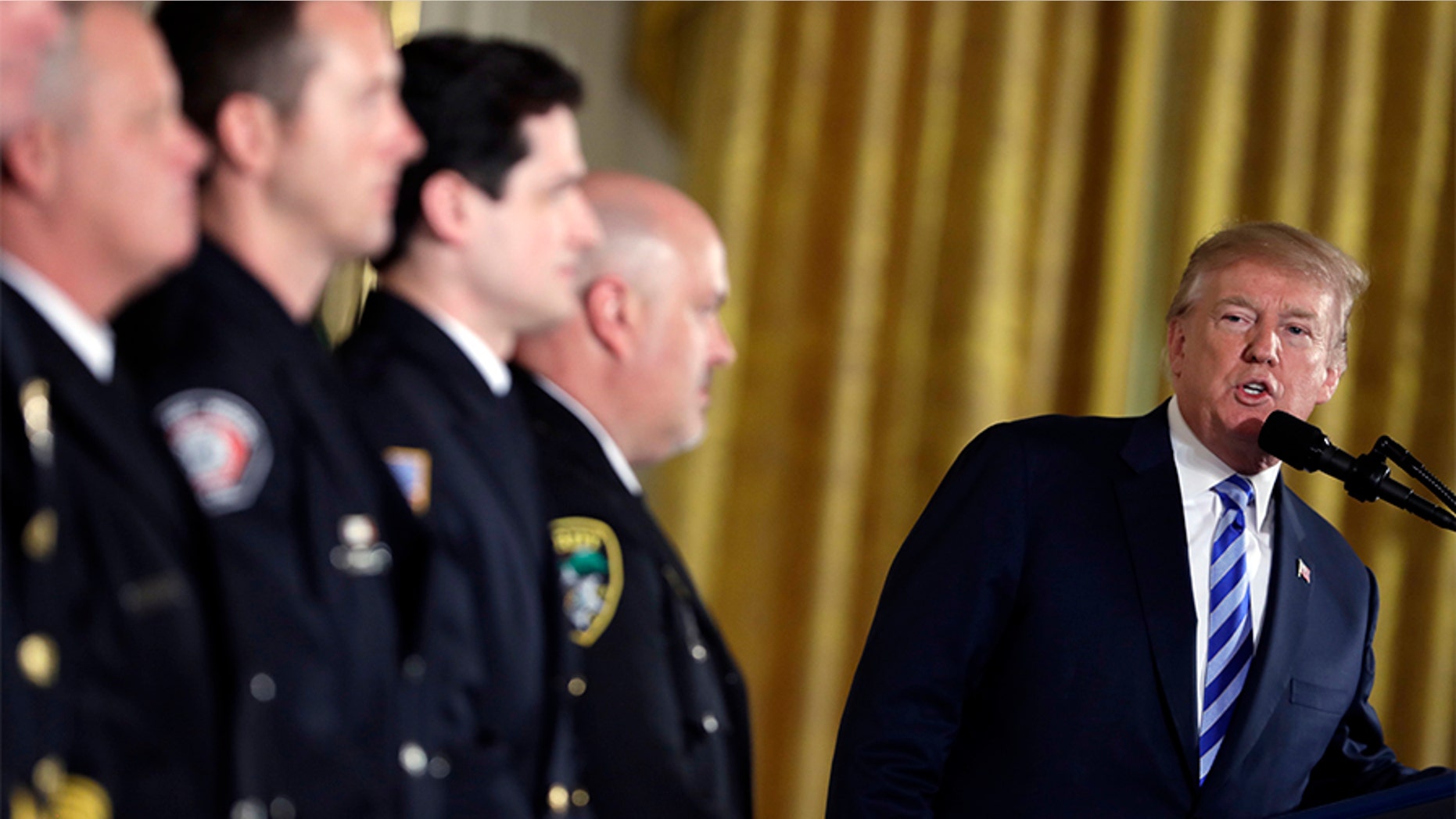 President Trump on Tuesday presented the Public Safety Officer Medal of Valor to 12 "great heroes" who risked "their lives to protect America's citizens and communities."
The award is the highest national honor a public safety officer — local police, fire department, sheriff's officers and rescue personnel — can receive, according to the U.S. Department of Justice.
Trump said the 12 officers awarded the honor have "earned an eternal place in the gratitude of our history and in our hearts."
Officers who went "above and beyond the call of duty" in various emergency situations to protect human life received the honors from the president, including those who jumped into action during a terror attack more than two years ago.
Fourteen people were killed and 22 others injured in December 2015 when a husband and wife went on a deadly shooting rampage in San Bernardino, Calif.
Six public safety officers who responded to the terror attack were awarded a Medal of Valor.
Cpl. Rafael Ixco, San Bernardino Sheriff's Department
Det. Bruce Southworth, San Bernardino Sheriff's Department
Deputy Shaun Wallen, San Bernardino Sheriff's Department
Det. Brian Olvera, San Bernardino Police Department
District Attorney Investigator Chad Johnson, San Bernardino County District Attorney's Office
Officer Nicholas Koahou, Redlands Police Department
OBAMA AWARDS MEDAL OF VALOR TO 13 LAW ENFORCEMENT OFFICERS AT WHITE HOUSE
In February 2016, two officers, as Trump described, "braved smoke, fire, and the danger of explosion," when they responded to a fiery car wreck in Tennessee, rescuing one man who was trapped inside his vehicle. Lt. William Buchanan of the Avery County Sheriff's Office in North Carolina and EMT Sean Ochsenbein of the Putnam County Rescue Squad in Tennessee were both recognized.
A California beach patrol officer, who in February 2016 rescued three people from drowning at Redondo Beach, also received a Medal of Valor. Firefighter/Harbor Patrol Officer David Poirier, Jr., of the Redondo Beach Fire Department, received the award at the ceremony.
Hesston, Kansas Police Chief Douglas Schroeder was awarded for his response to an active shooter alert in February 2016. During the shooting at a workplace with more than 150 employees on duty, the public safety officer rushed to the rescue without any backup.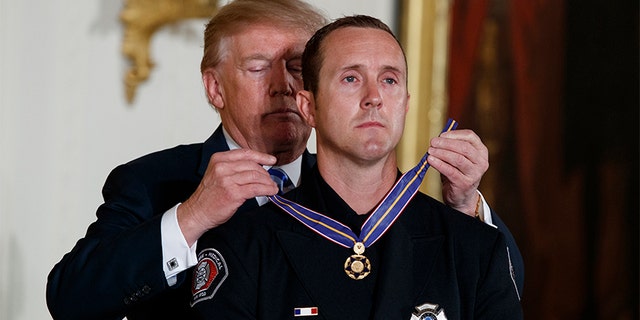 In April 2016, a firefighter rescued a man from an Arizona home as his helmet melted and skin began to burn. Trump said Tuesday that the actions of Engineer Steven Gunn, from the Peoria Fire-Medical Department, exemplified an heroic "great job."
A Wisconsin police officer who responded to a shooting during a high school prom in April 2016 is "credited with saving the lives" of four students who were fired upon as they left the dance. Patrolman Andrew Hopfensperger, Jr., of the Antigo Police Department, earned the recognition at the ceremony, too.
Fox News' John Roberts contributed to this report.