Trump has expanded Supreme Court shortlist amid pressure from pro-choice advocates, GOP senator claims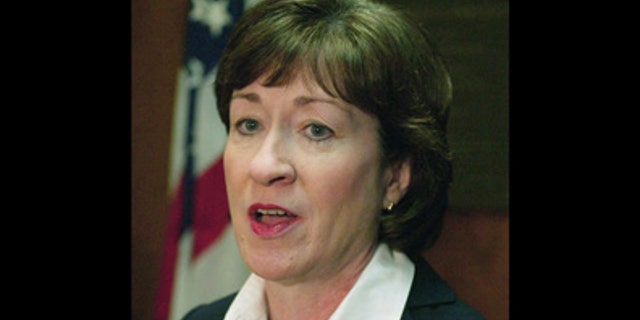 The White House has expanded its shortlist of potential Supreme Court nominees beyond the 25 candidates that have been publicly disclosed, Maine Republican Sen. Susan Collins said Sunday.
President Trump has announced that he will name a candidate to replace retiring Associate Justice Anthony Kennedy on July 9.
"The White House counsel told me there have been a few additional, potential nominees added to that list," Collins told ABC's "This Week."
Collins, a moderate Republican widely seen as a key vote in the upcoming Supreme Court nomination hearing, said she had already ruled out some of the candidates on the list that the White House released in November.
"Some people on the list I can't support because they have shown disrespect for vital principle of stare decisis," Collins said, referring to the judicial principle that affords strong deference to previous court rulings.
OPINION: REPLACING KENNEDY WILL TRIGGER ALL-OUT WARFARE
The phrase is often invoked in the context of Roe v. Wade, the landmark Supreme Court case establishing a constitutional basis for abortion rights that Democrats have warned may now be in jeopardy.
"A candidate for this important position who would overturn Roe v. Wade would not be acceptable to me because that would indicate an activist agenda that I don't want to see a judge have," Collins said.
Collins did not elaborate on specific judges she had ruled out. The Los Angeles Times recently claimed, inaccurately, that one top candidate on Trump's list, Judge Amy Coney Barrett, wrote in a 2003 academic publication that Roe v. Wade was "erroneous."
Barrett, the former Notre Dame law professor who Trump recently appointed to the Chicago-based Seventh Circuit, has often spoken about her Catholic faith.
During her confirmation hearings last year, Senate Democrats were widely criticized for grilling Barrett on her Catholic faith, despite her insistence that she would not "impose" her personal convictions on the law.
WATCH: DEMS TAKE HEAT AFTER GRILLING NOMINEE FOR CATHOLIC FAITH
Justice Kennedy largely voted with the Supreme Court's liberal bloc on abortion rights, even as he sided with conservatives on other key issues.
President Trump said on Fox News on Sunday that he expects his next Supreme Court pick "to go very quickly." The president added that he's unlikely to ask his nominee's position on the landmark Roe vs. Wade abortion rights case -- which Collins said the president had also told her, as well.
"The president told me in our meeting that he would not ask that question," Collins said in a separate interview on CNN.
Trump said abortion rights "could very well end up" being determined on a state-by-state basis after a new Supreme Court justice is seated, but the president said he "probably" would not ask his pick to replace Kennedy how they would vote on Roe v. Wade.
"But I'm putting conservative people on," Trump said.