Trump calls Northam controversy 'pretty sad,' stops short of demanding governor's resignation
In an exclusive interview with Fox News' "The Ingraham Angle," President Trump sounded a note of pity for the "pretty sad" controversy surrounding embattled Virginia Democratic Gov. Ralph Northam, but stopped short of calling for his resignation.
Trump's comments came as the clamor for the resignation of Virginia's top two politicians seemed to die down Monday, with some black community leaders forgiving Northam over the blackface photograph in his medical school yearbook page, and calling for a fair hearing for Lt. Gov. Justin Fairfax on the sexual assault allegations against him.
Meanwhile, Northam has suggested that the state's Democratic attorney general, Mark Herring, should consider stepping aside because he admitted to dressing in blackface in college.
"I watched his news conference -- it was pretty sad," Trump said, referring to Northam's remarks to reporters earlier in the month. At the hastily arranged event, Northam denied that he appeared in the 1984 blackface photograph, contradicting his previous statements.
But he acknowledged that he had darkened his face when he dressed as singer Michael Jackson as part of a talent contest that same year. And hen asked if he still able to perform the Moonwalk -- Jackson's signature dance move -- Northam paused to look at the space next to him as if he was about to attempt the move, before his wife Pamela said it was "inappropriate circumstances."
"I felt sorry for his wife -- his wife saved him," Trump told host Laura Ingraham. "He was gonna try to imitate Michael Jackson with the Moonwalk. Nobody can imitate Michael Jackson with the Moonwalk. It was a pretty bad situation."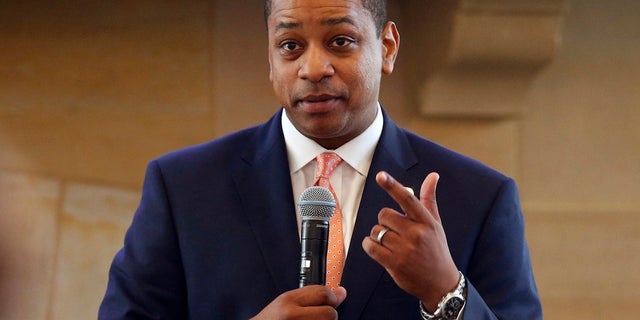 Still, Trump added, it was not necessary for Northam to step aside.
"Let them figure out what to do," Trump said, referring to Virginians.
Trump called Virginia a "Democrat state" where he did "very well" in the 2016 elections and hinted that the state is "ready to flip over" to the GOP side in 2020.
"African-Americans are comign to the Republican Party like nobody can believe," Trump said.
Meanwhile, at least one lawmaker says he will try to pursue impeachment of Fairfax after two women accused him of sexual assault in the 2000s. Fairfax has vehemently denied the claims and called for authorities, including the FBI, to investigate.
As the scandals engulfing Virginia's top three elected Democrats developed, it became increasingly clear that it could look bad for the party if Fairfax were summarily pushed out and the two white men managed to stay in power.
"The sort of irony that makes your head spin is that Herring and Northam are in trouble for behavior related to Virginia's racial past. And yet it may be the only African-American statewide officeholder who, at the end of the day, gets in trouble," said Quentin Kidd, a political science professor at Virginia's Christopher Newport University. "This may get worse and more uncomfortable before it gets better — if it does get better."
Northam on Sunday vowed to remain in office because "there's no better person" to help the state "heal" from the multitude of scandals rocking its leadership than a doctor with his medical school credentials.
In the same interview with "CBS This Morning," Northam suggested that Fairfax should resign if the two sexual-assault allegations leveled against him are proven true.
Northam also intimated that Herring should consider stepping aside.
"I'm a leader," Northam told host Gayle King. "I've been in some very difficult situations, life-and-death situations, taking care of sick children. Right now, Virginia needs someone that can heal. There's no better person to do that than a doctor."
Meanwhile, a local newspaper confirmed last week that Republican State Senate Majority Leader Tommy Norment was one of the editors of a 1968 Virginia Military Institute (VMI) yearbook that contained numerous racial slurs and at least one blackface picture.
In response, Norment, 72, suggested he was the victim of a smear campaign intended to distract from the multiple allegations of past racism and sexual assault surrounding the state's highest-ranking Democratic officials.
Fox News' Laura Ingraham and The Associated Press contributed to this report.