Trump apologizes for Britain First retweets in interview, host says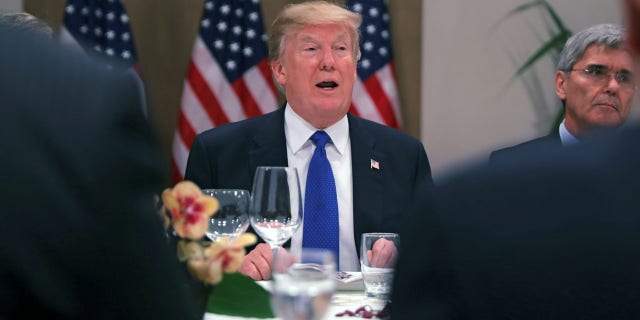 NEWYou can now listen to Fox News articles!
President Donald Trump apologized for retweeting content from a far-right group called Britain First, according to Piers Morgan.
Morgan, the former CNN talk show host who conducted the interview for the U.K. television channel ITV, posted a photo Friday of their meeting in Davos, Switzerland, and said Trump claimed he did not know about Britain First.
"I don't want to be involved with these people," Trump told Morgan, according to the host's tweet. "If you're telling me they're horrible racist people. I certainly apologize."
The furor erupted after Trump, who has almost 48 million Twitter followers, in November retweeted three anti-Muslim videos posted by a leader of Britain First. The tiny group regularly posts inflammatory videos purporting to show Muslims engaged in acts of violence, but without providing context or supporting information.
British Prime Minister Theresa May and Trump traded criticism at the time over the retweets and British lawmakers labeled the U.S. leader a hate peddler.
The U.K. ambassador in Washington complained to the White House, and May's spokesman said the president was wrong to retweet the group's content. Trump responded with a tweet urging May to focus on "the destructive Radical Islamic Terrorism that is taking place within the United Kingdom" instead of on him.
Trump told Morgan that he is "often the least racist person that anybody is going to meet. Certainly I wasn't endorsing anybody."
The full interview with Trump is scheduled to air Sunday on ITV.
The Associated Press contributed to this report.