Trump administration officially restores Iran sanctions
The Trump administration said it has taken its final steps to remove the United States from the 2015 Iran nuclear agreement.
On Monday, the administration said it restored previously lifted sanctions on Iranian banking, shipping and energy. Officials announced sanctions on 50 Iranian banks, 200 individuals and ships, an Iranian airline and more than 65 airplanes in what the Treasury Department said is its "largest ever single-day action targeting Iran."
"The Iranian regime has a choice: It can either do a 180-degree turn from its outlaw course of action and act like a normal country, or it can see its economy crumble," said Secretary of State Mike Pompeo. "I promise you that doing business with Iran in defiance of our sanctions will ultimately be a much more painful business decision."
"We are at an economic war situation. We are standing up to a bullying enemy," said Iranian President Hassan Rouhani. "Yesterday, Saddam was in front us, today Trump is front of us. There is no difference. We must resist and win."
Iranian Foreign Minister Javad Zarif, however, told USA Today his government is open to talks with the U.S. if the Trump administration changes its approach to the nuclear deal.
While the administration said it has reduced Iran's daily oil exports by more than a million barrels a day, Pompeo acknowledged the U.S. granted eight countries waivers to continue buying Iran's oil without penalties for six more months. They include some of Iran's top oil customers – China, India, Italy, Greece, Japan, South Korea, Taiwan and Turkey.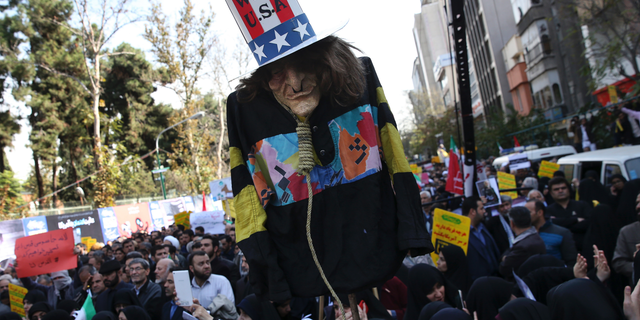 "Each of those countries has already demonstrated significant reductions of the purchase of Iranian crude over the past six months," Pompeo said. "We continue negotiations to get all of the nations to zero."
While detailing sanctions on Iran's banking sector, the administration announced the U.S. will allow transactions for humanitarian purposes.
"We will make sure that humanitarian transactions are really going for those purposes," said Treasury Secretary Steven Mnuchin. "This is not about hurting the people of Iran, but we will not let money be diverted to humanitarian purposes and then put for terrorist activities."
Secretary Pompeo also said the U.S. will "grant narrow and temporary waivers" to allow continued collaboration on three civilian nuclear projects in Iran.
"Allowing these activities to continue for the time being will improve ongoing oversight of Iran's civil nuclear program," Pompeo said, "and make these facilities less susceptible to illicit and illegal nuclear uses."