Trump accuses FBI of using 'pile of garbage' dossier to go after campaign
President Trump on Tuesday blasted the so-called "dossier" – which was compiled during the 2016 campaign and contained salacious allegations against him – as a "pile of garbage" and accused the FBI of relying on it to go after his campaign.
The president weighed in on Twitter, in response to a Washington Times report that was discussed on "Fox & Friends."
"WOW, @foxandfrlends 'Dossier is bogus. Clinton Campaign, DNC funded Dossier. FBI CANNOT (after all of this time) VERIFY CLAIMS IN DOSSIER OF RUSSIA/TRUMP COLLUSION. FBI TAINTED.' And they used this Crooked Hillary pile of garbage as the basis for going after the Trump Campaign!" he wrote.
The Washington Times reported that the FBI, while not repudiating the dossier, has acknowledged its central charges are unsubstantiated.
Congressional Republicans have been investigating how much federal investigators relied on the dossier, and specifically whether they used it to justify a surveillance warrant against ex-Trump adviser Carter Page. Former British spy Christopher Steele compiled the document, after being hired by Fusion GPS -- an opposition research firm that got funding from the Hillary Clinton campaign and the Democratic National Committee.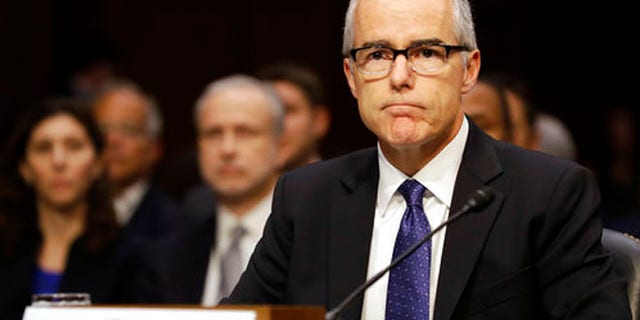 Fox News reported last week that during a closed-door session with the House Intelligence Committee, FBI Deputy Director Andrew McCabe stood by the document's credibility but, when pressed to identify what in the salacious document the bureau had corroborated, cited only the fact that Page had traveled to Moscow. Beyond that, investigators said, McCabe could not even say that the bureau had verified the dossier's allegations about the specific meetings Page supposedly held in Moscow.
Trump also has stepped up his criticism of McCabe in recent days, in tweets posted over the weekend from his holiday retreat in Mar-a-Lago. Responding to a Washington Post report that McCabe plans to retire early next year, he wrote:
"FBI Deputy Director Andrew McCabe is racing the clock to retire with full benefits. 90 days to go?!!!"