Trick-or-Treating, White House Style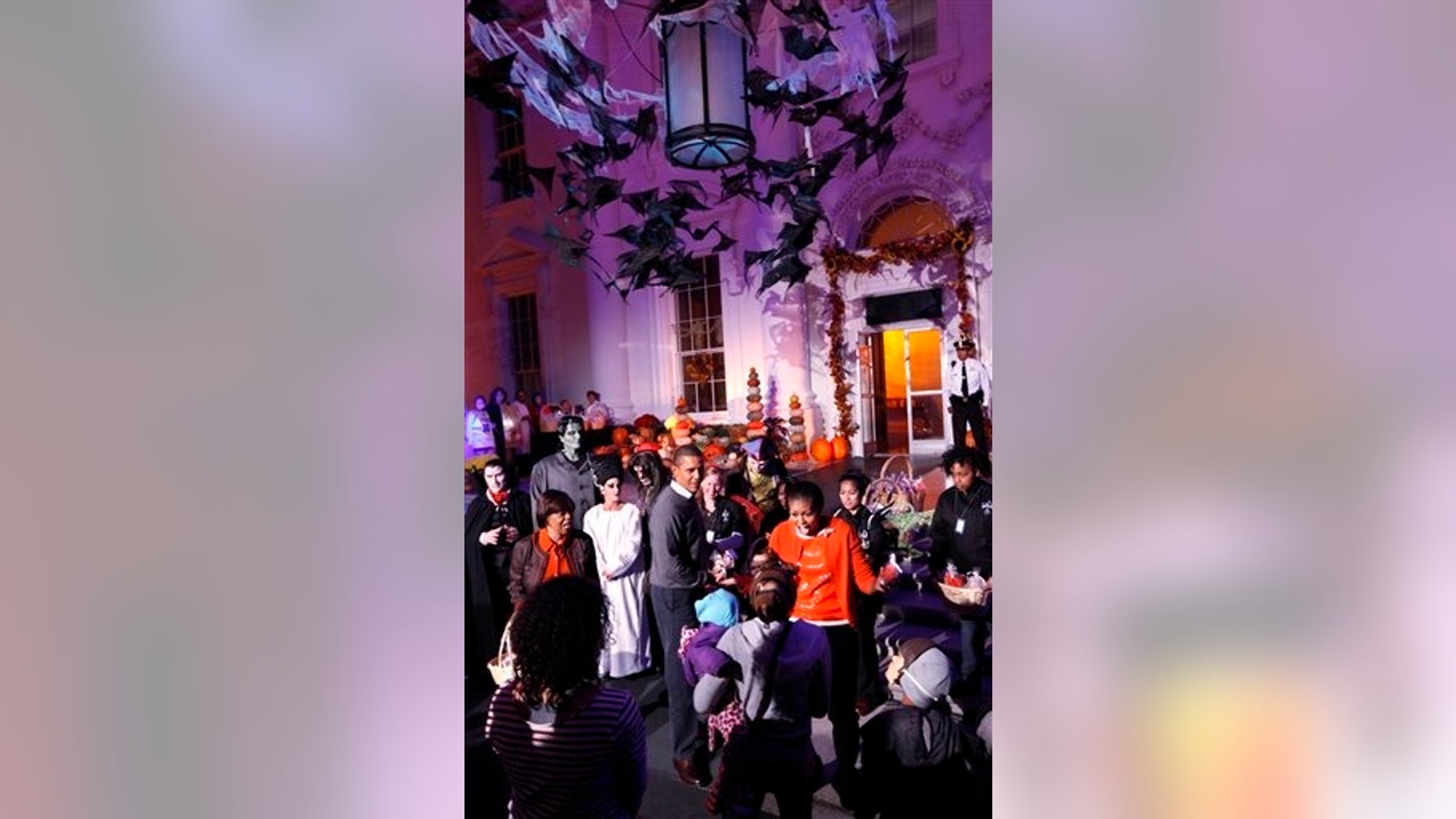 President Barack Obama and first lady Michelle Obama turned the White House orange and purple Sunday evening, welcoming children of servicemen and women as well as students from the local DC, Maryland and Virginia school systems for a night of tricks and treats.
Taking a break from the campaign trail, the president wished visitors a happy Halloween and handed out goodie bags filled with dried fruit, a box of White House M&M's and sweet dough butter cookies made by White House Pastry Chef Bill Yosses. The Obamas did not don costumes for the holiday, but Mrs. Obama wore a festive bright orange sequined top and matching cardigan appropriate for the occasion. As the second wave of children ran up to receive their treats, President Obama joked that it was a "Let's Move" Halloween, referring to the first lady's program encouraging kids to eat right and exercise.
Another group of guests were led up the White House front steps to shake hands with the president before entering the foyer, where they were greeted by costumed actors. The president and first lady took a moment to thank volunteers before joining the celebration inside.
The White House, working in conjunction with the National Park Foundation, arranged for a variety of actives including a dress-up booth and face painting. Howls and spooky sound effects played throughout the evening as children and parents walked along the pumpkin-lined driveway while pirate-costumed Potholes Brass Band played festive music. A swarm of fabricated bats dangled from the light above the North Portico entryway as Frankenstein, Dracula and Wolfman took turns posing for pictures.
The Great Pumpkin Patch, a family business in Author, IL, created towering pyramids of gourds that made up the majority of the night's decorations. Chef James Parker, owner of Veggy Art in Chantilly, VA, provided carved pumpkins displayed in front of the home.