Top Republicans support immigration reform, but stress border security must come first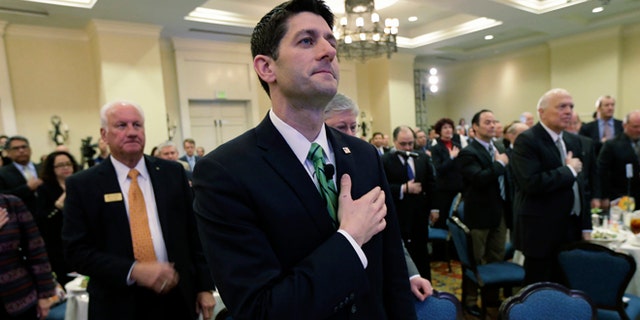 Top Republicans made clear Sunday they want to improve the country's immigration system but will not negotiate until U.S. borders are first secured.
"This is not trust but verify. This is a verify and trust approach," Wisconsin GOP Rep. Paul Ryan told ABC's "This Week." "Security first, no amnesty, then we might be able to get somewhere."
Ryan's comments follow GOP House leadership releasing a plan last week that outlines a path toward legal status for some of the estimated 11 million illegal immigrants now in the United States.
The plan includes tighter border security but no plan for those living in the U.S. illegally to achieve citizenship, a deal many conservatives consider amnesty.
Ryan, a member of House leadership and chairman of the House Budget Committee, also repeated that fellow party members don't trust that the president will enforce border laws after a deal on immigration is reached.
"Those things have to be in law, in practice and independently verified before the rest of the law can occur," he said. "So it's a security force first, non-amnesty approach."
Ryan also acknowledged that the possibility of the House passing a bill that could reach the president's desk by the end of the year is still "clearly in doubt."
The Democrat-controlled Senate this past summer passed comprehensive immigration reform that included a 13-year path to citizenship for some living illegally in the U.S. But reform legislation has remained stalled in the GOP-led House over the citizenship issue and concern about Senate Democrats dominating should negotiators from both chambers meet to negotiate a compromise deal.
President Obama indicated last week that he might be open to legal status first, but restated such a plan cannot lead to two permanent categories of people – citizens and non-citizens.
"We think that was a pretty good step," White House Chief of Staff Dennis McDonough said Sunday on NBC's "This Week" about the GOP plan. "We feel pretty good that we'll get this done this year."
Louisiana Republican Gov. Bobby Jindal said Sunday on CNN's "State of the Union" that Republicans should proceed with immigration reform because it's the right thing to do, "not because of what some pollster tells us."
Jindal, vice chairman of the Republican Governors Association, disagreed with the 2014 election strategy that Republicans should just let Obama and Democratic candidates stew in the problems associated with ObamaCare.
"There are a lot of folks in the Republican Party that would tell you the president is doing so poorly right now in the polls and especially with the flawed implementation and design of the Affordable Care Act that … we should stay out of his way and run 2014 as a referendum on that," Jindal said. "I'm not one of those people."
He also said the country should change its immigration system to "high wall, broad gate."