Top Republican urges Obama to reconsider 'no boots on the ground' mantra in Iraq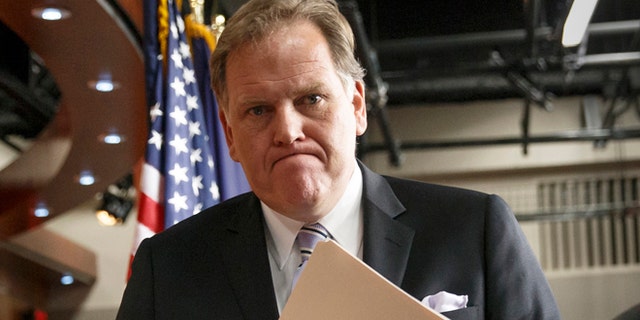 A top House Republican is urging the Obama administration to consider sending U.S. ground forces as part of its strategy against the Islamic State, saying "we will have to risk Americans" to defeat the terrorist group.
The call by Intelligence Committee Chairman Mike Rogers R-Mich., puts him out in front of even his Republican colleagues, many of whom echo the administration line that the U.S. should not commit "boots on the ground" in Iraq.
Secretary of State John Kerry reiterated that stance on Friday in Wales ahead of a meeting among allies on how to address the Islamic State threat.
"I think that's a red line for everybody here, no boots on the ground," Kerry said.
But Rogers, in a forceful op-ed published in Time, said the U.S. "must not let the standard trope that there be 'no boots on the ground' become a mantra of self-defeat or a definition of intelligence operations and special capabilities."
The column comes as even Democrats take a tougher stance toward ISIS. Sen. Bill Nelson, D-Fla., while not supporting U.S. boots on the ground, plans to introduce a bill authorizing U.S. airstrikes in Syria.
Rogers, who also supports taking the fight to Syria, stressed that "American infantry and tanks rolling back into" Iraq or Syria are not needed. "But it is not enough simply to send a few hundred troops to defend American diplomatic compounds," Rogers wrote.
"This is a terrorist organization that has an army, and we need to treat it that way. To defeat this enemy, we will have to risk Americans who will be operating in the fight. But let's be clear, American lives around the world are presently at risk from ISIS's brutality," Rogers said.
Rogers claimed that "air strikes alone" will not defeat the Islamic State, and that U.S. military and intelligence must act as a "force multiplier" for Iraqi and Kurdish security forces, as well as moderate opposition groups in Syria and Arab League partners.
The comments are a challenge to the administration's current thinking. On Friday, Kerry pointed to a "holistic" approach that does not involve ground forces.
Rather, the secretary said this would include contributions of weapons, ammunition and advisers, as well as military operations – like the ongoing airstrikes – in support of Iraqi security forces. Kerry said allies should "go after their financing mechanisms and sources," while continuing to coordinate the humanitarian aspect of the campaign.
Responding to recent criticism of the administration's allegedly mixed messages on ISIS – after President Obama said he wanted to "destroy" the group, but also make it "manageable" -- Kerry also clarified that there "is no contain policy" for the terrorist group.
"They're an ambitious, avowed genocidal, territorial-grabbing, Caliphate-desiring, quasi-state within a regular army," Kerry said. "And leaving them in some capacity intact anywhere would leave a cancer in place that will ultimately come back to haunt us.
"So there is no issue in our minds about our determination to build this coalition, go after this," he said.
As Congress prepares to return next week after the summer break, Kerry has been called to testify about the administration's strategy at a Sept. 16 hearing of the House Foreign Affairs Committee.
Speaking with Fox News, committee Chairman Ed Royce, R-Calif., faulted the administration for not acting sooner as ISIS forces toppled city after city in northern Iraq earlier this year.
"This is irresponsible," he said.
He parted with Rogers, saying "We don't want U.S. troops on the ground."
But Royce said that while U.S. air power can effectively "degrade and remove this threat," he also urged the U.S. to immediately start arming the Kurdish forces.