Top Republican questions 'suspicious' claim Secret Service taped over footage of agents after party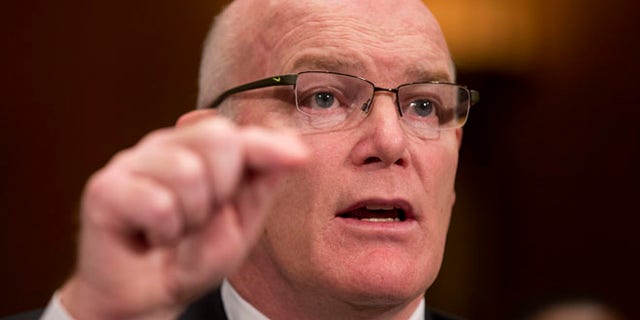 The chairman of the House oversight committee, in an interview with FoxNews.com, on Friday sharply challenged claims by the Secret Service that key surveillance footage – which may have shown two agents in an embarrassing incident earlier this month – was simply taped over as a matter of agency policy.
"It's highly suspicious," Rep. Jason Chaffetz, R-Utah, said. "I have a hard time believing that's true."
Chaffetz remained skeptical, even after Secret Service Director Joseph Clancy on Thursday tried to clear the air over Secret Service videotape practices at a Senate committee hearing.
In question is footage that may have shown two allegedly inebriated agents driving into a White House suspicious package scene, after returning from a party. Lawmakers have been shown two tapes so far – but they were surprised to learn that footage from other fixed positions around the White House grounds may be lost, because of an apparent Secret Service practice of taping over most footage after 72 hours.
Pressed at Thursday's hearing, Clancy confirmed the practice. He said while he wasn't in the service when it was first implemented, it is done for "privacy" reasons – since surveillance cameras capture images of visitors all around the White House complex.
However, Clancy acknowledged, in hindsight, that giving White House surveillance footage just a 72-hour shelf-life is "too short of a time."
"We've got to go back and look at the standards of the other agencies and do a good best-practices look at this. But there's no question we've got to hold these tapes longer," he said.
He pledged that a "workgroup" would examine the policy.
But Chaffetz, who plans to hold a Secret Service hearing on Tuesday, isn't waiting for the workgroup. He said "even 7/11" keeps footage and he's formally asking the Secret Service to try and dig up more than just the two tapes they've provided.
"It doesn't pass the basic common-sense test," he said. "They provided the two tapes – where are the rest?"
Clancy said Thursday he's instructed his staff to reach out to the manufacturer to try and recreate the tapes that were supposedly scrubbed.
"We're doing everything we can to retrieve those images," he told senators.
A Secret Service spokesman said the reason two videos were not taped over is they were deemed pertinent to the original package investigation (the package turned out to be a book).
Chaffetz, though, noted that the agency should want to be able to "piece together parts of the puzzle maybe months apart from each other." Chaffetz said his committee would start interviewing rank-and-file members as part of its own review of the March 4 incident, where the agents in question reportedly were allowed to go home.
Chaffetz, who could not speak in detail about the two videos he's seen, said one of them is "clearly worthless." The other, he said, is "very close" and provides a good angle of the agents' vehicle driving by the suspicious package. But he said footage from additional cameras could provide important context – making clear how wide the perimeter was, how the agents got through and whether they were stumbling or driving erratically in the process.
"There's a lot to be learned by these tapes," he said. While all the recent attention from the incident has been on the two agents who drove into the scene, Chaffetz also voiced concerns about the suspicious package investigation itself, and how the suspect was initially allowed to drive off. Separately, Chaffetz questioned the response time of the Metropolitan Police Department, and on Thursday sent a letter to their police chief seeking additional details of their involvement.
Fox News' Chad Pergram contributed to this report.