Top Democrat cites Kavanaugh's 'outcome-driven' legal philosophy as reason to deny him due process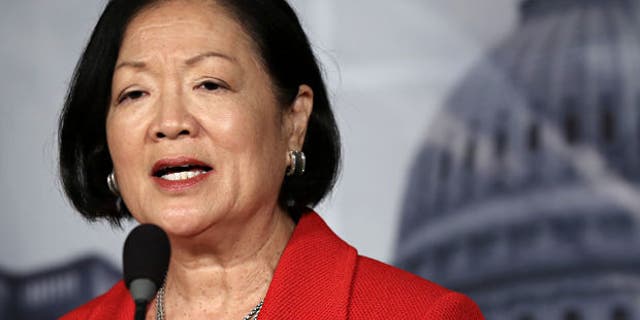 Sen. Mazie Hirono on Sunday suggested that Supreme Court nominee Brett Kavanaugh's "outcome-driven" conservative judicial philosophy directly undermines the credibility of his denials that he sexually assaulted California professor Christine Ford at a house party more than three decades ago.
Speaking to CNN's "State of the Union," Hirono, D-Hawaii, called for an independent FBI investigation of Ford's claims, before explaining why the presumption of innocence and due process should not apply to Kavanaugh's case.
"I put his denial in the context of everything that I know about him in terms of how he approaches his cases," Hirono told host Jake Tapper, in response to a question about whether Kavanaugh was entitled to a presumption of innocence. "His credibility is already very questionable in my mind. ... When I say that he's very outcome-driven, he has an ideological agenda, and I can sit here and talk to you about some of the cases that exemplify his, in my view, inability to be fair."
WATCH: HIRONO LASHES OUT AT 'MEN IN THIS COUNTRY,' TELLS THEM TO 'SHUT UP AND STAND UP'
Hirono went on to say Kavanaugh is "very much against women's reproductive choice," characterizing his legal views as one of "many indications of lack of credibility."
The top senator, who serves on the Judiciary Committee, left open the door to impeaching Kavanaugh if he is confirmed -- an idea floated by some Democrats, including Sen. Sheldon Whitehouse, D-R.I., last week.
"I know that Maryland has eliminated the statute of limitations for kidnapping and sexual assault," she said. "So there may be an investigation along those lines. This is a situation that is not going to go away."
The Supreme Court has held that changes to statutes of limitations cannot apply retroactively to enable the prosecution of past offenses, pursuant the Ex Post Facto provision of the Constitution. However, the Senate can technically remove any federal judge based on a two-thirds vote, regardless of whether a specific crime has been committed.
"This is a situation that is not going to go away."
KEY DETAILS SHIFT IN FORD'S STORY, AS PURPORTED WITNESSES LINE UP TO DISPUTE HER VERSION OF EVENTS
All of the individuals that Ford has said were at the house during the alleged assault -- including Kavanaugh, Mark Judge, classmate Patrick Smyth, and her own longtime friend, Leland Ingham Keyser -- have denied knowledge of the episode, under penalty of felony, in interviews with the Judiciary Committee. Ford has said she does not recall who owned the house where the alleged attack occurred, nor why there was a gathering there or exactly when the incident occurred.
Nevertheless, at a fiery press conference last week, the Hawaii Democrat blasted "the men in this country," blaming them for sexual assault and urging them to "just shut up and step up." She added: "I expect the men in this country and the men on this committee, because we all signed onto this letter, to demand an FBI investigation."
That led Republicans to accuse Hirono and other Democrats of hypocrisy over the case of U.S. Rep. Keith Ellison, who is running for attorney general of Minnesota. Ellison has received only muted criticism from top Democrats, and the Democratic National Committee weighed in on the abuse allegations against him for the first time only hours before polls closed in his key primary race last month.
KEITH ELLISON SAYS ACCUSER FABRICATED DOMESTIC ABUSE STORY, WARNS OTHERS MAY 'COOK UP' ALLEGATIONS
"I've been very clear that I make no excuses for anyone who engages in this kind of behavior," Hirono said. "As far as Keith Ellison, these allegations need to be investigated and appropriate action taken."
Hirono then pivoted immediately back to Kavanaugh's case, saying she wants to be "laser-focused" on the ongoing nomination battle.
"I do not want to have a person on the Supreme Court who doesn't seem to be able to apply the facts in ways that do not meet his outcome-driven agenda," she said.
A tentative agreement has been reached to have Ford testify before the Senate Judiciary Committee on Thursday, although key details remain uncertain as Republicans continue to accuse Ford's team of delaying the process.
In a letter last week, Judiciary Committee Chairman Chuck Grassley, R-Iowa, told Sen. Dianne Feinstein, D-Calif., that he "cannot overstate how disappointed" he was that Feinstein had kept Ford's allegations a secret for weeks after learning about them in July. Ford went public only after news of the allegations leaked to The Intercept -- which Republicans have suggested was orchestrated as a last-minute effort to derail Kavanaugh's confirmation just days before a key vote in the Judiciary Committee.
HIRONO TOOK CAMPAIGN CASH FROM SENATOR WHO ADMITTED HITTING HIS WIFE
Now that a hearing has been set for Thursday, Hirono told Tapper that she is interested in questioning Kavanaugh about "what kind of environment it was in high school -- apparently there was a lot of drinking and partying going on."
Earlier this month, Hirono pressed Kavanaugh during his confirmation hearings at length about whether he was aware of inappropriate behavior by former 9th Circuit Judge Alex Kozinski when he clerked for Kozinski from 1991 to 1992. Kozinski abruptly retired last year after several woman who had worked as law clerks or colleagues accused him of sexual misconduct that included touching, inappropriate sexual comments and forced viewings of pornography in his chambers.
Hirono, who repeatedly has asked other judicial nominees whether they ever sexually harassed anyone, noted that Kavanaugh and Kozinski had kept in touch after his clerkship, with Kozinski recommending Kavanaugh during his 2006 confirmation hearings for his current job on the D.C. Circuit Court of Appeals.
"You saw nothing, you heard nothing, and you obviously said nothing," Hirono said, even as Kavanaugh denied being aware of any misconduct by Kozinski and said he would have reported it if he had known.
Hirono also directly asked Kavanaugh during that hearing whether he had ever committed acts of sexual misconduct as a "legal adult." She told Tapper on Sunday she did not inquire about juvenile behavior because those records, she said, often remain sealed -- but she maintained that she was still interested in whether Kavanaugh had attacked Ford, as alleged, when he was 17.