Thousands Attend Virginia Tea Party Convention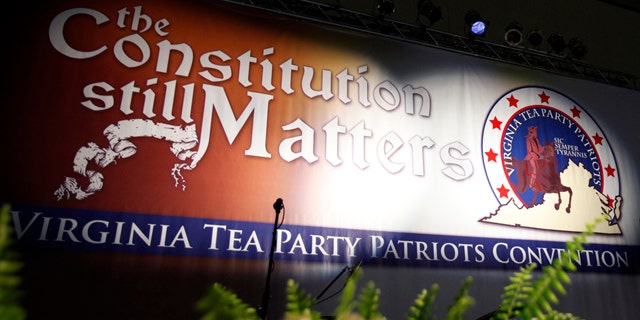 RICHMOND, Va. -- For two days, Republican candidates and officeholders who attended the first statewide gathering of Virginia's tea party groups have tread lightly.
The scorn heaped by activists at the Virginia Tea Party Patriots convention on former President George W. Bush was second only to that for Democratic President Barack Obama.
Even Virginia's popular Republican Gov. Bob McDonnell had to field barbed questions from some of the more than 2,000 angry conservatives and libertarians who attended the meeting Friday and Saturday. Organizers said it was the largest tea party meeting in the nation.
"They don't understand how committed these people are," said Kenny Golden, the former chairman of the Virginia Beach Republican Committee, who is now running for Congress as a conservative independent.
N.J. Gov. Chris Christie won the Tea Party presidential poll Saturday night with 14 percent of the vote. Sarah Palin finished second with 13.5 percent. Rep. Ron Paul, Newt Gingrich and Sen. Jim DeMint rounded out the rest of the field.
State Sen. Frank Ruff, R-Mecklenberg, and Del. Tommy Wright, R-Lunenberg, mingled Friday with the activists, doing more listening than talking as part of the cautious courtship between the tea party and the GOP.
"These people are constituents. We represent them and to represent them, you need to know what's on their minds," Ruff said.
Indeed they do. Across the nation, tea party groups this year have proved an ability to influence Republican primaries. In several U.S. Senate races, they've ousted entrenched incumbents in favor of conservatives bent on measures such as repealing the Democratic health care bill enacted in March, giving state legislatures authority to nullify federal laws through a vote of two-thirds of the states.
"There were Republicans in the Senate and across the country who voted to expand government and raise taxes," said Alexandra Liddy Bourne of Fairfax, a Republican former legislative candidate who attended the convention with her famous father, Watergate figure and conservative radio talk show host G. Gordon Liddy.
"Conservative Republicans are in good shape with the tea party. It's the moderates who have to worry," Liddy Bourne said.
The Republican who had the least to fret was Virginia's conservative lightning rod attorney general, Ken Cuccinelli. He and maverick Republican Rep. Ron Paul both received lengthy, roaring standing ovations from more than 1,000 people, many of whom bore "Cuccinelli for President" and yellow flags emblazoned with a coiled snake and the words "Don't Tread on Me."
"The tea party might not exist today if all we were dealing with was a Democrat Congress that took over in 2006 and running up the debt and then was joined by a president who then helped them step outside the boundaries of the Constitution," Cuccinelli said.
Instead, the origins of the frustration that created the tea party dates to what Cuccinelli called "an utter failure by the Republican Party" during the Bush presidency and the first six years of it when he had a GOP Congress.
Sitting only a few feet from Cuccinelli as those words brought the crowd to its feet again was George Allen, a Republican former governor who was in the Senate for those six years. Allen is courting the tea party as he prepares to regain the seat he lost in 2006 to Democratic Sen. Jim Webb.
It was Allen who led the GOP renaissance in the mid-1990s when he trounced a Democrat who had been a prohibitive favorite to become governor. By the time he won his Senate seat in 2000, the GOP had taken over every statewide Virginia elected office, both the houses of the General Assembly, both U.S. Senate seats and a majority of the state's 11 U.S. House seats.
On Saturday, he renewed his familiar attacks against a bloated federal bureaucracy full of "federales," "officious nannies" and "oligarchs."
But Saturday's wildest ovations were clearly Cuccinelli's.
Since taking office in January, Cuccinelli has filed lawsuits challenging the federal health reform law and the Environmental Protection Agency's new fuel efficiency rules. He opined that state agencies could not adopt rules protecting gay government employees from discrimination and launched an investigation into a former University of Virginia scientist who got a state grant to study climate change. All have endeared him to tea party activists.
Cuccinelli couched his lawsuit challenging the health care law he decries as "Obamacare" in the most dire terms possible for his conservative admirers.
"If we lose that case, state sovereignty has been whittled to nothing and federalism is dead," he said. Congress, he argued, could dictate the most minute decisions of personal lives, right down to which products people must buy.
Rep. Steve King, R-Iowa, said the tea party craves bold words like Cuccinelli's, but demands that they be backed by actions. King, another tea party idol and an ardent advocate for repealing the health reform law, said it's tricky to remain in the tea party's good graces.
"When they say they want to balance the budget, they haven't yet seen the things we have to do to balance the budget," King said.
"Establishment Republicans have to understand that if they're going to embrace these ideals, they'll have to put up the votes, and it's going to be hard. So there's that level of caution, and then there's the conventional wisdom of don't alienate the moderates, don't alienate the swing voters and trying to find that balance," he said.