This Year's Tax Day Protests Have Drawn Smaller Crowds So Far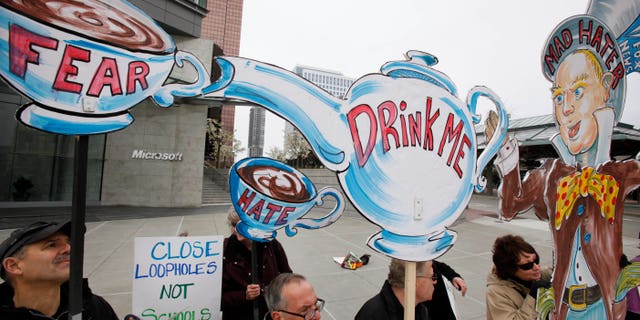 NEWYou can now listen to Fox News articles!
In the past two years, tax day -- April 15 -- was greeted with nationwide protests by Tea Party supporters furious at government spending – protests that captured national attention. But the tax day protests this year are going largely unnoticed.
Supporters say they're still on the march, though no tours are planned right now. Tax day was delayed until this Monday, because the nation's capital has an official holiday Friday in observation of Emancipation Day, marking President Abraham Lincoln's signing of an 1862 law ending slavery in Washington, D.C.
With dozens of new Tea Party members now in Congress, a budget deal that cuts $38 billion in federal spending and the Washington debate focusing on deficit reduction, some are wondering whether the Tea Party fire been drenched.
Tea Party events are being held this weekend in New York, Chicago, and Bluffton, S.C. Among the potential presidential candidates making appearances at them are Donald Trump in Boca Raton, Fla., Sarah Palin in Madison, Wis., and Rep. Michele Bachmann, R-Minn., in Des Moines, Iowa.
A Tea Party protest was held Friday in Washington state, where unions and other supporters planned a counter rally.
About 300 Tea Party supporters turned out for a rally Thursday at the Michigan Capitol, a much smaller crowd than tax day protests in recent years. More than 1,000 people protested at the Capitol last year and 4,000 swarmed it in 2009.
Steve Stevlic, head of the Chicago Tea Party, told FoxNews.com that he hasn't seen any signs of the movement fading. His tax day protest drew up to 5,000 people last year and, if decent weather prevails, he's expecting the same size this year, perhaps even larger.
His event will be held Monday at noon in Daley Plaza. Among the speakers will be presidential candidate Herman Cain, Rep. Joe Walsh, R-Ill, and Grover Norquist, president of Americans for Tax Reform.
Stevlic noted the Tea Party's success in the midterm elections and in shifting the debate in Washington to how much spending to cut, not whether to cut it.
"If anything, what you see going in Washington, the Tea Party movement is needed more than ever," he said, referring to the $38 billion spending cuts that fell way short of the $100 billion that Tea Party activists were demanding and will only result in $352 million actual spending cuts for the remainder of the fiscal year that ends in September.
"What's going on is not what we elected Republicans to do last November," he said. "We have a spending problem. We have a math problem and it's still not being addressed."
President Obama praised the Tea Party movement for getting Americans engaged in politics, but he said he strongly disagrees with its views.
Obama told The Associated Press on Friday that the Tea Party has forced important questions to the surface of political debate, including how much government the nation can afford. But he added that it's clear he and Tea Party leaders differ sharply on answers to such questions.