The Supersonic Demise of Congressman Chris Lee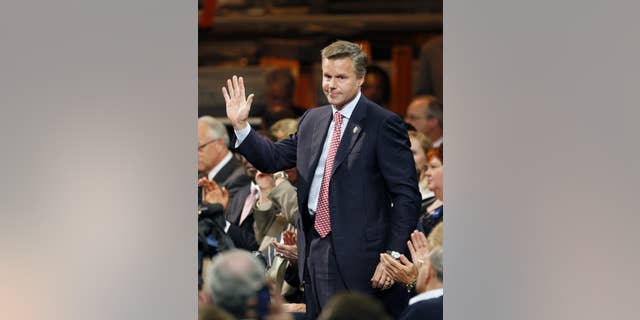 NEWYou can now listen to Fox News articles!
When a gossip website posts a picture of a half-naked, married Congressman who's allegedly posing as a divorced lobbyist sending emails to a woman he met on Craiglist, an enterprising reporter might seek out the fully-clothed Congressman to determine if the allegation is true.
The mission would take the reporter to the seventh floor of the Longworth House Office Building across the street from the Capitol. The reporter may briefly curse himself under his breath as hikes the seven floors only to find a gaggle of people whom he assumes are other journalists already milling about outside the Congressman's office. The reporter is frustrated because he presumes the competition beat him there. But then the reporter realizes that the people are not reporters at all. Then they begin to disperse. And the reporter finds himself as the only journalist there.
Then without warning, the door to the Congressman's office flies open and the reporter is hustling back down the same hallway. The Congressman who allegedly posed shirtless has emerged from his office suite wearing a long trench coat with a black bag slung over his shoulder. The reporter has located his quarry and is now singularly in pursuit of the individual who drew him to the seventh floor of Longworth in the first place.
++++++++++++++++++++++++++++++++++++++++++++++++++++++++
The gait of former Rep. Chris Lee (R-NY) was measured as he strode toward the towering spiral staircase that winds through the Longworth Building like a giant helix. I would have started to pepper Lee with questions immediately, but he pressed a cell phone to his ear as he took a call. I gestured to Lee that I wanted to talk with him.
"I have to take this," Lee said in a stage whisper, cupping his hand over the phone. He asked if I had a card and could get back with me. I told Lee I'd wait until he finished his call. He continued to walk. So I followed the New York Republican down the stairs, curling round and round for seven flights.
The PG-rated photo on Gawker shows Lee shirtless and flexing his right bicep. Veins pop out of his forearm. He holds a sleek, red cell phone in front of him, apparently taking the photo himself as he poses in front of a mirror.
I check out the phone Lee clasps to his ear to see if it's the same one. Apparently not, as this one is black.
Lee continues to chat quietly as we walk all the way downstairs. He then traverses a long, marble corridor that stretches by the House Ways and Means Committee, the sole panel on which Lee serves. We then pass the offices of House Speaker John Boehner (R-OH) and Rep. Devin Nunes (R-CA) before emptying out through a backdoor of the Longworth Building.
Ahead I see a black SUV with New York tags. The vehicle chirps as Lee unlocks it and makes his approach. I know I had better get to the Congressman fast.
My parents raised me not to interrupt people. Especially someone who's on the phone. But in this case, I have to.
I ask Lee if he could confirm whether the picture was of him or if he sent any of the messages. I ask if his account was hacked or if he could corroborate anything mentioned on the website. Lee says he hasn't read the Gawker story and responds that he has nothing to add.
"I have to work this out with my wife," Lee says ominously as he returns to his call.
The Congressman then fires up the SUV to drive away.
++++++++++++++++++++++++++++++++++++++++++++++++++++++++++++
All political scandals have their own shelf lives. The inquiry involving President Clinton's trysts with Monica Lewinsky was epic, stretching out over a year. The pace of the probe surrounding Rep. Charlie Rangel (D-NY) ballooned into a two-and-a-half-year saga.
The previous mark for a supersonic political scandal was the resignation former Rep. Mark Foley (R-FL) in the fall of 2006. Foley quit a day after it came to light that he had sent inappropriate text messages to male, teenage House pages.
But the velocity at which the Lee scandal unfolded made the length of Foley's demise seem practically Precambrian.
On Tuesday morning, Lee was seated at the dais in the House Ways and Means Committee for a hearing. He peppered U.S. Trade Representative Ron Kirk with questions about China and IP addresses. At 1:45 pm, Lee was voting on the House floor.
The Gawker gossip website broke its story about the Congressman around 2:30. Lee left his Congressional office around 3:30 pm and submitted his letter of resignation effective at 5 pm.
Rarely before has any lawmaker fallen so far, so fast.
"I think we set a land speed record with that one," said one Congressional aide.
Which is why the House will soon take down the website belonging to former Rep. Lee.
But for the time being, visitors to Lee's site are greeted by a gigantic pop-up box that explodes onto your screen the second you arrive.
"Sign up for E-mail updates from Congressman Chris Lee!" screams the box.
According to Gawker, the concept of "email updates" may have been the problem in the first place.
Gawker's story displayed a series of flirtatious emails that the site alleges Lee sent to a woman he met on Craigslist. In the messages, Gawker says that Lee claimed not to be a Congressman, but a divorced "lobbyist." He described himself as a "very fit funny classy guy." Lee added that he hoped he was "not a toad."
With these events, it's possible Lee could soon fit the description he allegedly assumed in the emails. As a former Congressman, Lee would still have to wait a bit before officially becoming a lobbyist. A divorced lobbyist? That would hinge on whether he's able to "work things out" with his wife.
Dating back to his time as House Minority Leader, current Speaker John Boehner has enforced a no-shenanigans policy among the GOP rank-and-file. But in a brief encounter near his office Wednesday night, Boehner said he not did lean on Lee to resign. In 2008, Boehner persuaded former Rep. Vito Fossella (R-NY) to retire after a drunk driving arrest revealed that the Staten Island Republican had a separate family in Virginia. Boehner also got former Rep. Mark Souder (R-IN) to step down quickly last spring after he admitted to an affair with a Congressional aide. Initially, Souder wanted to finish out the balance of his term.
Rep. Marlin Stutzman (R-IN) is Souder's successor and says Lee did the right thing.
"If someone is willing to lead a secret life away from their spouse, how can the general public trust you?" Stutzman asked.
+++++++++++++++++++++++++++++++++++++++++++++++++++++++++++++
After chasing Lee out to his car, I returned to the seventh floor hallway outside the Congressman's office in Longworth. At that point, a few TV crews began to arrive.
One of the women who I thought may have been a rival reporter when I first came by was still lingering there.
"Was that Congressman Chris Lee who you just left with a few minutes ago?" she asked.
I answered that it was.
"Do you know if he's coming back?" she asked.
Now that's a loaded question, I thought to myself. I then asked the woman if she knew about the Gawker story. She didn't and I filled her in. The woman seemed shocked and said that didn't sound like the Congressmen she knew.
I introduced myself and the woman identified herself as Giselle Jackman. She's the director for program services for Prevention Focus Inc., an organization located in Lee's district which helps people who suffer from drug, alcohol and gambling addictions. Jackman had an appointment scheduled with Lee for 4 pm. It was now 3:45.
"I guess I'll be meeting with staff," Jackman said.
At that point, staff was Jackman's only option. Because an hour and 15 minutes later, there was no Congressman to meet.