'The biggest sham': Sheriffs fume at mass release of 6,000 federal inmates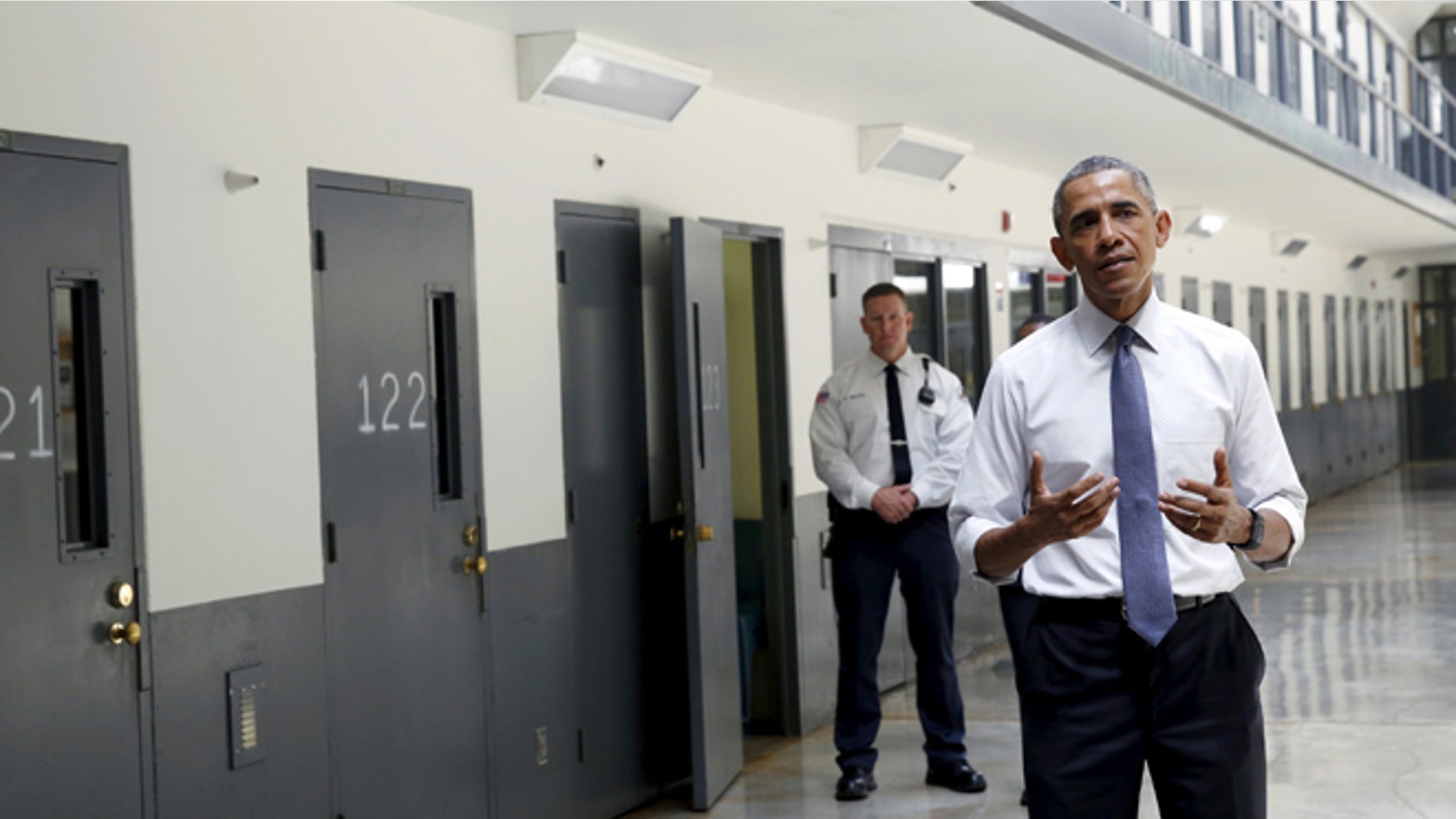 Local sheriffs across America are voicing concern for the safety of the citizens they've sworn to protect after the biggest one-time release of federal inmates in U.S. history -- though advocates of criminal justice reform maintain the release is being handled responsibly.
The 6,112 inmates were released from federal prison at the beginning of November in response to a decision by the U.S. Sentencing Commission to reduce sentences for most drug trafficking offenses and apply them retroactively. It coincides with a broader and bipartisan push for rethinking federal sentencing.
But the mass release raises immediate practical questions about how the ex-inmates can adjust.
"There's no transition here, there's no safety net. This is the biggest sham they are trying to sell the American people," Sheriff Paul Babeu of Arizona's Pinal County told FoxNews.com.
"On average these criminals have been in federal prison for nine years -- you don't have to be a sheriff to realize that a felon after nine years in jail isn't going to be adding value to the community. A third are illegals and felons so they can't work. What do we think they are going to do?" said Babeu, also a congressional candidate.
The government is in fact trying to guide the transition for many. The Justice Department says 77 percent of exiting inmates are already in half-way houses or home confinement.
But local law enforcement officers have deep reservations, as the initiative ramps up quickly.
The November inmates are the first of approximately 46,000 who may have their cases reviewed. Of those released in the first round, the Department of Justice says 1,764 were to be turned over to Immigration and Customs Enforcement (ICE) for deportation proceedings.
Sheriffs on the border front-lines were skeptical of the deportation claim.
"The promise is they're going to be turned over to ICE and deported. Anyone who thinks there's any likelihood of them leaving the U.S. … think again," Babeu said, before saying the president should be held responsible for any crimes committed by those released.
Other sheriffs also challenged the claim that those being released are not a risk to communities.
"If [the Obama administration is] not capable of making honest and prudent decisions in securing our borders, how can we trust them to make the right decision on the release of prisoners who may return to a life of crime?" Sheriff Harold Eavenson of Rockwall County, Texas, told FoxNews.com.
'I'd be amazed if the 6,000 ... being released are non-violent.'
While the average number of inmates being released to any one state is 80, Texas is slated to receive 597 inmates.
The inmates in question had been incarcerated on drug offenses, but the severity of the cases ranged broadly. An Associated Press review last month found while many were low-level drug dealers, some had prior convictions for robbery or were involved in moving serious drugs like cocaine and heroin. WGME in Maine also reported that the group includes a former "drug kingpin" previously listed as one of "America's Most Wanted," after his 20-year sentence was reduced.
"For them to tell me or tell citizens that they're going to do a good job and these inmates are non-violent, when in many instances drug crimes, drug purchasing, drug trafficking are related to other, violent crimes – I'd be amazed if the 6,000 ... being released are non-violent," Eavenson said.
A Justice Department official told reporters at an October briefing that the DOJ was conscious of public safety when granting each inmate early release, adding that every prisoner who applied under these new guidelines underwent a public safety assessment. The DOJ says that the reductions were not automatic, and that as of October, judges denied approximately 26 percent of total petitions.
RELATED VIDEO: Will release of thousands of inmates lead to more crime?
Advocates for criminal justice reform disagreed with the sheriffs, saying the Sentencing Commission handled the release very well from a public safety standpoint.
"I am sure many of the 6,000 prisoners would have loved to be able to leave prison as soon as their amended sentences were complete. But the Commission delayed implementation for a year so that as many inmates as possible could get to halfway houses, complete re-entry programs, and begin job searches before actually being released," Kevin Ring, director of strategic initiatives at Families Against Mandatory Minimums, told FoxNews.com.
"Tens of thousands of inmates leave federal and state prisons every week and so there is no reason to be particularly worried about this group. Anyone who says otherwise is appealing to the public's worst fears," Ring said.
However, the executive director of the National Sheriff's Association, which represents the more than 3,000 sheriffs across the country, says the feeling of unease is widespread and often has to do with the Obama administration's attitude toward law enforcement.
"I think it's a larger feeling of unease related to a lack of a plan as it relates to criminal justice, criminal reform and criminal release and I think that's what you're really sensing here," Jonathan Thompson told FoxNews.com. "There are many sheriffs feeling as though the administration will go through the motions of asking the questions but really not care what the opinion or expert advice of law enforcement is."
Fox News' Matt Dean contributed to this report.