The 2016 presidential field already a full mix of well-knowns and longshots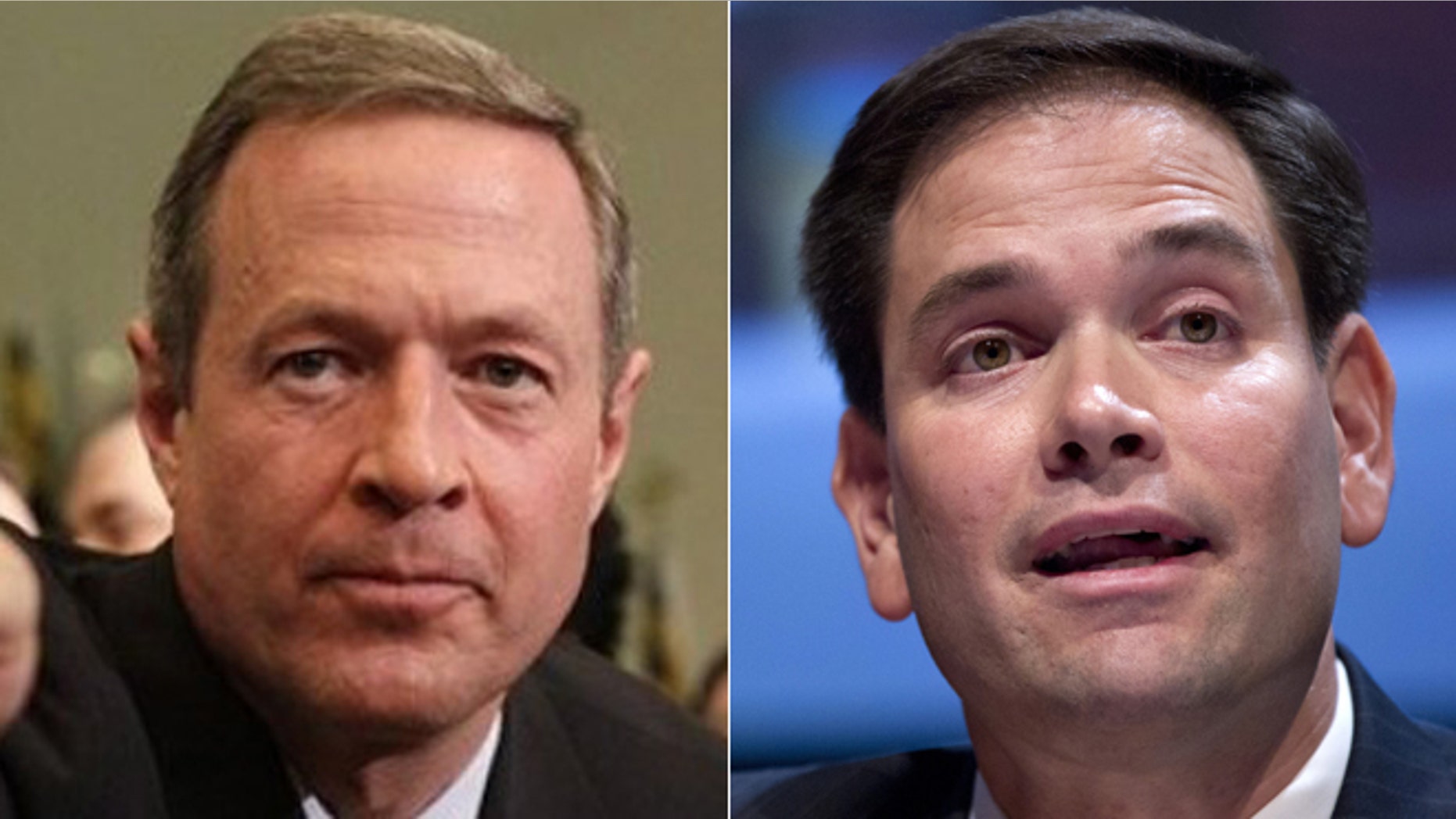 After years of earning their political chops in governor mansions, on Capitol Hill, attacking party rivals or just waiting their turn, several top prospects – and some wild cards – are emerging as potential 2016 presidential candidates.
Democrats and Republicans both have a sizable list for consideration, in what is always one of Washington's favorite parlor games. Yet nobody appears willing to declare likely front-runners with the 2012 election still months away.
Among the most-mentioned Republicans are former Florida Gov. Jeb Bush, Florida Sen. Marco Rubio, New Jersey Gov. Chris Christie and Virginia Gov. Bob McDonnell.
The Democrats have perhaps an even deeper field with Virginia Sen. Mark Warner, Maryland Gov. Martin O'Malley and New York Gov. Andrew M. Cuomo on most people's short list, and Secretary of State Hilary Clinton on their wish list.
Republicans Bush and Rubio were the topic of presidential speculation for 2012, though neither jumped in the race.
Rubio, who still appears in the running to be a vice presidential nominee, is a first-term senator whom many consider the future of the Republican Party. The Tea Party candidate essentially ended speculation about a 2012 run when he said in March that had been in office for just three months and wanted to focus on "being the best United States senator that Florida has ever had."
Yet four years in national politics could give Rubio, the son of Cuban immigrants, the exposure and experience needed for a 2016 bid.
Republican strategist Tyler Harber says Bush is a top prospect and thinks he perhaps stayed out of 2012 to put more space between him and the recent Bush administration – not because of a crowded field.
"It was too soon," Harber, a partner in Washington-based Harcom Strategies, told FoxNews.com. "After his brother, there might have been some anti-Bush sentiment."
Harber also said he thinks Bush did some early polling that "came back to show it was too soon."
He thinks there's some validity to the notion that McDonnell, a conservative, recently went mum about whether he's still in the vice presidential hunt because he might be considering the top of the GOP ticket in 2016.
Harber called McDonnell a "measured" candidate comfortable on the campaign trail and likely to "perform well" in such places as Iowa and New Hampshire.
He thinks Rep. Michele Bachmann will not get a second chance in 2016, considering her struggle to connect with voters in 2012 and the challenges she has in keeping a staff.
Harber's longshots include New Mexico Gov. Susana Martinez and Missouri Rep. Sam Graves, whom he calls a candidate with "solid conservative credentials."
"We've seen this before on both sides of the aisle," he said. "You can win with a solid team and a great campaign."
While Democrats gush at the possibility of Clinton making a second run and say her stature would essentially clear the field, she has repeatedly said that politics -- and most recently the grind of being secretary of state -- has tired her to the point of needing a very long, if not permanent, break.
Still, Clinton, who with husband Bill is the party's most powerful couple, has always been coy about political aspirations and still represents perhaps the best opportunity for a woman to become a U.S. president.
"You can look at three people right away – Warner, O'Malley and Cuomo, then Hillary if she wants it," said Democratic strategist David Heller of Main Street Communications. "And it's pretty clear O'Malley wants it."
O'Malley, a progressive who for the past two election cycles has been one of President Obama's hardest-hitting and mistake-free campaign surrogates, recently opened a federal Political Action Committee.
An O'Malley spokesman said it's too soon to talk about the governor's 2016 plans, but that the O Say Can You See PAC will help the governor get Obama reelected, win two state referendums, and give him the ability to spend on national- and state-level races.
Still, Todd Eberly, an assistant professor of political science at St. Mary's College, told The Baltimore Sun he doubts local issues were the PAC's true purpose.
"He's starting a PAC now for a referendum in November? It's smart for them to say that, but we all know the reality," he said.
Heller said O'Malley is young, articulate and good looking, but he still must be able to "put the money together," especially in such a small state as Maryland.
He called Warner a widely popular lawmaker with "unparalleled business acumen who represents the moderate wing of the Democratic Party" and the Clintons "loved by Democrats of all stripes."