Texas Governor: Build Border Wall With 'Sanctuary City' Funds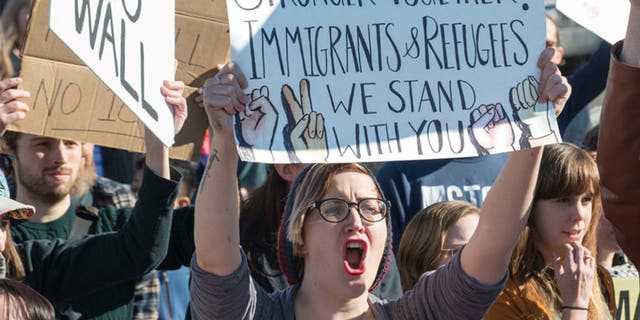 Texas Gov. Greg Abbott suggested President Donald Trump and both houses of Congress use federal money withheld from defunded cities, counties and states with so-called "sanctuary" policies to help fund a border wall, during an interview Tuesday on "The Laura Ingraham Show."
Abbott, who has withheld state funds from Travis County in Texas because of its sanctuary policies, urged the president to use federal criminal grants stripped away from localities adopting these policies to aid in securing the border.
"I defunded [Travis County] $1.5 million because they adopted sanctuary city policies. If the president were to apply this very same concept across the board to all cities, counties and states in the United States that are receiving grants from the executive branch that are criminal justice grants -- if he were to cut off those grants to every sanctuary city, state, county and city, I think you would have over 20 billion dollars," Abbott said.
"And that could go to fund the fence that would reduce all the sanctuary city concerns that we have from people who are coming here illegally," the Texas governor continued. "Threats only last so long. If you don't back up your threats with action, the threats will evaporate. And so it's time for action now, both by Congress and the president."
Abbott lauded Trump for the work he's already done in upholding his campaign promises to crack down on illegal immigration, enforce immigration laws and secure the border from illegal entry even as he urged more action.
"I think things are going to get better because I think the president is clearly pushing this in the right direction, focusing on those who are not only just here illegally, but who are people who have committed crimes in the past," Abbott said.
"What are the issues that Americans care the most about? And it really comes down to one issue that stands above most, and it relates to the primary purpose of government: I believe the primary purpose of government is to keep the people safe," Abbott added. "It means keeping our sovereignty and borders safe. It also means keeping our cities safe."
LifeZette editor-in-chief Laura Ingraham agreed with Abbott, noting that this is why it essential that Trump "keep his numbers up."
"This is why, Governor Abbott, that the president needs to keep his numbers up so he can go to these congressmen and senators and say, 'Look. I have like 56 percent approval rating. You have 18 percent approval rating. You're going to get this done for me. This is important to the voters. This is important to the country. And get it done,'" Ingraham said. "He has to have that type of leverage."
Abbott agreed, adding, "The reality is if leaders ... stand up and say, 'This is intolerable ... These are the resources I am going to dedicate to make sure we eradicate this problem,' that's the kind of thing that will win the president the support he needs to expand his programs."
The Texas governor recounted how his state has lost "billions of dollars" in dealing with the problems that stem from massive amounts of illegal immigration -- whether it be from hospitals treating illegal immigrant, schools educating them or law enforcement officials dealing with them and their ensuing crimes.
"And so the state of Texas is incurring billions of dollars of costs because of this. And that is something that the federal government cannot turn a blind eye to," Abbott said. "The president needs to stand up and stand strong for keeping Americans and America's cities safe, just as he is in trying to deal with Syria right now."
Both Abbott and Ingraham pointed to Trump's airstrikes in Syria last week in retaliation for the chemical attack that killed more than 80 of Syria's civilians. However, both also noted that atrocious crimes occur all across the United States when illegal immigrants from gangs such as MS-13.
"We're talking decapitations, torture, burning," Ingraham said. "I mean, this is stuff we're outraged about happening in the Middle East but we have this happening here because of our lax border policy."
Noting that "our communities are ripped apart by gangs that rape, rob and murder people," Abbott insisted that "this is something that cannot be allowed in the United States of America."
"And we need to bring the full force of government at both the state and federal level to stamp out gang activities like this in our country," Abbott added before expressing his astonishment "that people are opening their states up to even more crime for their citizens" by supporting sanctuary policies.
"In that regard, it is just astonishing that we have states like California that are now adopting statewide sanctuary city policies," Abbott said. "We're going to make it impossible for any city or country in the state of Texas to adopt any type of sanctuary city policy."
The Texas governor then touted the program he unveiled yesterday to crack down on gang violence in Houston. MS-13, in particular, has increased its foothold in Houston.
"This is going to be an effective step in the right direction to crack down on what is a burgeoning gang-related violent crime area in the greater-Houston-Harris-County area," Abbott said.