Texas GOP Senate run-off pits Tea Party against establishment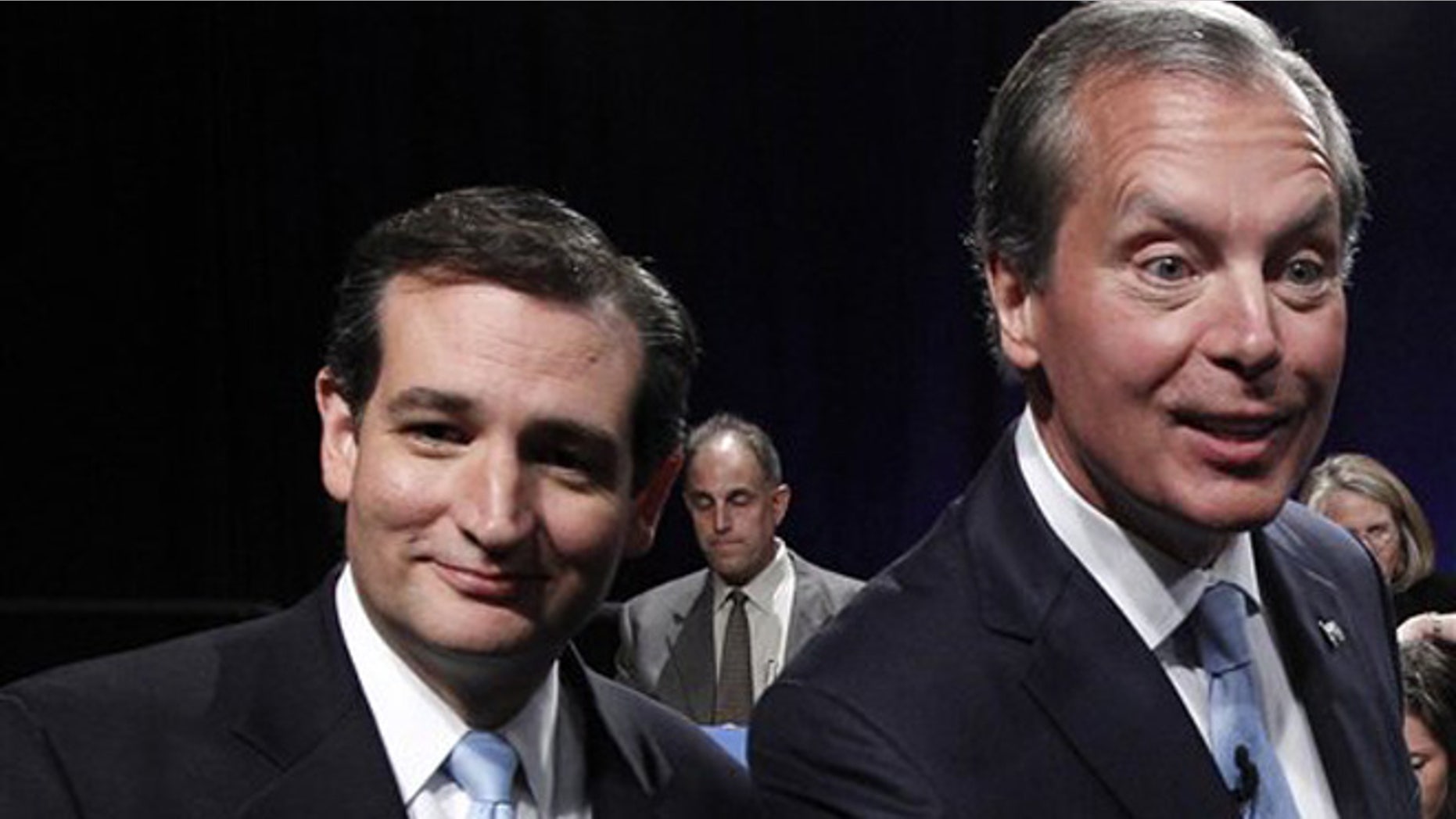 The latest flare-up in the long-running tension between the Tea Party and so-called Republican establishment is playing out Tuesday in Texas, where a GOP Senate run-off has escalated into a nasty fight that's drawn in high-profile Republicans, and donations, from across the country.
Sarah Palin and other conservative Republicans have stopped by the state in recent weeks to stump for former Texas Solicitor General Ted Cruz, who's facing off against the one-time favorite, Texas Lt. Gov. David Dewhurst.
In the days leading up to the May 29 state primary that triggered the run-off, polls showed Cruz trailing Dewhurst by as much as 12 points in the fight for retiring Sen. Kay Bailey Hutchison's seat.
Since then, the race has tightened considerably and now, polls show the race too close to call. The Democratic-leaning Public Policy Polling now puts Cruz 10 points ahead of Dewhurst.
As expected, the run-off has got much more negative, as outside influence and outside money have poured in from Tea Party darlings.
The Dewhurst campaign itself has outspent the Cruz campaign 3-to-1 thanks to millions of dollars in loans Dewhurst made to his campaign, and the support of Texas Gov. Rick Perry and his political establishment in the state.
But the list of outside Tea Party-aligned supporters for Cruz is long. Palin, Rick Santorum, Sen. Rand Paul, R-Ky., Sen. Jim DeMint, R-S.C., and Sen. Mike Lee, R-Utah, have all campaigned in Texas for Cruz.
Both Dewhurst and Perry are quick to put down the outside support, saying it is Texans who know what is best for Texas, not political "celebrities."
The Club for Growth has cut into Dewhurt's campaign cash lead. In a memo to supporters, the D.C.-based group credits itself with "blunting the spending advantage of the Dewhurst campaign" in the final weeks of the campaign through its television, radio and Internet ads.
Cruz and supporters like the Club for Growth paint him as a "fighter" and outsider who is ready to take on Washington.
When asked how the race stands, Cruz campaign spokesman James Bernsen reiterated the outsider, fighter mantra.
"The voters of Texas are highly energized. We've seen conservatives all across Texas rally behind this campaign because they recognize that politicians from both parties have put us in this mess and we need a strong conservative fighter who will stand up for principle in Washington D.C.," Bernsen said.
But Monday, Dewhurst used Cruz' "fighter" claim to appeal to his military base.
At a veterans event in San Antonio, Dewhurst pointed out that unlike him, Cruz has never served in the military. Dewhurst, who was in the Air Force, claims, "the louder you speak, probably, the less of a fighter you are." Standing beside him at that event was Perry, another veteran.
Dewhurst and his supporters have also hit Cruz hard for not pledging his support for the state's other U.S. senator, Republican John Cornyn, as he seeks a leadership position.
The negativity has filled both the television ads and Twitter. There was a bitter back-and-forth about comments a Cruz supporter tweeted about Dan Moran, an Iraq war veteran and supporter of both Dewhurst and Perry.  Perry, an avid tweeter, even chimed in.
The winner of the GOP run-off is expected to have a huge advantage over their Democratic opponent -- the Democratic run-off is being held Tuesday as well. Former Texas state Rep. Paul Sadler is facing a retired school teacher named Grady Yarbrough.