Texas GOP Seeks To Win Over Latinos By Appealing To Their Conservative View On Abortion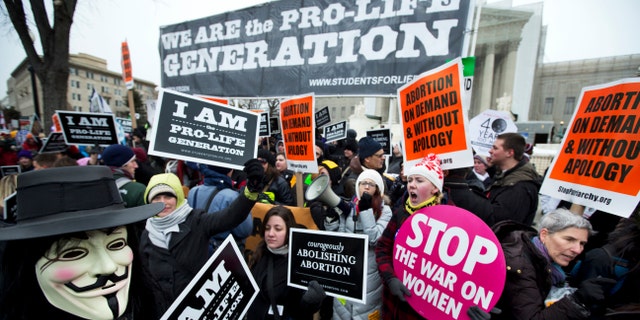 Some Texas Republicans view the bitterly emotional debate over abortion as a factor that could win their party supporters among what they say is a constituency that shares their conservative stance on the issue –the state's large Latino population.
Republicans, with an eye on 2014 elections, are hoping to persuade Latinos to go to the polls and vote for GOP candidates based on the party's pro-life stance on abortion, according to the Texas Tribune.
Texas Democrats, however, balk at the plan, and say that Latinos share Democratic views on most key issues.
"Family values is a very powerful issue among the Hispanic electorate," said Enrique Marquez, a Republican political consultant, according to the Tribune. "Family values is a very powerful issue among the Hispanic electorate, but jobs still remain the top concern."
But Democrat state Rep. Mary Gonzalez thinks that assessment is way off base.
"This is one of those issues stereotypes are problematic," the online political publication quoted her as saying about Latino views on abortion. She said that Latino strongly prefer Democrats on issues that are crucial to them, such as education, health care and immigration, the Tribune said.
Kathryn Hearn, the community services director at the Planned Parenthood Association of Hidalgo County, also saw the GOP strategy as ill-fated, noting that Latinos don't see abortion as a topic of political debates, but rather as a personal issue.
"When it comes to our patients and this community, this is not a sound-bite issue," she is quoted as saying. "It's so personal that sometimes even after someone has had an abortion, it's sometimes difficult for them to tell us."
A University of Texas/Texas Tribune poll showed that most Latinos in Texas supported restricting abortions after 20 weeks, and 49 percent said abortion laws were sufficiently strict or needed to be less stringent.
State Rep. Jason Villalba, a Republican, said his party colleagues would do well to speak on issues such as abortion on which they have common ground with Latinos. Instead, many Republicans, he said, have been talking other issues, such as immigration, in a way that alienates Latinos.
"If you listen to talk radio and the pundits, in many instances those who speak the loudest for the Republican Party are offensive to the Hispanic community," he is quoted as saying.
Texas' abortion restrictions are among the toughest in the nation and gained notoriety when Democratic state Sen. Wendy Davis launched a nearly 13-hour filibuster against them in June that received national attention.
Davis has since launched her own gubernatorial campaign and could face Attorney General Greg Abbott, who was predicted to coast to victory and a big-time defender of Texas' abortion law, in the November 2014 election.
Republican Gov. Rick Perry has said he will not seek another term.
Abbott has spoken against abortion and courted Latinos by saying that the community and the GOP share similar conservative values.
The Tribune noted that Democrats have framed the Republican view of abortion as being one that is inconsiderate to women.
Cal Jillson, a political science professor at Southern Methodist University, said that Republicans are exploiting abortion when courting Latinos because "Republicans don't have much to offer them" on issues such as education and immigration.
Planned Parenthood asked the Supreme Court Monday to place Texas' new abortion restrictions on hold.
The group said in a filing with the high court that more than a third of the clinics in Texas have been forced to stop providing abortions since a court order allowed the new restrictions to take effect Friday.
Planned Parenthood said that the 5th U.S. Circuit Court of Appeals went too far in overruling a trial judge who blocked the law's provision requiring doctors who perform abortions in clinics to have admitting privileges at a nearby hospital.
The filing was addressed to Justice Antonin Scalia, who oversees emergency matters from Texas. Scalia has asked Texas to respond by Nov. 12, meaning that the provision will remain in effect at least until then.
The Associated Press contributed to this report.
Follow us on twitter.com/foxnewslatino
Like us at facebook.com/foxnewslatino