Team Obama leaks failed raid in bid to shore up image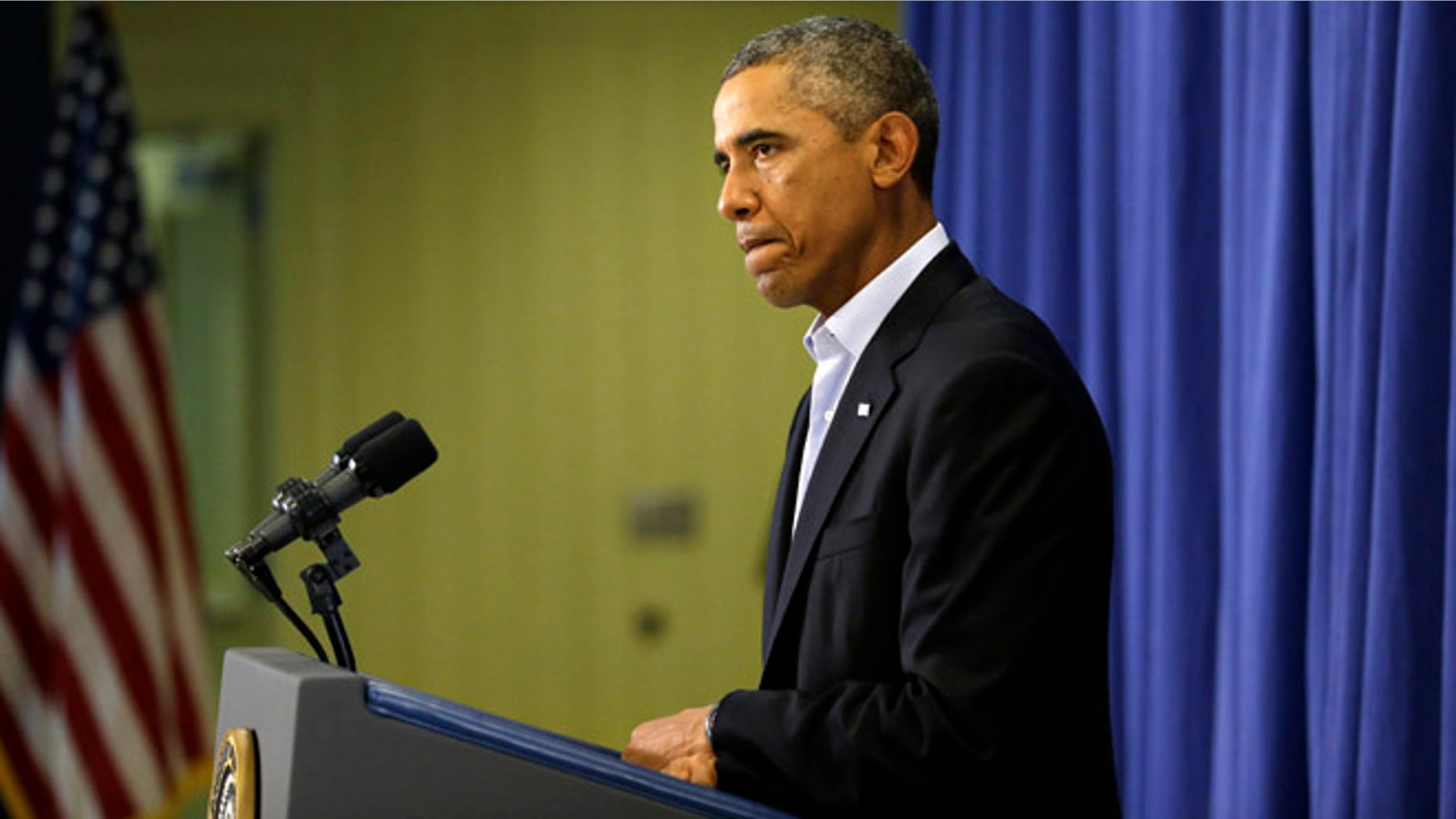 **Want FOX News First in your inbox every day? Sign up here.**
Buzz Cut:
• Team Obama leaks failed raid in bid to shore up image
• Holder pumps up pressure on prosecutor in Ferguson
• Grimes garbled at farm forum
• Pryor touts support for 'a law'
• Feminist sympathies spike among the men of Asheville
TEAM OBAMA LEAKS FAILED RAID IN BID TO SHORE UP IMAGE
With President Obama facing increasing pressure to respond more forcefully to Islamist militants in the wake of the beheading of American journalist James Foley, the White House leaked word that the president had authorized a failed rescue mission to save Foley and other Americans hostages. Why on earth would anyone leak that? Publicizing a failed mission hurts U.S. military clout and certainly the captors already knew about the effort. So why? The answer came later on Wednesday night when it was revealed that the administration, in keeping with longstanding U.S. policy, had declined to pay ransom for Foley's release. The leak of the failed rescue was evidently an effort to show the president was not simply a bystander. We've seen this before when the administration, long scorned by journalists for its clampdown on reporters, starts getting very leaky on national security when the president is jammed up politically. Remember the "kill list" and the lavish details on the killing of Usama bin Laden?

Hozzle shot - Obama is getting roasted in the press for his response to the killing and the ongoing Islamist threat. The president stepped to the microphones to make his statement while Foley's parents were conducting their own press conference to in New Hampshire, yanking coverage away from the grieving family. And just moments before Obama spoke, his campaign apparatus dumped out another mass-email fundraising solicitation from the president, saying "Nothing has ever been more important than fighting for folks like you." Obama wrapped up the press conference and in minutes was at a nearby country club for a round of golf with former NBA star Alonzo Mourning and a Wall Street donor. That would have been less problematic had he given different remarks on Wednesday. But because the president essentially expressed his feelings on the subject and declared that his policies would not change, it seemed callous.

[Course correction - The NYT's original headline on the story about the golf-loving president's response to the killing, "Obama, outraged over beheading, vows to stay on course" was quickly mocked and quickly changed.]

Will it work? - Helpful leaks are ones that cast their subject in a positive light. It is hard to see how the White House pushing out a story about a failed raid will do anything helpful for the president's deteriorating image. The most likely result of the botched communications strategy at the White House is that Obama will be forced to give in to critics like Hillary Clinton and further escalate U.S. operations in the region.

[Fox News: "A senior U.S. official also told Fox News that military planners are weighing the possibility of sending more American forces to Iraq…"]

HOLDER PUMPS UP PRESSURE ON LOCAL PROSECUTOR
If the embattled St. Louis County prosecutor was looking for help from the nation's top lawman on Wednesday, he was wrong. After almost two weeks of unrest over the fatal shooting of a black man by a white police officer, Attorney General Eric Holder visited the St. Louis suburb of Ferguson, Mo. Holder explained that he understands the "mistrust" black residents have of police: "I am the attorney general of the United States. But I am also a black man." Holder went on to describe his "humiliating" experience and "angry" response to being hassled by New Jersey state troopers decades ago. Holder's personalization of the conflict wasn't just feel-good talk for outraged black activists, it was also a jab at St. Louis County Prosecutor Bob McCulloch.

[Police ally says officer badly beaten - Fox News: "[The officer involved in the shooting] suffered a fractured eye socket in the fracas, and was left dazed by the initial confrontation, the source said."]

Makes it personal - McCulloch, a Democrat, has been the county's prosecutor since 1991, but activists have been calling for him to be removed from the case because of his race and personal experiences. McCulloch has convened a grand jury to investigate the shooting, but because his father, a St. Louis police officer, was killed in the line of duty by a black suspect 50 years ago, foes want Gov. Jay Nixon, D-Mo., to yank him.  Holder's choice to make his own race and biography equivalent to his official position hardly helped McCulloch's effort to that he was impartial despite his family trauma.

[Holder today will announce today a deal with Bank of America, a key Democratic political patron and recipient of billions in bailout funds and federal protections under the Obama administration. The giant financial firm will pay a $7 billion fine and offer credits to customers for its part in a $1 trillion subprime lending scheme that resulted in the Panic of 2008.]

Officer video released - St. Louis Post Dispatch: "A video of an awards ceremony released Wednesday shows Officer Darren Wilson being commended for outstanding police work. The video's release was the first time a confirmed image of the officer who shot and killed Michael Brown on Aug. 9 was made official. … Police Chief Thomas Jackson said that Wilson, 28, subdued a man in his car who was in midst of breaking down a large quantity of marijuana for sale."

WITH YOUR SECOND CUP OF COFFEE...
While there are 7,000 languages spoken around the world, 95 percent of the world's population speaks 300 of them. Inside Science's Joel Shurkin considers how some 40 percent of the world's language may go extinct: "Thousands of languages have gone extinct in the last few centuries, and an economist at Case Western Reserve University thinks the language of any people whose total population is fewer than 35,000, is possibly endangered…There still are places in Europe, where a relatively small population speaks minority languages descended from Vulgar Latin that are mutually unintelligible from each other.  Examples include Picard and Walloon, both spoken in parts of France and Belgium. Even in England, there is a small population that still speaks Cornish, and Welsh never disappeared…But, when a language does disappear, a unique view of the world goes with it. Once one is gone it is almost impossible to resurrect – Hebrew being a rare exception."

Got a TIP from the RIGHT or LEFT? Email FoxNewsFirst@FOXNEWS.COM

POLL CHECK
Real Clear Politics Averages
Obama Job Approval: Approve – 41.8 percent//Disapprove – 52.2 percent
Direction of Country: Right Direction – 27.2 percent//Wrong Track – 64.5 percent
Generic Congressional Ballot:  Democrats – 41.2 percent// Republicans – 39.8 percent

-- 75 days until  Nov. 4 --

GRIMES GARBLED AT FARM FORUM
Senate Minority Leader Mitch McConnell  and Democrat Allison Lundergan Grimes traded barbs during the Kentucky Farm Bureau's 'Measure the Candidates' forum Wednesday. Grimes had some difficulties with her delivery as she tried to fault McConnell on his record, starting with her attack on his attendance record. Lexington Herald-Leader: "'Never has a senator been paid so much to do so little for the people of Kentucky,' Grimes said. 'And it has come at the expense of our farm families. I'm a firm believer (that) you reap what you sow.' When a reporter tried to ask Grimes after the forum how much time she has missed work as Kentucky secretary of state while campaigning, Grimes' press secretary Charly Norton cut the question off and went to another reporter… Grimes continued to fault McConnell for voting against an immigration reform bill, which passed the Senate and failed in the U.S. House." But as McConnell's campaign was quick to point out, Grimes had a little trouble getting her message out.

FARMERS DIG ERNST
Des Moines Register: "[Iowa] GOP U.S. Senate candidate Joni Ernst and Gov. Terry Branstad [R-Iowa] were both endorsed late Tuesday by the Iowa Farm Bureau. Ernst also received formal backing from the National Federation of Independent Business."
[So pretty and witty and bright - Conservative track PAC America Rising caught Iowa Democratic Senate nominee getting his makeup done for an ad touting his affinity for farming and it's reminding voters of another well-coifed Democrat who was once popular in Iowa.]

NUNN AND PERDUE AT CHAMBER EVENT TODAY
AJC: "Thursday's Georgia Chamber of Commerce forum will be the first joint public appearance between Senate contenders David Perdue and Michelle Nunn. It will also be the Republican's first big trip to a major Chamber meeting since his public break with the national group."

CAPITO AND TENNANT SET TO SHARE STAGE
AP: "Democrat Natalie Tennant and Republican Shelley Moore Capito will… participate in a [candidate forum] Aug. 28 event as part of the [West Virginia Chamber of Commerce's] annual meeting at The Greenbrier in White Sulphur Springs… Tennant and Capito will also debate Oct. 7 in Charleston."
SOUTH DAKOTA SENATE CANDIDATES SPAR
AP: "The four South Dakota candidates vying for the U.S. Senate seat being vacated by retiring Sen. Tim Johnson [D-S.D.] sparred over the nation's new health care law, the Environmental Protection Agency and the handling of an investment-for-visa program that's come under scrutiny in a debate Wednesday… The forum…was the first for former Republican Gov. Mike Rounds, Democrat Rick Weiland and independents Larry Pressler and Gordon Howie…"

PRYOR TOUTS SUPPORT FOR 'A LAW'
Daily Caller: "Arkansas Sen. Mark Pryor is winning plaudits from the left for a new ad that touts his support for the Affordable Care Act — but refuses to ever say the health-care law's name. The Democratic incumbent is in a tight race against Republican challenger Rep. Tom Cotton, who supports the repeal of Obamacare. The 30-second commercial, part of a six-figure ad buy, features Pryor and his father, a former Arkansas senator and governor, discussing Sen. Pryor's battle with cancer. 'No one should be fighting an insurance company while you're fighting for your life,' Pryor says in the commercial. 'That's why I helped pass a law that prevents insurance companies from canceling your policy if you get sick, or deny coverage for pre-existing conditions.'"

PLANNED PARENTHOOD, REID POUNCE ON SULLIVAN POST PRIMARY
WSJ: "Supporting [Sen. Mark Begich, D-Alaska], Planned Parenthood on Wednesday bought all the advertising space on the website of the state's biggest newspaper, Alaska Dispatch News, to announce that [Alaska Republican Senate nominee Dan Sullivan] 'supports banning nearly all abortions for Alaska women.' A super PAC funded by Senate Democrats, Put Alaska First, on Wednesday released a television ad attacking Mr. Sullivan. 'He's not from Alaska,' a fisherman in the ad states. The super PAC has already spent $4 million against Mr. Sullivan…Meanwhile, American Crossroads has already reserved $5.5 million in TV ad time beginning in September. The group, echoing Mr. Sullivan's criticism of Mr. Begich, has attacked the senator in its ads for voting with President Barack Obama in nearly all cases."

But Sullivan had response ready - Fresh off Tuesday's primary win, Alaska Republican Senate nominee Dan Sullivan is wasting little time hitting the airwaves. In his debut ad Sullivan appears touting his service in the Marine Corps, saying it "shaped who I am" and slams Washington for "standing in our way, taking our jobs, our rights, our energy."

DSCC HITS CASSIDY OVER VETS ISSUES
The Democratic Senatorial Campaign Committee has launched its first attack ad against Louisiana Republican Senate candidate Bill Cassidy. The first ad in the committee's $2.5 million dollar ad campaign claims Cassidy is putting "millionaires before veterans."

HAGAN UNDER 50 PERCENT AND TIED WITH TILLIS IN NEW POLL
USA Today: "Sen. Kay Hagan [D-N.C.] is all but tied with Republican challenger Thom Tillis in a midterm showdown likely to help determine control of the Senate, a USA TODAY/Suffolk University poll finds…Hagan leads Tillis, the speaker of the North Carolina General Assembly, 45%-43%, an edge within the poll's margin of error of +/-4.4 percentage points. Libertarian candidate Sean Haugh could hold the balance: His supporters, 5% overall, disproportionately identify Tillis as their second choice."

NEW HAMPSHIRE GOP HITS SHAHEEN'S 'FAT CAT' FUNDRAISER
The Hill: "New Hampshire Republicans are attacking Sen. Jeanne Shaheen (D) for holding a September fundraiser with a 'fat cat lobbyist' in Washington… The attack comes on the heels of news — which the New Hampshire Democratic Party trumpeted — that her likely Republican opponent, Scott Brown, is holding his own out-of-state fundraiser in Tennessee later this month, on the eve of his daughter's wedding. An invitation shows Shaheen is scheduled for a dinner fundraiser at the home of Bill and Cindi Broydrick, a lobbyist couple, in Washington's tony Georgetown neighborhood on Sept. 10. Contributions range from $1,000 to $2,500."

LANDRIEU TOUTS INTERNAL INVESTIGATION INTO TRAVEL ABUSES
New Orleans Times-Picayune: "Democratic Sen. Mary Landrieu will use campaign money to pay for the internal investigation into her flight records, according to campaign spokesperson Fabien Levy. The campaign has hired the firm Perkins Coie to review flights over the last 18 years to look for discrepancies and review office procedures. Landrieu said the investigation should be complete before the Senate returns in early September. She also said the results will be made public. Landrieu ordered the review of all of her flight records throughout her time in the Senate after news surfaced of at least four flights taken for campaign purposes that were paid for with the Senate account… The Republican Party has also hounded Landrieu over the flights through its #AirMary online campaign. A group of Republicans dressed as pilots, flight attendants and grounds crew workers greeted Landrieu at the Secretary of State's Office on Wednesday when she arrived for qualifying."

GILLESPIE HIGHLIGHTS HIS ROOTS
Virginia Republican Senate nominee Ed Gillespie shares his working-class roots as the son of an immigrant storekeeper in his ad debut. "Like many parents, Cathy and I worry Washington's polices aren't just killing jobs, but destroying the work ethic," Gillespie appears saying. "I'll be a leader for policies that grow the middle class and expand opportunity. With the right policies, we can do better."

PICK SIX:  NEW INTEREST IN THE OLD DOMINION
The status quo will change dramatically in Washington if Republicans are able to gain an additional six Senate seats. The six Democrat-held seats Fox News First Readers feel could be the most likely GOP pickups are: Arkansas (13.6%), Montana (12.1%), Louisiana (11.5%), West Virginia (11.3%), South Dakota (10.8%) and North Carolina (9.6%).  Reader Will Farra of Indiana makes the case the case for Virginia writing, "[Sen. Mark Warner, D-Va.,] is the poster-child of Democrats elected in 2008 on centrist platforms who have been anything but that in their 6 years.  If [Republican Ed Gillespie] can wrap around Warner's neck the 'if you like it you can keep it pledge', ObamaCare itself and supporting the president as a whole should make him one of the most vulnerable Senators."

Share your top six picks. Email them – just your top six, please – to FOXNEWSFIRST@FOXNEWS.COM or tweet @cstirewalt.

CASH CALL: DNC BESTS RNC IN JULY HAUL
The Republican National Committee brought in $8.4 million during July, netting $13.9 million cash on hand. Compared to the Democratic National Committee's $9.3 million with $9.6 million cash on hand. That brings the RNC's total to $140.3 million for this cycle with much of that going to invest in the party's infrastructure and ground game. "[Those investments] included overhauling our data, digital, and technology operation and deploying community-based staff to engage with voters full-time where they live, work, and worship,"  RNC Chairman Reince Priebus said in a statement.

'YOUR RESCUER IS HERE'
Sen. Elizabeth Warren, D-Mass., was talking to reporters about how she blamed the police in Ferguson, Mo. for unrest there and saying that Missouri's Democratic governor was "rightly" being criticized for failing to take over the situation soon enough when the discussion turned to her potential presidential ambitions. Warren ducked a question from Sharman Sacchetti of Boston's Fox 25 about Hillary Clinton with her stock answer about her party's 2016 frontrunner saying that "Hillary is terrific," at which point a volunteer scurries up to tell Warren she has to end the press conference. A frustrated reporter is heard saying "You're being rescued. Your rescuer is here." Watch

[Hillary Clinton is slated to host a high-dollar fundraiser for Democratic Women's Senate Network along with Democratic Senatorial Campaign Committee Chairman Michael Bennet, at her Washington, D.C. home Sept. 9. According to the invitation sent out by Sen. Tammy Baldwin, D-Wis., tickets for the event start at $10,000.]

[Run, Ryan, run? -New on Fox News Radio: Fresh off the release of his new book "The Way Forward" Rep. Paul Ryan, R-Wisc., sat down with Brian Kilmeade. Listen to this week's Balance of Power podcast here.]

FEMINIST SYMPATHIES SPIKE AMONG THE MEN OF ASHEVILLE
City leaders are In Asheville, N.C. are urging residents to stay away from a feminist rally at Pritchard Park this weekend, but interest only keeps growing. Why? Organizers say protesters will include topless women advocating what they call "topless equality." City officials in the famously mellow college town that has fast become a haven for Boomer retirees are asking legislators to introduce a law that would ban being shirtless in public, the Asheville Citizens-Times reports.

AND NOW, A WORD FROM CHARLES…
"This is a political reaction to a horrific event. The administration is trying to say we're not just standing by and watching… it is the usual instinct of this administration to think first of the politics. The other way you could interpret this is to say it is a message to the bad guys that we tried but didn't succeed but we're coming after you." – Charles Krauthammer, on "Special Report with Bret Baier"

Chris Stirewalt is digital politics editor for Fox News. Want FOX News First in your inbox every day? Sign up here.