Tea Party Solidifies Its Status as Political Force After Success in Primaries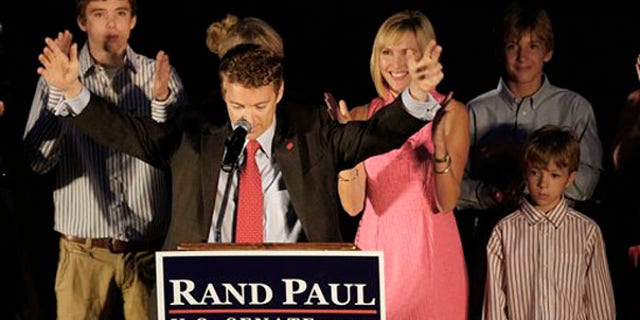 The Tea Party just keeps on boiling.
Rand Paul's victory in Kentucky's Republican Senate primary Tuesday night was the latest reminder that the conservative grassroots movement is shaping up to be an electoral force this year -- despite Democratic claims that the activists represent an over-hyped fringe.
Paul, a Tea Party favorite, knocked out Republican establishment pick Trey Grayson after the movement shook up a string of other big races this year. Tea Partiers, at the very least, played a role in pushing out Utah Sen. Bob Bennett this month, driving Florida Gov. Charlie Crist to leave the GOP and run as an independent for Senate, and helping Scott Brown get elected to the Senate in Massachusetts.
A general anti-incumbent message was sent on the other side of the aisle Tuesday, with Rep. Joe Sestak beating Sen. Arlen Specter for the Democratic nomination in Pennsylvania and Sen. Blanche Lincoln being forced into a Democratic primary runoff in Arkansas. But at least among Republicans, voter frustration is being channeled straight through the Tea Parties.
Paul, son of Texas Rep. Ron Paul, bluntly chalked up his victory to Tea Party fever.
"It was a vote for the Tea Party," Paul told Fox News on Wednesday. "The Tea Party message is really one that we've got to get back control of our government. ... Washington needs some restraint."
For the moment, the conservative rebel yell is having its greatest impact in the Republican primaries. What remains to be seen is how much of a factor it will play in the November elections -- and whether Tea Party-backed Republicans have the base to mow over their Democratic opponents.
In Massachusetts, the Tea Party backed Brown, but he was not necessarily cast as a Tea Party candidate. In Kentucky, however, Democratic Party Chairman Tim Kaine says Paul, who defines himself by his Tea Party support, will ultimately be perceived as too "extreme" to win the general election.
"As a result, Democrats are now in a better position to win Kentucky's open Senate seat," Kaine said in a written statement.
But the Tea Party show of strength has members of both parties, even skeptics, taking note.
Pennsylvania Gov. Ed Rendell, a Democrat who has dismissed the Tea Party as a blip with no "infrastructure" or "clout" behind it, acknowledged Wednesday that the movement is "effective" in the Republican primaries.
"That (anti-incumbent) feeling is very, very, very strong. There's no question about it," Rendell said in a TV interview. "The question is, will the so-called Tea Party movement -- is it only effective in Republican primaries? Does it do anything in general elections?"
He said he didn't think it would have "much of an effect," but he added, "Of course, we'll see in November."
Democrats say their chances in November are much better than the pundits are saying. Several Democratic officials said Republican Tim Burns' loss to Democrat Mark Critz Tuesday in the special election for the late Rep. John Murtha's Pennsylvania House seat is a sign of GOP problems. It was the seventh special election defeat for Republicans this cycle.
But House Republicans say they remain confident they can win back the House in November, noting that Critz ran as an anti-establishment candidate.
House Minority Leader John Boehner said the Tea Party influence will continue to grow and that Republicans should embrace that. He called the latest show of strength the "tip of the iceberg."
"The American people are tired of the institutions in Washington, D.C.," said House Republican Conference Chairman Mike Pence, R-Ind.