Tea Party Favorite Rand Paul Wins Senate GOP Primary in Kentucky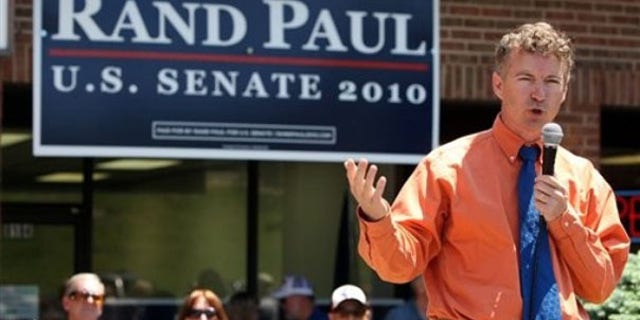 Tea Party favorite Rand Paul, who defeated Republican establishment candidate Trey Grayson in Tuesday's GOP Senate primary in Kentucky, warned Washington to "watch out, here we come."
After giving the anti-big government movement its most significant political victory yet, Paul said the Tea Party movement has a message, loud and clear.
"We have come to take our government back," he said in his victory speech, drawing thunderous applause from his supporters.
"It's just a tremendous mandate for the Tea Party," he said. "It cannot be overstated that people want something new. They don't want the same old, same old politicians and I think they think the system is broken and needs new blood."
Paul won with about 59 percent of the vote to Grayson's 35 percent, with nearly all the precincts reporting.
On the Democratic side, state Attorney General Jack Conway narrowly beat Lt. Gov. Daniel Mongiardo, who barely lost six years ago to now-retiring Republican Sen. Jim Bunning. Conway won with 44 percent to Mongiardo's 43 percent.
Conway pointed out to supporters about his chances in the fall that he drew nearly 221,000 votes to Paul's 192,000 across the state.
Secretary of State Grayson conceded the GOP race to Paul Tuesday, telling his supporters to "put all differences aside" and unite behind Paul.
"No candidate ever enjoys coming up short but in this moment of great challenges for our nation it is clear to me that theres much more at stake," he said.
Paul, son of Texas Rep. Ron Paul, is a 47-year-old Bowling Green eye surgeon who had never before run for office and turned to the Internet fundraising model used by his father to pay for his campaign. Grayson stayed competitive, drawing heavy financial support from traditional GOP donors inside Kentucky.
The Kentucky primary was one of several high-stakes Senate races in three states that political analysts were closely watching for a glimpse into the mood of the country's electorate less than five months before November's midterm elections, in which Republicans will seek to regain control of both houses in Congress.
Grayson was backed by the state's Republican establishment while Paul enjoyed the support of the Tea Party, former Alaska Gov. Sarah Palin, retiring Sen. Jim Bunning and conservative Sen. Jim DeMint of South Carolina.
Democrats quickly sought to cast Paul's victory as a loss for Senate Minority Leader Mitch McConnell, R-Ky., who backed Grayson.
"Today, Kentucky Republicans selected Rand Paul as their Senate nominee, handing Senate Minority Leader Mitch McConnell a stunning loss," said Democratic National Chairman Tim Kaine in a written statement.
"In a show of weakness for the minority leader, and in a race that symbolized the fight over the heart and soul of the Republican Party, Rand Paul overcame McConnell's handpicked candidate by a large margin," he said. "Unfortunately for Republicans, ordinary Americans are unlikely to be receptive to extreme candidates like Rand Paul in the general election this November."
Murray resident Bill Osburn said he voted for Paul because "he's not a politician."
"I'm against the establishment. They're all crooked, unreliable and selfish for power," said Osburn, 79, a military retiree. "We need citizen representatives, not political politicians."
Although Kentucky is solidly Democratic by voter registration, it tends to vote Republican in federal races. The GOP holds both of the state's Senate seats and four of six House seats, and Republican John McCain carried the state in last year's presidential election with 57 percent of the vote.
Fox News' Steve Brown and The Associated Press contributed to this report.