Supreme Court Justice Sotomayor blocks Kansas gay marriage order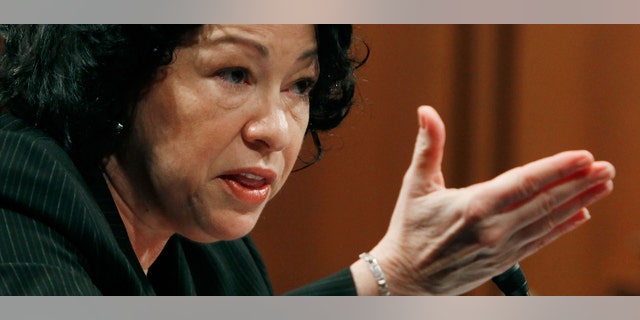 A day before a court order was to take effect in Kansas paving the way for gay couples to marry, U.S. Supreme Court Justice Sonia Sotomayor on Monday put it on hold.
The lower court order cleared the way for same-sex couples to marry despite a ban in Kansas on gay marriage.
Sotomayor issued the stay at the request of Kansas Attorney General Derek Schmidt. The state wants to continue enforcing its ban while the federal courts review a legal challenge filed by the American Civil Liberties Union on behalf of two lesbian couples.
But Sotomayor also directed the ACLU to file a response to Schmidt's request by 4 p.m. Central time Tuesday.
The ACLU lawsuit last month for the two lesbian couples challenges the state's gay-marriage ban. It resulted in the lower-court order.
Equality Kansas Executive Director Tom Witt said Sotomayor could quickly reconsider once she receives the response.
Meanwhile, advocates for same sex marriage prepared arguments Tuesday in the hope of persuading the U.S. Supreme Court to allow gay nuptials to go forward in Kansas.
Gay rights advocates weren't sure when or where gay couples would be able to get marriage licenses because of a tangle of litigation over the issue, which also includes a separate Kansas court case. Schmidt argues that the complex legal situation argues for keeping the ban in place for now.
"The road to freedom is sometimes circuitous," ACLU attorney Doug Bonney said.
Same-sex marriage is legal in 32 states.
Tom Witt, executive director of the gay rights group Equality Kansas, said even if the U.S. Supreme Court clears the way for gay marriage in Kansas, it's not clear whether licenses will be issued to same-sex couples in all 105 counties.
Kansas never has recognized same-sex marriages, and voters overwhelmingly approved an amendment to the state constitution in 2005 to reinforce the gay marriage ban.
But gay couples in Kansas began seeking marriage licenses after the U.S. Supreme Court refused Oct. 6 to hear appeals from five other states seeking to preserve their gay-marriage bans following adverse lower-court rulings. In Kansas, state district court clerks' offices issue marriage licenses after a mandatory three-day wait.
Chief judges in Douglas and Sedgwick County directed their clerks' offices not to issue licenses to same-sex couples, prompting the ACLU's federal lawsuit.
But the chief judge in Johnson County, in the Kansas City area and the state's most populous county, ordered licenses to be issued.
That prompted Schmidt to file a petition with the Kansas Supreme Court, hours before the ACLU filed its federal lawsuit. One lesbian couple in Johnson County obtained a license and married in the meantime.
The Kansas court said marriage-license applications from same-sex couples could be accepted but not issued until its case is resolved. That order remained in effect Tuesday.
Schmidt has argued that if the federal judge's injunction takes effect, it will apply only in Douglas and Sedgwick counties, because their court clerks were sued. But Bonney believes the federal order would apply statewide.
"I think you're still going to see questions around the state — and different answers," Witt said.
Based on reporting by The Associated Press.
Follow us on twitter.com/foxnewslatino
Like us at facebook.com/foxnewslatino