Special Ops Chief: Russia aims to divide NATO, poses 'existential' threat to US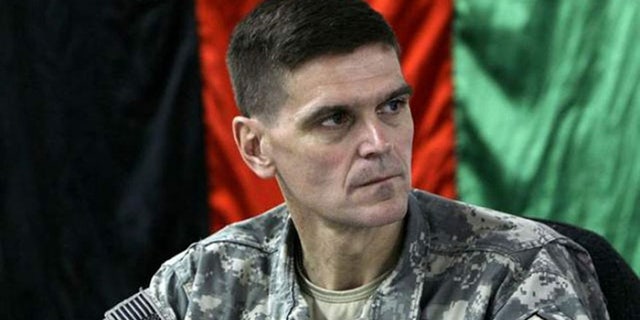 NEWYou can now listen to Fox News articles!
Russia seeks to test the United States at every opportunity and divide the NATO alliance, posing the most significant long term threat to US national security, the head of the U.S. Special Operations Command, General Joseph Votel , told the Aspen Security Forum.
"Russia is looking to challenge us wherever they can," Votel told Fox News' Catherine Herridge. "The intent is to create a situation where NATO can't continue to thrive."
Votel said he did not have "unique insights" into Russian President Vladimir Putin but he believes Putin sees the expansion of NATO "...as a threat to him and I think what they (Moscow) are attempting to do is create these frozen conflicts and create situations that are very, very difficult to resolve along their border."
That "does, could pose an existential threat," Votel added.
He also said Russia is using a "hybrid approach to warfare" where state and non-state actors are mixing military and non-military capabilities. The result is "a coercive effect...using information operations, using manipulation of media , using social media."
Since January, Jordan, Egypt and Saudi Arabia – three traditional U.S. allies - have completed significant nuclear energy deals with Russia. Asked if this is evidence of Putin's effort to further expand Russia's reach, and the seeds of a nuclear arms race in the Middle East, Votel replied it was proof of Moscow's push to challenge the U.S. and expand its influence.

Votel said SOCOM is assisting those countries that want to resist Russian influence.
"We work with partners to help develop their capabilities," he said. "We help our embassies with some of their messaging activities that they are doing out there to make sure that truthful information is getting out to populations. We use our civil affairs capability to help connect governments to their populations and strengthen those relationships. In doing that, (we) reduce those vulnerabilities of populations who may be vulnerable to this type of pressure they get from outside countries ."

Asked about Al Qaeda, Votel said the terror group was diminished in east Africa, Syria and Yemen, but the lesson of the last decade is that the U.S. and its allies must maintain pressure or the groups will reinvent and reconstitute.

The leader of Al Qaeda, Ayman al-Zawahiri, is believed to be in Pakistan, and has been noticeably silent on the June drone strike that killed the organization's number two , Naser al Wuhayishi, who also was the leader of the Al Qaeda affiliate in Yemen.

"To me it is a good sign it's an indication that we have been very effective at isolating him so that is kind of my initial reaction," Votel said. "The concern that I would have is we don't know what we don't know in terms of how they continue to adapt and move their information around and continue to communicate among themselves."
Votel also said ISIS leader Abu Bakr al-Baghdadi appears to be preparing for his own death by setting up a chain of command to replace him.

"I think he's trying to be resilient. I think he's trying to develop some level of follow-on leadership so in the event something happens to him that somebody will know to carry on," he added.
The general, who oversees 69,000 members of the Special Operations Community, described the threat environment as complex and characterized by "hyperconnectivity," with social media accelerating the threat.

One of his main objectives is is the so-called synchronization of the force, which includes geographically distinct combat commands.
"What we try to do is operate across those boundaries. Our adversaries certainly do - they don't recognize any of that - so we have to be looking transregionally , across the boundaries, at these threats."
Asked how he decides who gets what support and when, Votel said, "a lot of resources are focused in Iraq and the Middle East in the Syria effort that is really where it has been. We are increasing our focus on eastern Europe at this time."

Fox was first to report that there was specific and detailed intelligence in late May 2014 about the location of the Western hostages who were being held together at in the ISIS stronghold of Raqqa, Syria. The intelligence was so detailed, that the building was identified, as well as details of their captivity.

Asked why it took another six weeks to launch the rescue mission, Votel said they were trying to get as much information as they could to launch the operation with the best opportunity for success.

After the rescue mission the hostages were dispersed and then executed, beginning with James Foley in August 2014.
"In this case, our efforts to try and recover were not successful," Votel said.
"They were not at the location we went to and I would just mention to you that beyond the families and the severe suffering they go through, I would tell you the force feels exactly the same way."