South Carolina City Credits AAA Upgrade to Bipartisanship, Not Brinksmanship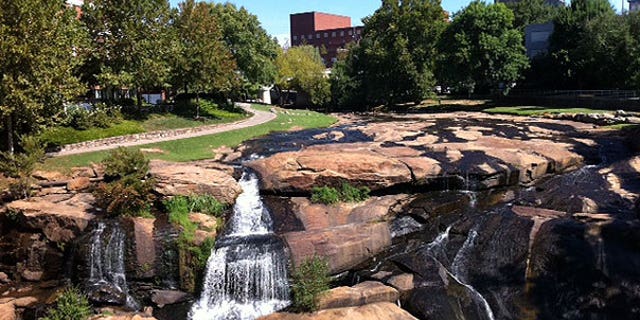 NEWYou can now listen to Fox News articles!
In the heart of upstate South Carolina, a bipartisan combination of fiscal conservatism and government spending has kept Greenville's economy moving forward.
This summer, while the federal government was mired in partisan brinksmanship, Standard & Poor's upgraded the City of Greenville's bond rating to AAA.
"The council has for a long time worked together in a nonpartisan way to get things done," said Greenville Mayor Knox White, a Republican. "We're very goal oriented. We just try to stick to our workmanship in making things happen here. We're very focused on economic development."
The city spent $13 million in 2004 to create Falls Park, a green space surrounding a natural waterfall in the middle of downtown Greenville. According to White, that "investment" attracted $150 million in private development over the next two years.
"I don't think the government tries to influence so much what is done, as much as they try to help those things that go in the right direction," said Bob Hughes, who developed Riverplace -- a business and residential complex near the park.
Parking decks and other infrastructure improvements encourage small business to move into the area, according to restaurant group owner Rick Erwin, who runs Nantucket Seafood Grill. The restaurant is located inside a new Marriott Courtyard hotel near Falls Park.
"It's not about 'no,'" Erwin recalled of his dealings with the city government. "It's about, 'What can we do to help?'"
That unified economic vision crosses party lines, according to City Councilwoman Jil Littlejohn, a Democrat.
"We don't worry about political lines or the biggest developer," Littlejohn said. "We look at what's best for the residents that we have here within the city."