Sonia Sotomayor Opens Up About Diabetes, Affirmative Action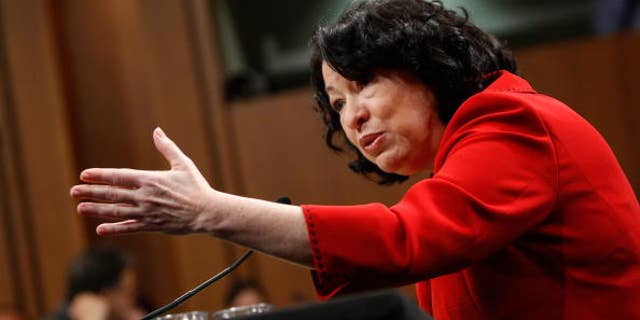 Just call her "Sonia from The Bronx."
The first Hispanic Supreme Court Justice, Sonia Sotomayor is also called Madam Justice, but she says she prefers the link to her humble roots.
Sotomayor, 58, spoke about her upbringing in The Bronx, New York, her "terrifying" first day in the nation's highest court, her battle with diabetes and affirmative action, in a very personal interview on 60 Minutes Sunday night, just days before the release of her new memoir entitled "My Beloved World."
The book title, inspired by a line from Puerto Rican poet José Guatier Benítez, is also a metaphor for her upbringing in The Bronx, where she learned some of the tricks that made her one of the most powerful women in America. It's where she learned to be tough.
"I am the most obstinate person you will ever meet," she told CBS's Scott Pelley. "I have a streak of stubbornness in me that I think is what has accounted for some of my success in life. There is some personal need to persevere, to fight the fight. And if you just try and be stubborn about trying, you can do what you set your mind to."
The affirmative action of today is very different than it was when I was going to school... I do know that, for me, it was a door-opener that changed the course of my life.
The daughter of Puerto Rican immigrants, Sotomayor, grew up in a housing project and was inspired to be a cop as a young girl thanks to her love of Nancy Drew novels and Perry Mason's TV show.
Sotomayor was raised by her mother, Celina Sotomayor. Her father was an alcoholic.
"I had sort of a childlike appreciation that he couldn't help himself," she said. "I also watched him die from drinking."
But her diagnosis with Type 1-diabetes prevented her from being a cop and switched her career aspirations toward law. She began her career as a prosecutor in New York, a period when she says she smoked three and a half packs of cigarettes a day — she quit after she saw her young niece holding a pencil between her fingers and blowing imaginary rings of smoke. Four years later, Sotomayor left the DA's office and went into corporate law.
She was then appointed as a federal court judge by former President George H.W. Bush, then as an appeals court judge by Bill Clinton and in 2009 she was selected for the Supreme Court by President Obama.
She remembers her first day vividly.
"Overwhelmingly terrifying," she said. "I was so anxiety-ridden. I was so nervous that day that my knees knocked. And I thought everybody in the court room could hear them knocking."
Sotomayor said her diagnosis with juvenile diabetes provided motivation for her to work hard - and fast. At the time, those with juvenile diabetes were told they would live only to their 40's.
"Oh, I thought about it a lot," she said in the 60 Minutes interview. "And I got in as much as I could do at every stage of my life. I studied very hard. I partied very hard. I loved playing very hard. And I did it all to try to pack in as much as I could."
Sotomayor also defended affirmative action – under which she was admitted to Princeton University and Yale Law School – as something needed to get disadvantaged students to the starting line of a race to success. She grew up so poor in the Bronx that her family never even had a bank account.
She remembered one memorable encounter with her high school nurse.
"You can't be a minority in this society without having someone express disapproval about affirmative action," Sotomayor explained. "From the first day I received in high school a card from Princeton telling me that it was possible that I was going to get in, I was stopped by the school nurse and asked why I was sent a possible and the number one and the number two in the class were not. Now I didn't know about affirmative action. But from the tone of her question I understood that she thought there was something wrong with them looking at me and not looking at those other two students."
She acknowledged she entered through a special door reserved for minority students but wrote in her memoir that her accomplishments at Princeton, including receiving the highest prize given to seniors, earning a place in the Phi Beta Kappa honor society and graduating with highest honors, speak for themselves.
Sotomayor declined to comment on whether or not affirmative action had a role in society today but said: "The affirmative action of today is very different than it was when I was going to school. I do know that, for me, it was a door-opener that changed the course of my life."
The Associated Press contributed to this report.
Follow us on twitter.com/foxnewslatino
Like us at facebook.com/foxnewslatino