Soccer star Cuauhtemoc Blanco, a Social Democrat, likely to become mayor in Mexico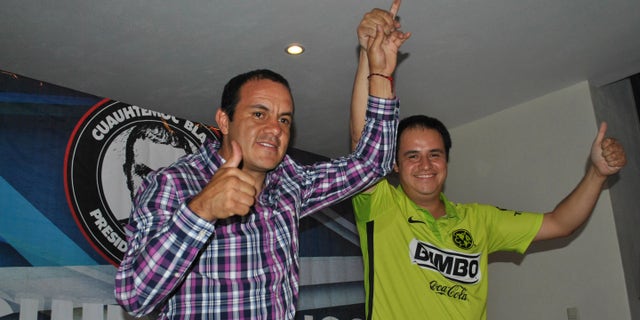 MEXICO CITY (AP) – Mexican soccer star Cuauhtemoc Blanco has apparently been elected mayor of Cuernavaca, just south of Mexico City.
Preliminary counts published Monday show the former star forward won 25.7 percent of the votes cast in Sunday's election, well ahead of his nearest rival, who had 21.2 percent.
Blanco ran on the ticket of the tiny Social Democrat Party.
The 42-year-old former national team star jumped into the campaign after retiring on April 21. He had played limited minutes off the bench for the first-division Puebla team this year, and was earlier with the Chicago Fire in the MLS.
His lack of political experience had raised doubts among some.
Known for his pugilistic playing style, Blanco was equally combative at a victory news conference.
"Now I've screwed them," he said of his rivals.
Another soccer figure also got involved in Mexico's midterm elections on Sunday.
National team coach Miguel Herrera, best known for his emotional sideline celebrations in the last World Cup, drew criticism for tweeting slogans supporting the Green Party.
Herrera on Sunday tweeted "don't forget to vote, let's go with the Greens," and "The Greens fulfill" their promises.
Green was traditionally the Mexican national team's color, but the "The Greens Fulfill" was a party campaign slogan.
Electoral law forbids campaigning by parties on election day, but Green Party officials say they had nothing to do with Herrera's tweets.
Herrera was prickly and defensive about the tweets at a news conference Sunday, after the national team lost 2-0 in a friendly match with Brazil.
"I'm a human being, I'm a normal Mexican citizen, with statements that I can make in social media," Herrera said. "It's simply a personal situation."