Six days after election, students still leaving school to protest Trump presidency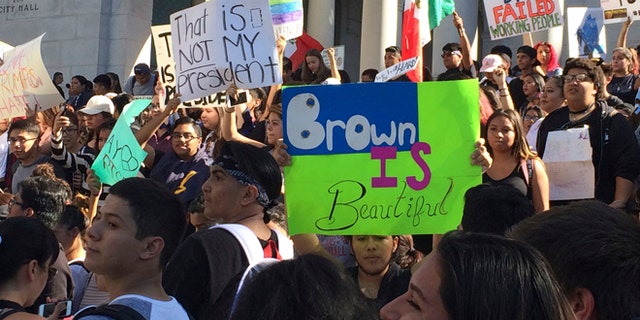 Associated Press – Protesters were not slowing down six days after Donald Trump's election, many of them high school students leaving class by the hundreds Monday to carry signs and flags on the streets of several U.S. cities.
They walked out in California, in Maryland and in Oregon, many declaring that their young voices matter and expressing concern over the president-elect's comments about minorities and the effect he will have on their communities. Some students said they had the approval of administrators.
Some of Trump's supporters have called for the demonstrations to stop, including former New York City Mayor Rudy Giuliani, who dismissed the protesters as "spoiled cry-babies."
Trump has accused some of being "professional protesters," although he added in a "60 Minutes" interview Sunday that he also believes some are afraid for the country's future "because they don't know me."
In Los Angeles, hundreds of students from several schools in the heavily Hispanic east side marched out of classes shortly after they began in a protest students say was organized over the weekend.
The demonstrations began at Garfield High School, the subject of the 1988 film, "Stand and Deliver," focusing on teacher Jamie Escalante's successful college-level math programs.
Students carrying signs and shouting slogans marched toward the city's nearby Mariachi Plaza.
They were joined by hundreds of students from other schools, many of them shouting, "Say it loud. Say it clear. Immigration, welcome here." Some carried signs reading, "Deport Trump."
Among the protesters was 16-year-old Brian Rodriguez, who said he is U.S.-born to parents from Mexico and Guatemala and was offended by Trump's criticism of Latinos.
"It hurt me inside knowing somebody from outside our race is talking bad about us," said Rodriguez, who carried a sign that read, "Brown and Proud."
Rodriguez said his school's principal opened the gates and told students they could participate.
Nancy Meza, a community organizer who announced the walkout, said she helped students organize it after they reached out to her.
"It was really out of frustration of students wanting to voice their opinions," Meza said. "And wanting to feel protected."
About 200 middle- and high-school students left two Denver charter schools to march to the state Capitol, where they chanted and held up signs saying, "Millennial voice matters" and "Make peace not war."
Police and school officials escorted the students, who attend Denver's Strive Prep Excel High School and Byers Middle School, to ensure their safety.
They called out "Si, se puede!" — Spanish for "Yes, we can!" — and "The people united will never be divided" as they waved their signs.
Noelie Quintero, 17, who attends Strive Prep, said they were representing Latinos, Muslims, women and others marginalized by Trump.
"We're not going anywhere — we're going to continue to stand strong," she said. "Even though we're only 16- and 17-year-olds and we can't vote, our voice matters. What we believe matters, and we're not going to stop."
In Portland, Oregon, a city that has seen some of the largest and most destructive protests since Trump's election, a few hundred high school students from at least four campuses walked out of class to gather in front of City Hall.
College students from Reed College joined the group, which held signs saying "Students for change" and "Love trumps hate." The protesters marched across the Hawthorne Bridge while officers stopped traffic.
Daily demonstrations since Thursday in the city have led to $1 million in damage and more than 100 arrests.
Portland Mayor Charlie Hales says violent protests aren't a productive way to create change and believes they are being used in his city as cover for "outrageous, bad, criminal behavior."
A protest organizer says activists are reaching out to their counterparts in New York, Boston, Washington, D.C., and other major cities in an effort to keep Trump from prevailing on many of his policy proposals.
Hundreds of high school students in Silver Spring, Maryland, left campus and took to the streets to declare their opposition to Trump, while about 800 Montgomery Blair High School students attended a rally at the football stadium. Most of the students returned to class afterward, Montgomery County Public Schools spokeswoman Gboyinde Onijala said.
The ones who didn't joined students from nearby Northwood High at a gathering that Onijala estimated at 200 to 300 kids, some of them chanting, "Not my president."
Police Capt. Paul Starks says the protesters were peaceful except for one bottle-throwing incident. No one was hurt.