Simpson to Keep Job on Deficit Panel Despite Offensive E-Mail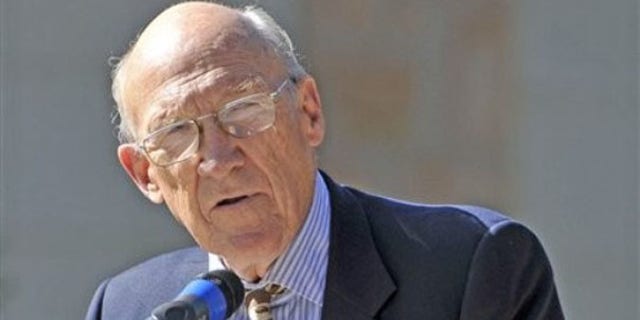 Former Sen. Alan Simpson will keep his job on President Obama's deficit panel despite pressure from advocacy groups worried about his comments comparing Social Security to "a milk cow with 310 million tits."
An e-mail containing the feisty former Wyoming senator's remarks surfaced Wednesday, igniting concern regarding the future of the entitlement program.
"Alan Simpson has apologized and while we regret and do not condone his comments, we accept his apology and he will continue to serve," Jennifer Psaki, the White House deputy communications director, told The New York Times.
Simpson is known for blunt talk and confrontational, colorful language. Certain activist groups also insist he's out to balance the budget on the backs of seniors by slashing into Social Security and are trying to use the lawmaker's penchant for overstatement to get him off the influential White House fiscal commission.
The controversial e-mail, posted online by the National Older Women's League, was dated Monday and addressed to OWL director Ashley Carson. In it, Simpson was responding to an April article Carson wrote critical of Simpson's Social Security stance. Carson suggested Simpson's approach was based on "ageism and sexism."
To which Simpson responded: "I've spent many years in public life trying to stabilize that system while people like you babble into the vapors about 'disgusting attempts at ageism and sexism' and all the rest of that crap."
He warned that "minor" changes need to be made to the system now to prevent "major" overhauls in the future. Simpson acknowledged his acerbic rhetoric on the issue and defended it with more acerbic rhetoric.
"And yes, I've made some plenty smart cracks about people on Social Security who milk it to the last degree. You know 'em too," he said. "It's the same with any system in America. We've reached a point now where it's like a milk cow with 310 million tits! Call when you get honest work! Al."
Simpson had warned Carson to "hold on tight" because she wouldn't like what's in the e-mail.
He was right. Carson immediately launched an online petition calling for Simpson's resignation, linking to the e-mail on her site.
"The facts speak for themselves, but Mr. Simpson suggests that anyone supporting people who most need help and who deserve the benefits they paid for must be dishonest or stupid," the petition says. "Such open contempt goes beyond the pale and cannot be tolerated from someone in such a position of authority."
She was joined Wednesday by Social Security Works. Co-Director Eric Kingson said in a statement that Simpson's comments were "offensive and sexist and clearly demonstrate that he is unfit to continue to lead the president's fiscal commission."
An assistant to Simpson confirmed to FoxNews.com that the e-mail is authentic. Late Wednesday, Simpson reportedly apologized for the comments, saying he's inserted his size 15 feet in his mouth before.
It's not the first time Social Security Works has targeted the former senator. The group pushed a viral video two months ago showing one of its activists in a heated exchange outside a meeting of the National Commission on Fiscal Responsibility and Reform.
Groups like MoveOn.org claimed the video proved Simpson's commitment to slashing Social Security -- though Simpson explained at length he doesn't want to do that.
Simpson said at the time it's "bull---t" to claim he's making seniors bear the brunt. He says the option of raising the retirement age is one of more than a dozen ideas on the table, while defending the need to make changes to the retirement benefits system.
Those concerned about Social Security cuts argue that the fund has been solvent for decades and did not contribute to the deficit. They say the $2.5 trillion surplus credited to the Social Security Trust Fund, along with the interest on that money, should render any big cuts to Social Security unnecessary even though the entitlement program is expected to pay out more than it takes in this year.
But Simpson and others say that because the federal government has borrowed against the trust fund's surplus for so long, all that's left are IOUs -- and to redeem them would mean more borrowing.