Senate Passes Landmark Immigration Reform Giving Legal Status To Millions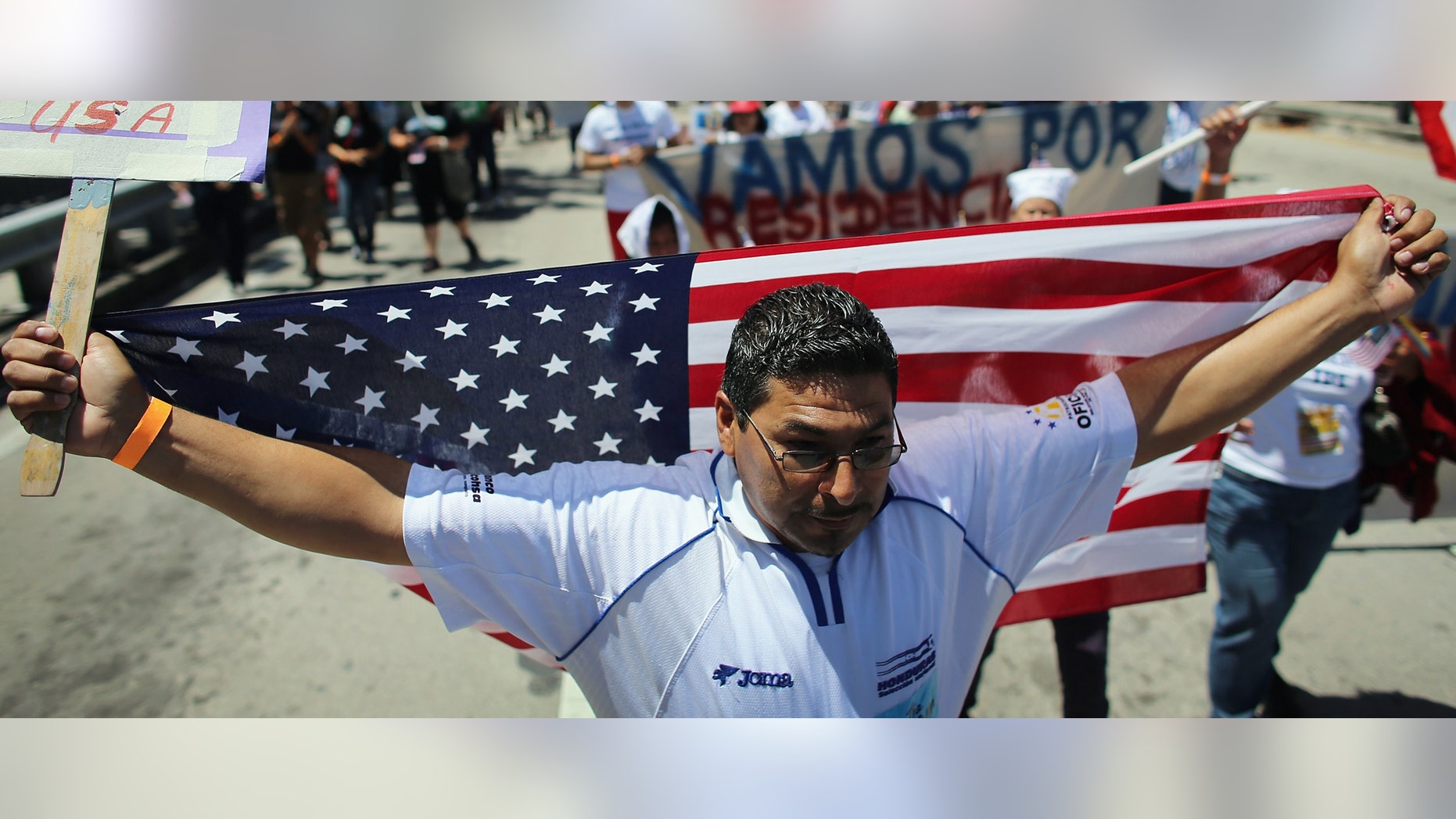 The Senate passed a landmark immigration reform bill Thursday, offering the priceless hope of citizenship to millions of immigrants living illegally in America's shadows, while also promising a military-style effort to secure the porous border with Mexico.
The measure passed 68-32, with all Democrats voting for it, as well as 14 Republicans. All the no votes were cast by Republicans.
Supporters of the bill quickly hailed the passage. But they expressed concern about its fate in the House, where conservative Republicans who hold the levers of power are firmly opposed to citizenship for the undocumented.
"The United States Senate today moved our country a big step closer to building a common sense immigration system that will allow millions of aspiring Americans to become citizens," said AFL-CIO President Richard Trumka. "Now it is up to the House of Representatives to follow the Senate's lead by allowing a majority of House members to vote on a bill with a path to citizenship."
"Speaker John Boehner and his leadership team, said Trumka, face a decision that will have ramifications for a generation: Block a roadmap to citizenship vote, obstruct the will of overwhelming majorities of working people and face a generation of electoral decline—or support citizenship and embrace America's diverse future."
U.S. Rep. Lincoln Diaz-Balart, a Republican from Florida, said he would try to get the House to agree on a reform bill.
"I am encouraged by the Senate's actions on immigration reform," said Diaz-Balart."We need to find a real, permanent solution to our broken immigration system. That solution needs to secure the border, strengthen our economy, respect the rule of law, modernize our visa system, and address the issue of the millions of undocumented immigrants living in the shadows."
"I will continue working with my House colleagues as we seek a good faith, bipartisan approach in the House," he added.
Opponents of the bill denounced the vote, saying it undermines the rule of law.
"This amnesty-first bill is a surrender to lawlessness," said Sen. Jeff Sessions, a Republican from Alabama. "It will decimate immigration enforcement and erode the constitutional rule of law upon which our national greatness depends. The Senate's loyalty must be to the American people —immigrant and native-born alike— who work hard, pay their taxes, fight our wars, and obey our laws."
"Twenty one million Americans cannot find full-time work," Sessions said. "[The bill's] huge increase in the legal immigration flow will reduce wages and raise unemployment, and displace those who have suffered the most economically."
Democrats generally support granting a path to citizenship.
After three weeks of debate, there was no doubt about the outcome in the Senate, where supporters posted 68 votes on the last of a series of procedural tests. That was eight more than needed, with 14 Republicans joining all 52 Democrats and two independents to advance a measure that is at the top of President Barack Obama's second-term list of priorities.
In the final hours of debate, members of the so-called Gang of 8, the group that drafted the measure, frequently spoke in personal terms while extolling the bill's virtues, rebutting its critics — and appealing to the House members who turn comes next.
"Do the right thing for America and for your party," said Sen. Bob Menendez, D-N.J., who said his mother emigrated to the United States from Cuba. "Find common ground. Lean away from the extremes. Opt for reason and govern with us."
Arizona Republican Sen. Jeff Flake said those seeking legal status after living in the United States illegally must "pass a background check, make good on any tax liability and pay a fee and a fine." There are other requirements before citizenship can be obtained, he noted.
He, too, spoke from personal experience, recalling time he spent as a youth working alongside family members and "undocumented migrant labor, largely from Mexico, who worked harder than we did under conditions much more difficult than we endured."
Since then, he said, "I have harbored a feeling of admiration and respect for those who have come to risk life and limb and sacrifice so much to provide a better life for themselves and their families."
With a weeklong July 4 congressional vacation looming, the bill's foes agreed to permit the final vote one day before Senate rules mandated it.
In the Senate, at least, the developments marked an end to years of gridlock on immigration. The shift began taking shape quickly after the 2012 presidential election, when numerous Republican leaders concluded the party must show a more welcoming face to Hispanic voters who had given Obama more than 70 percent of their support.
Even so, division among Republicans was evident as potential 2016 presidential contenders split. Sen. Marco Rubio of Florida was one of the Gang of 8, while Sens. Rand Paul of Kentucky and Ted Cruz of Texas were opposed to the bill.
The legislation's chief provisions includes numerous steps to prevent future illegal immigration — some added in a late compromise that swelled Republican support for the bill — and to check on the legal status of job applicants already living in the United States. At the same time, it offers a 13-year path to citizenship to as many as 11 million immigrants now living in the country unlawfully.
Under the deal brokered last week by Republican Sens. John Hoeven of North Dakota and Bob Corker of Tennessee and the Gang of 8, the measure requires 20,000 new Border Patrol agents, the completion of 700 miles of fencing and deployment of an array of high-tech devices along the U.S.-Mexico border.
Those living in the country illegally could gain legal status while the border security plan was being implemented, but would not be granted permanent resident green cards or citizenship.
A plan requiring businesses to check on the legal status of prospective employees would be phased in over four years.
Other provisions would expand the number of visas available for highly skilled workers relied upon by the technology industry. A separate program would be established for lower-skilled workers, and farm workers would be admitted under a temporary program.
Steve Ballmer, chief executive officer of Microsoft, praised the passage of the bill.
"Today, the Senate took a significant step toward reforming our nation's outdated immigration policies," Ballmer said in a statement. "If enacted, these changes will strengthen our economic security, foster innovation and enable continued job growth in the U.S. Equally important, the legislation makes critical investments in our workforce by strengthening STEM education in the United States, including instruction focused on computer science."
"In addition, the system of legal immigration that has been in effect for decades would be changed, making family ties less of a factor and elevating the importance of education, job skills and relative youth."
With the details of the Senate bill well-known, House Speaker John Boehner said at a news conference the separate legislation the House is considering will have majority support among Republicans. He also said he hopes the bill will be bipartisan, and he encouraged a group of four Democrats and three Republicans to forge a compromise to continue their efforts.
He offered no details on how a House bill could be both bipartisan and supported by more than half of his own rank and file, given that most of the bills that have moved through the House Judiciary Committee recently did so on party line votes over the protests of Democrats. None envisions legal status for immigrants now in the country illegally.
Boehner declined to say if there were circumstances under which he could support a pathway to citizenship, but he made clear that securing the border was a priority.
"People have to have confidence that the border is secure before anything else is really going to work. Otherwise, we repeat the mistakes of 1986," he said, referring to the last time Congress overhauled the immigration system.
Rep. Nancy Pelosi of California, the House Democratic leader, also said he favors a bipartisan approach. At the same time, she noted that Democratic principles for immigration include "secure our borders, protect our workers, unite families, a path to legalization and now citizenship for those" without legal status.
The Associated Press contributed to this story.
Follow us on twitter.com/foxnewslatino
Like us at facebook.com/foxnewslatino