Senate immigration bill clears first hurdles, still faces tough Republican opposition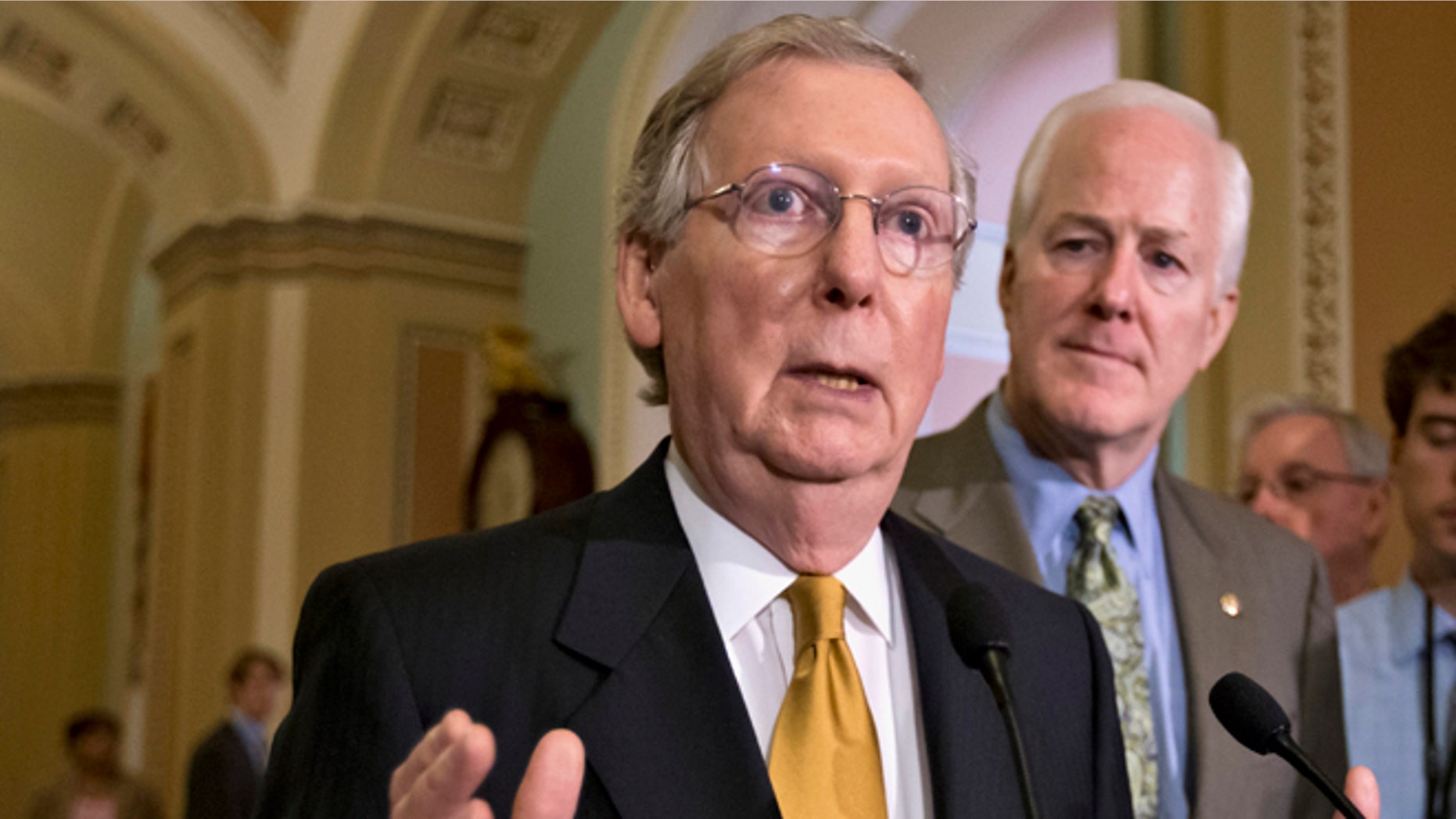 The Senate passed preliminary but key votes Tuesday in its march to approval of sweeping, bipartisan immigration reform, but final passage remained uncertain as Republicans pushed for tighter border-security provisions and tougher rules for those seeking legal status.
The two procedural votes effectively put the bill formally before the Senate and open for amendments. Both drew more than 80 votes,  reflecting a bipartisan desire to have the debate that now is expected to last three weeks.
However, Sen. Mitch McConnell of Kentucky was among the Republicans who pointed out that the 60-vote majority his party is demanding for final passage is hardly assured.
"This bill has serious flaws," he said.
Florida Republican Sen. Marco Rubio, a member of the so-called bipartisan "Gang of Eight" that crafted the legislation, said changes to tighten control of the U.S.-Mexican border would result in about half of the Senate's 46 Republicans likely voting in favor of creating the pathway to citizenship, which is backed by most or all of the 55 chamber lawmakers aligned with the Democratic majority.
Texas Republican Sen. Ted Cruz said he "very much (wants) commonsense immigration reform to pass," but voiced major concerns about border security upon voting against a preliminary motion to proceed.
"If this bill did become law, it would not solve the problem," he said on the Senate floor. "Indeed, it would make the problem of illegal immigration that we have today worse rather than better."
Earlier in the day, President Obama insisted the "moment is now" to give 11 million immigrants in the United States illegally a chance at citizenship.
At the White House, Obama said repeatedly the current immigration system is broken, for the foreign-born who live in the United State both legally and illegally.
Referring to the 11 million currently in the country unlawfully, he said, "Yes, they broke the rules; they didn't wait their turn. They shouldn't be let off easy.  They shouldn't be allowed to game the system.  But at the same time, the vast majority of these individuals aren't looking for any trouble.  They're just looking to provide for their families, contribute to their communities. `'
The bill sets out a 13-year journey to citizenship for the millions of immigrants who arrived in the United States illegally through the end of 2011 or who overstayed their visas. That journey would include paying fines and back taxes and other measures. The bill also requires a tighter border to prevent future illegal immigration.
Other key provisions would create a new program for low-skilled workers to enter the country and expand the number of visas for highly-skilled workers, who are particularly in demand in technology firms. The bill also jettisons a decades-old system that favors family ties over education, job skills and other factors in prioritizing prospective legal immigrants.
Numerous Republicans hope to use the issue to repair their party's image among Hispanic voters -- a growing part of the electorate in key states and a group that polls show gave Obama 71 percent of its votes last year.  But the GOP is divided, with Tea Party-backed lawmakers and other conservatives resisting anything that smacks of amnesty or otherwise seems to permit legalization without assuring the long border with Mexico, in particular, is virtually closed to future unlawful immigration.
Sen. Tim Kaine, D-Va., delivered his speech in Spanish.
He said it was appropriate to do so since the language "has been spoken in this country since Spanish missionaries founded St. Augustine, Florida in 1565. Spanish is also spoken by almost 40 million Americans who have a lot at stake in the outcome of this debate," he said in an English translation provided by his office.
An early skirmish took shape over a proposal by Texas Sen. John Cornyn to allow the legalization process to begin but require several changes before anyone now in the country illegally could receive a green card that confers permanent legal residence.
Those changes include apprehension of at least 90 percent of those seeking to cross into the United States at every segment of the southern border, implementation of a biometric exit system at all air and sea ports of entry and a nationwide E-Verify system to check the legal status of prospective employees.
Democratic supporters of the legislation have deemed Cornyn's plan a "poison pill," designed to wreck the bill's chances for passage instead of enhance them. But the Texan told reporters he had some leverage to force changes, if nothing else.
"I think if they had 60 votes to pass a bill out of the Senate they probably wouldn't be talking to me," Cornyn said of majority Democrats.
Meanwhile, House Speaker John Boehner said Tuesday he thinks there's a good chance the legislation can be signed into law "by the end of the year."
The Associated Press contributed to this report.