Senate Dems reject push to balance budget in 10 years, prepare to vote on new spending plan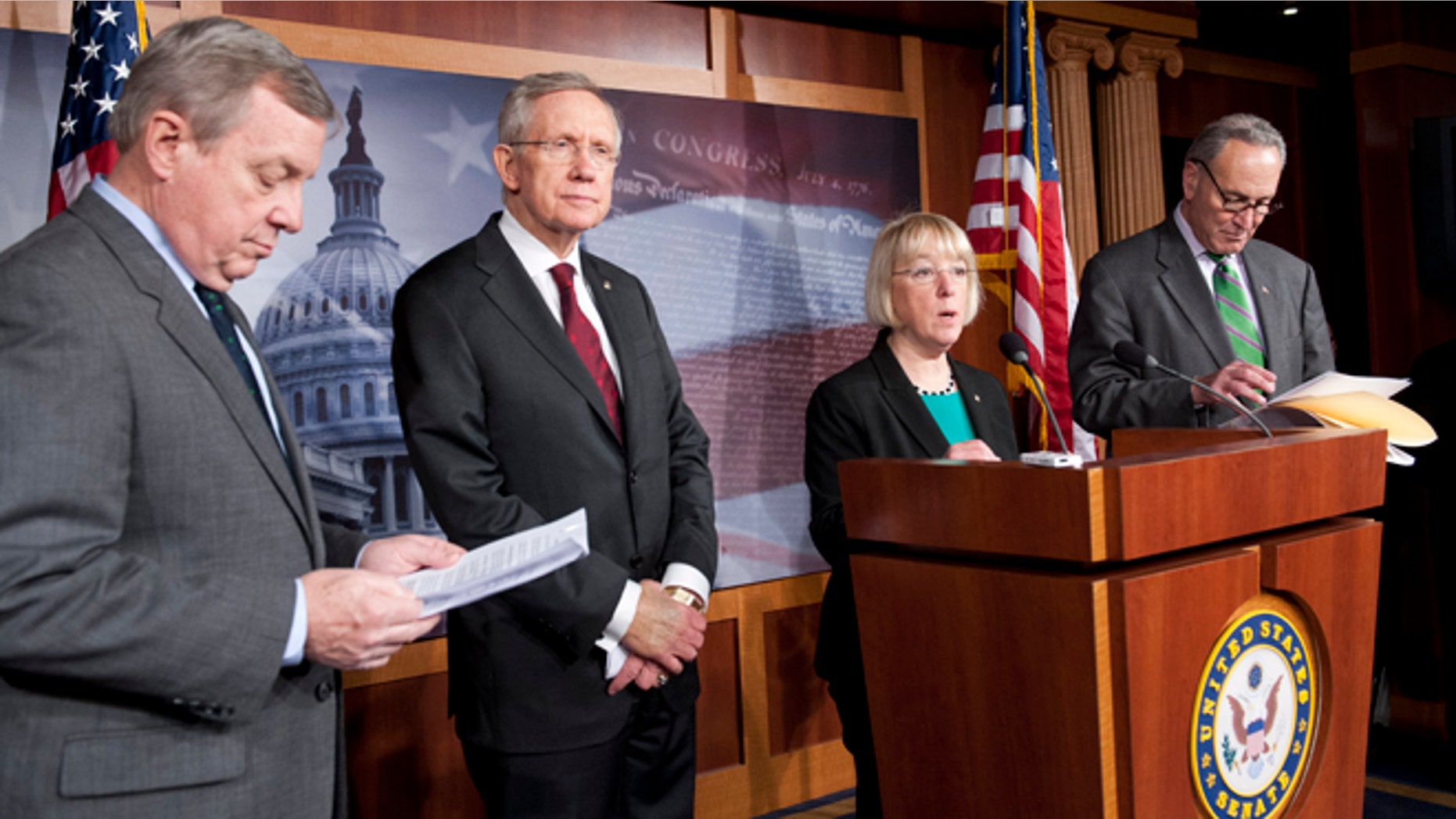 Senate Democrats moved Friday to pass their first budget in four years, but only after Republicans put them on record opposing a measure aimed at balancing the budget by the end of the decade.
Deficit hawk Sen. Jeff Sessions, R-Ala., called a vote late Thursday on a motion to send the Democrats' plan back to committee with instructions to figure out how to balance it by 2023. Every Democrat except one -- Sen. Joe Manchin of West Virginia -- opposed it, while all Republicans voted for it. The measure failed on a 46-53 vote.
Sessions used the vote to needle Democrats into taking more aggressive action to tackle the nation's debt problem.
"Debt is pulling down our economy now. Not tomorrow -- now," Sessions said. "But tonight, the Senate's majority party denied the American people the growth, jobs, and confidence a balanced budget would create. They denied our children a future free of crushing debt. They denied millions trapped in failed government programs the reforms they need and deserve."
Late Friday afternoon, the Senate then began a marathon session of votes on dozens of amendments to the 2014 budget proposal. The budget itself might not receive a vote until the pre-dawn hours of Saturday.
The two main budget proposals produced by Senate Democrats and House Republicans are miles apart. The Senate plan does not attempt to balance the budget at all, though it does claim to reduce the deficit by imposing nearly $1 trillion in tax increases on top of more than $600 billion in higher taxes on top earners enacted in January. It also includes $875 billion in spending cuts, generated by modest cuts to federal health care programs, domestic agencies and the Pentagon and reduced government borrowing costs.
The nonbinding but politically symbolic measure would protect safety-net programs for the poor and popular domestic priorities like education, health research and federal law enforcement agencies from cuts sought by House Republicans, who adopted a far more austere plan on Thursday morning.
The Republican plan, proposed by Budget Committee Chairman Paul Ryan, R-Wis., passed out of the House but was shot down in the Senate Thursday.
That plan aimed to bring the budget into balance -- and even produce a small surplus -- by the end of the decade. To the objections of Democrats, it included cuts in programs like food stamps and Medicaid, and cut almost 20 percent from domestic agency budget levels assumed less than two years ago.
Ryan's plan passed the House on a mostly party-line, 221-207 vote, with 10 Republicans joining Democrats against it.
"We think it's extremely reasonable to balance our budget," Ryan told Fox News. "Families have to balance their budgets. Local governments and businesses have to balance their budget. We should be able to get the government to restrain its growth of spending in order to balance the budget so that we can get this threat off of our economy."
Democratic Sen. Patty Murray's plan would actually increase government spending -- on top of a baseline that already assumes automatic budget increases averaging more than 5 percent a year -- after accounting for the $1.2 trillion cost of repealing the automatic cuts, known as sequestration. That means the net cuts to the deficit would amount to just a few hundred billion dollars in a federal budget estimated at $46 trillion or so over the coming decade.
Murray's position is that the automatic cuts were designed to prod Washington into action on the debt and were never intended to take effect. By that math, her budget promises $1.85 trillion in lower deficits after 10 years. She points out that Republicans on a 2011 deficit "supercommittee" used the same math when describing their proposals.
"Sequestration was not deficit reduction," Murray said. "It was there to trigger deficit reduction that would come from replacing it."
Murray's plan promises a $693 billion deficit in 2014, dropping to the $400 billion range for the middle years of the decade. While large, such deficits would hover just above 2 percent of gross domestic product, a level that many analysts see as economically sustainable.
The Associated Press contributed to this report.